Regional Coworking Sector Will Evolve Greatly Ahead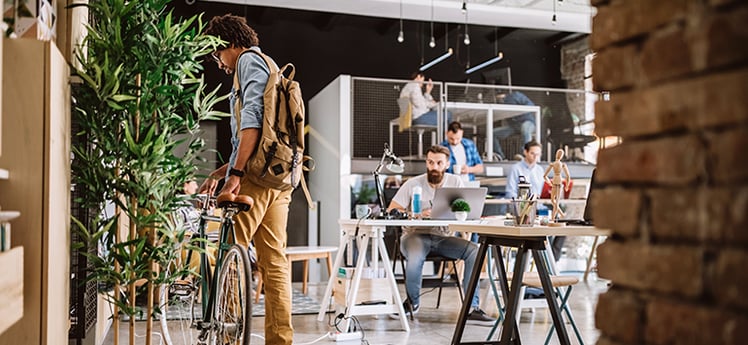 23 Apr 2020
COVID-19 Impacts on Real Estate
In our last note, we discussed how the federal government serves as the low-growth, but stable, anchor of the regional office market. This week, we take a look at coworking, the sector that has driven the most significant growth over the past decade, comprising more than 50% of regional occupancy gains from 2015-2018. That said, the sector has been among the first to hit pause in the face of the current pandemic. It could also be the office-using industry that shifts most regionally both from a consolidation and location-strategy as well as a space utilization perspective.
Coworking Leasing Grinds to a Halt
After taking down more than 1 million sf of office space regionally in each of 2018 and 2019, the coworking sector pulled back in early 2020, depicted above. The industry was already in the midst of a shift toward more cautious leasing strategies in the wake of WeWork's failed IPO in 2019. However, the uncertainty created by the pandemic has quickened the industry's reset, with nearly all operators suspending the opening of new locations and even procurement of new locations until their members can return to work and the demand for future space can be assessed more accurately.
Downtown Will See the Largest Shift
Washington, DC will feel the impact of this coworking slowdown most acutely. While shared office providers are common across the region, the "creative" coworking sector got its start in the dense, urban neighborhoods of the District, first opening up in highly dynamic residential areas, then shifting to core downtown office locations and finally filling in within the emerging mixed-use eastern markets. However, operators miscalculated one key fact around core DC: locations the city lacks a substantial corporate tenant base like other peer cities such as New York, Chicago, Boston and San Francisco, among other global gateways. The tenant base in downtown DC is dominated by the federal government, law firms, government contractors, associations, lobbyists and nonprofits, only the latter of which have truly embraced a focused coworking strategy. The other industries dabbled in flexible space strategies, but not significantly due to concerns over security protocol, brand and / or prestige.
On the other hand, Northern Virginia's office market, while lacking some of the true urban characteristics that made coworking openings soar in DC and peer urban environments, possesses a corporate tenant base dominated by Fortune 1000 aerospace, defense and technology companies (65% of the tenant base). Granted, this is a hybrid between private-focused firms and public-focused government contractors, but nonetheless, the work being performed in that market is more similar to the urban fabrics of New York and San Francisco.
In fact, today, flexible office providers are twice as dense downtown as in the suburbs, accounting for 2.4% of office occupancy compared to 1.2% in Northern Virginia and 1.1% in Suburban Maryland, despite the aforementioned tenant composition.
This was not always the case. In 2010, just 23% of flexible office space was located downtown. Today, that number is 55%. However, with competition more than twice as dense in the city as in the suburbs, asking rents 65%-95% higher and the tenant demand dynamic, coworking providers looking to grow responsibly and sustainably will likely take a more strategic look at suburban locations.
Urban-Suburban Locations Will Fuel Future Growth
High rents and stiff competition downtown have compressed coworking margins to 72% and 63% of what they are in Northern Virginia and Suburban Maryland, respectively (looking only at the cost to lease space and the prices at which it can be re-leased to members). The average price of a hot desk downtown is equivalent to the cost of 81 sf of office space at the market average, compared to 112 sf and 128 sf in each of the suburbs. In the most desirable suburban locations, such as the RB Corridor, coworking operators actually charge about 10% more on average for private offices and desk space than downtown, even though Class A office space comes at a 30% discount. The average asking price for a 1-person office in the RB Corridor is $858 per month, compared to $765 in the District. The average price for a hot desk is $387 per month, compared to $373 in DC.
In addition to better margins, Northern Virginia offers a significant pool of untapped demand that could drive robust growth in the coworking sector. Its tenant base includes a vast number of tech companies, often working on government contracts with uncertain future office space needs. These companies have demonstrated strong demand for traditional flexible office providers, as they can adjust their footprints readily as their contract work changes. If the coworking industry more broadly is able to adapt to these tenants' security requirements, contractors could be a new frontier for the expansion of the sector.
Choosing the right locations will be key to successful coworking growth in the suburbs. As was the case when coworking took off downtown, dense, walkable areas with large millennial populations will be the primary targets. In the suburbs, those areas are overwhelmingly concentrated around Metro stops. Ninety-five percent of existing "creative" coworking locations (as opposed to more traditional flexible office providers) in the region are located within ½ mile of a Metro. Looking only at the suburbs, that figure is still 92% despite the suburbs' overall poorer access to the Metro system. The locations closest to Metro, within ¼ mile, command a 7% premium over those between ¼ and ½ mile away, and a 43% premium over those that are outside a ½-mile radius from a Metro stop.
This sector will continue to be a vibrant part of the fabric of the regional office market, whether driven by owners, operators or some combination, but its location preferences and space utilization dynamics will likely shift.
We also will see a shift in leasing strategies, as even before the crisis many operators had started seeking revenue-sharing management agreements as a way to reduce risk in comparison to a traditional lease.
If you would like to see a detailed digital analysis of the coworking sector regionally, please contact John Andril .
The spread of COVID-19 and the containment policies being introduced are changing rapidly. While information in the briefing notes is current as of the date written, the views expressed herein are subject to change and may not reflect the latest opinion of Avison Young. Like all of you, Avison Young relies on government and related sources for information on the COVID-19 outbreak. We have provided links to some of these sources, which provide regularly updated information on the COVID-19 outbreak. The content provided herein is not intended as investment, tax, financial or legal advice and should not be relied on as such.
World Health Organization | Government of Canada | US Center of Disease Control and Prevention | UK Government | John Hopkins University COVID-19 Case Tracker