Northern Virginia office market reports
Q3 2021 Northern Virginia office market report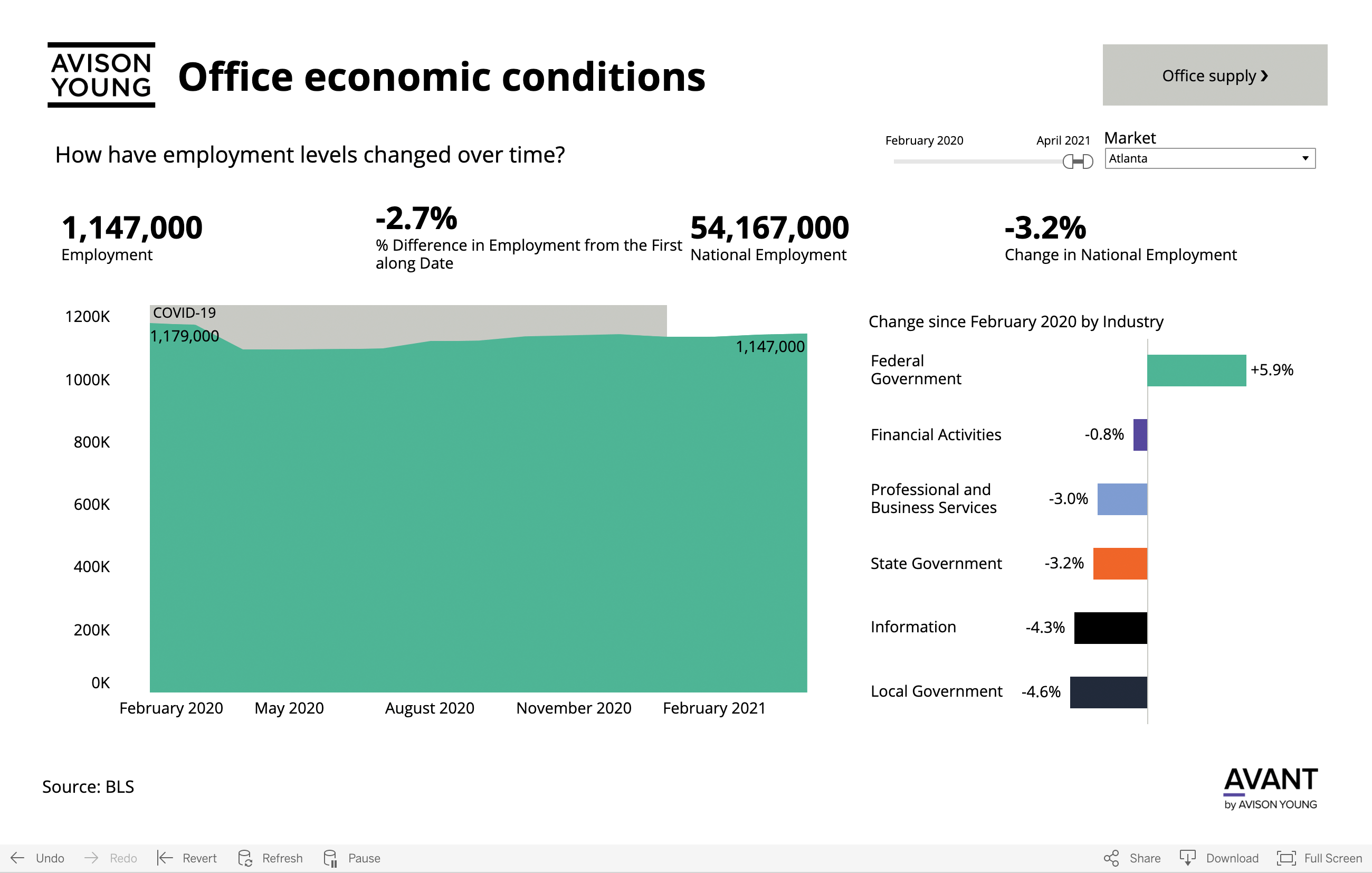 This dashboard is best viewed in a wider browser window.
In stark contrast to downtown DC, Northern Virginia saw an uptick in leasing activity in Q3. Strong government contract awards and continued employment growth at National Landing mean that Northern Virginia continues to see demand both outside and inside the Beltway. Thanks to pandemic-driven changes in office use, it is far from certain that this demand will drive the absorption it once promised.
3.7%
Economic conditions
Unemployment in Northern Virginia is now at 3.7 percent, essentially unchanged since last quarter, after recovering from a pandemic high of 10.2 percent.
64.8%
Recovery rate
Activity across the DC Metro region at workplaces, shopping centers, universities, and other areas of interest is 64.8 percent of pre-COVID levels, as measured by extrapolated mobility data.
8.1%
Office demand
The average lease term for a new lease has risen 8.1 percent since its pandemic low. The average renewal lease term continues to fall as tenants use short-term renewals to postpone their long-term leasing decisions.
18.2%
Office supply
Direct and sublease vacancies have achieved all-time highs, totaling 18.2 percent.
1.5%
Pricing trends
Average asking rents have risen by a modest 1.5% in 2021, though rising concessions balance this increase on a net effective basis.
24.1%
Capital markets
Pricing for value-add investments has risen 24.1 percent in 2021, while stabilized pricing has fallen due to a high proportion of activity taking place in lower-priced submarkets outside the Beltway.
Your source for the latest Northern Virginia office market reports
Get in-depth office market reports and insights from commercial real estate experts in the Washington, DC Metro area. Avison Young advisors look at Northern Virginia commercial real estate activities and the latest Northern Virginia statistics to provide you expert market research on Northern Virginia's office properties.
Explore different topics like the latest office market pricing trends and analysis of Northern Virginia's current office real estate market conditions. Gain a better understanding of Northern Virginia's office real estate outlook and stay ahead of current office space trends. Make smart decisions when it comes to investing in office properties in Northern Virginia's competitive office real estate market. Avison Young is your trusted source for commercial real estate office market insights in Northern Virginia.
The dashboard was delivered through AVANT by Avison Young: leveraging real-time data and analytics to make cities and location-based decisions more transparent and efficient. Learn more about AVANT.
Get the latest Northern Virginia office market reports right in your inbox