Washington, DC office market reports
Q3 2021 Washington, DC office market report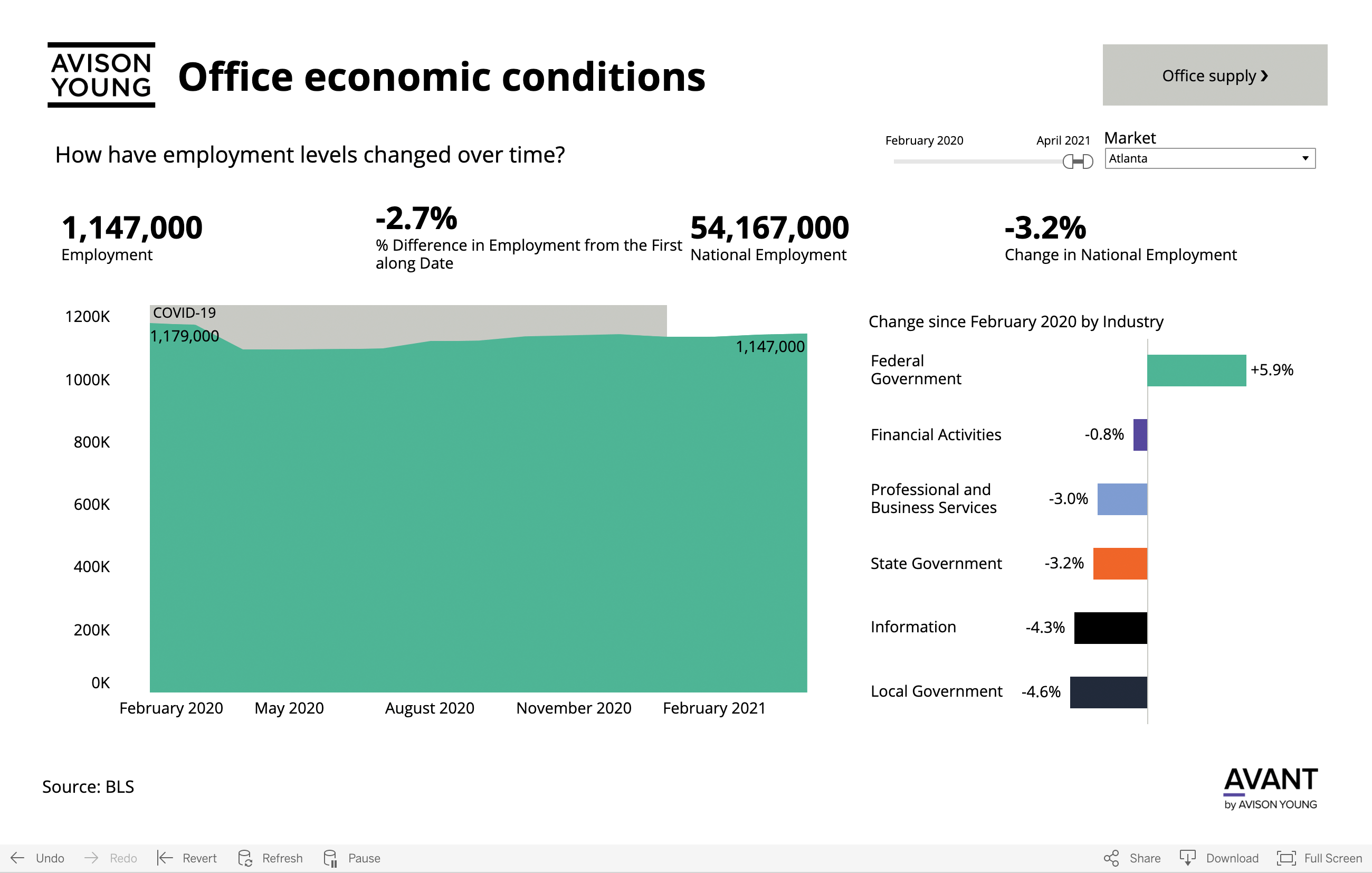 This dashboard is best viewed in a wider browser window.
Even as many residents return to their normal routines, particularly within social contexts, office occupancy remains low signaling employees have become comfortable working remotely. As landlords offer record concessions, and base rents remain stagnant, DC is experiencing record high vacancy that could fundamentally impact the future of office leasing in the city.
1.6%
Economic conditions
Office-using job totals have declined 1.6 percent compared with 5.4 percent for other industries' job losses. Return-to-office activity remains depressed, suggesting office-using sectors have been well-equipped to work remotely.
64.8%
Recovery rate
The overall post-COVID rate of recovery based on extrapolated mobility data is 64.8 percent suggesting that many consumers are ready to return to their pre-Covid routines, yet offices are seeing only 36.0 percent of pre-Covid mobility.
44.6%
Office demand
Leasing activity has paused, decreasing by 44.6 percent compared with long-term historical averages.
14.0%
Office supply
Direct and sublease vacancy has achieved all-time highs, totaling 14.0 percent. Avison Young projects continued increases in that rate for the foreseeable future.
12.49%
Pricing trends
Landlords have increased concessions by 12.49 percent year-over-year since 2020, becoming increasingly aggressive to attract long-term tenants. Concessions in DC remain highest on record, without increasing base rents.
37.0%
Capital markets
The market continues to price in higher risks with just $3.7B of DC offices having been sold since 2020, an annualized decrease of 37 percent compared with the past five-year average.
Your source for the latest Washington, DC office market reports
Get in-depth office market reports and insights from commercial real estate experts in the Washington DC Metro area. Avison Young advisors look at Washington, DC commercial real estate activities and the latest Washington, DC statistics to provide you expert market research on Washington DC's office properties.
Explore different topics like the latest office market pricing trends and analysis of Washington DC's current office real estate market conditions. Gain a better understanding of Washington DC's office real estate outlook and stay ahead of current office space trends. Make smart decisions when it comes to investing in office properties in Washington DC's competitive office real estate market. Avison Young is your trusted source for commercial real estate office market insights in Washington, DC.
The dashboard was delivered through AVANT by Avison Young: leveraging real-time data and analytics to make cities and location-based decisions more transparent and efficient. Learn more about AVANT.
Get the latest Washington, DC office market reports right in your inbox