The week ahead for October 3, 2022: Q3 ends on a meh note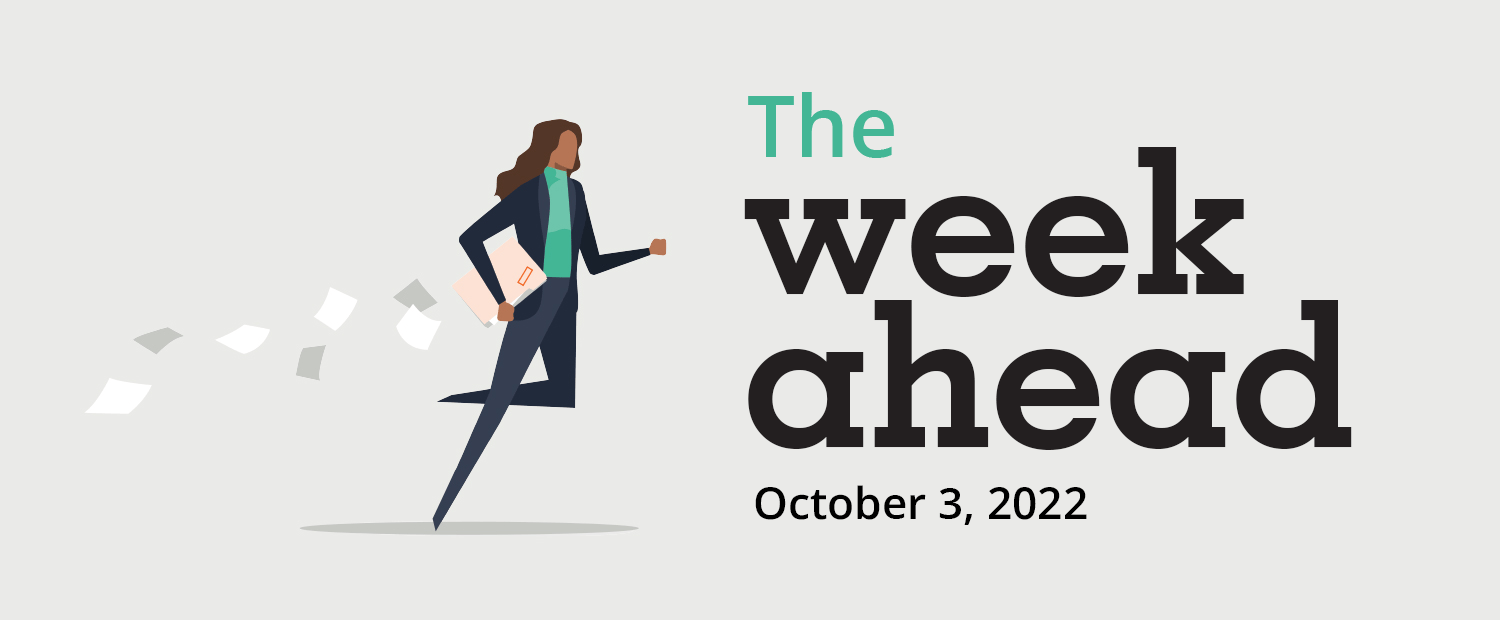 October 3, 2022
The latest news
The last week of the third quarter was a relatively calm one—the deep breath before the plunge of key employment and GDP numbers coming in October. Bond yields rose and the major stock indices were lackluster as investors continued to digest a "higher for longer" expectation for interest rates.
There was some mildly positive news. Durable goods orders shrank less than expected, and the Conference Board's Consumer Confidence Index rebounded from a late-summer dip. New home sales also surprised on the upside, as did personal income and spending. And initial jobless claims fell back below 200,000.
But the overall outlook is still overcast. The positive news for consumers is likely to be taken by the Fed as more justification to continue its policy of major interest rate hikes to bring inflation under control. While it may not happen in 2022, a pullback in employment, economic growth, or both seems the only logical outcome. This being the case, businesses will be taking a hard look at expenses, including real estate occupancy costs. For property owners, declining fundamentals will be more likely to impact asset values than were higher borrowing costs alone.
Happening this week
MONDAY, OCTOBER 3
| | |
| --- | --- |
| Measure: | ISM Manufacturing PMI, September |
| Previous: | 52.8 |
| Expectation: | 52.3-52.8 |
This leading indicator of manufacturing activity is expected to remain in modestly expansionary territory (i.e. above 50). Last week's unexpectedly strong increase in inventories may well be weighing on the minds of purchasing managers in the sector as they brace for a slowing economy.
TUESDAY, OCTOBER 4
| | |
| --- | --- |
| Measure: | Job Openings |
| Previous: | 11.239M |
| Expectation: | 11.1M |
Tightness in the labor market has been stubbornly resilient, with around 2 openings for every unemployed seeker. Observers are looking for a gradual decrease in the number of job openings in response to the Fed's tightening actions.
WEDNESDAY, OCTOBER 5
| | |
| --- | --- |
| Measure: | ISM Non-manufacturing PMI, September |
| Previous: | 56.9 |
| Expectation: | 56.0-56.4 |
The non-manufacturing PMI has spent most of 2022 in a moderately expansionary range considered "normal" in the years before the pandemic. Labor and material challenges have challenged the sector's recovery even as consumers have rebalanced their spending back toward services, preventing more rapid growth.
FRIDAY, OCTOBER 7
| | |
| --- | --- |
| Measure: | Nonfarm Payrolls, September |
| Previous: | 315K |
| Expectation: | 250-290K |
| | |
| --- | --- |
| Measure: | Unemployment Rate, September |
| Previous: | 3.7% |
| Expectation: | 3.7% |
Despite the Fed's efforts to slow the economy with higher interest rates, employers keep adding to payrolls—and paying higher wages. At least some labor market loosening is now believed to be necessary to slow inflation. Even so, nonfarm payrolls are expected to have risen by about a quarter million in September.
For further information please contact