10-Yr Treasury Trends, Investment Activity and Tightening Lending Standards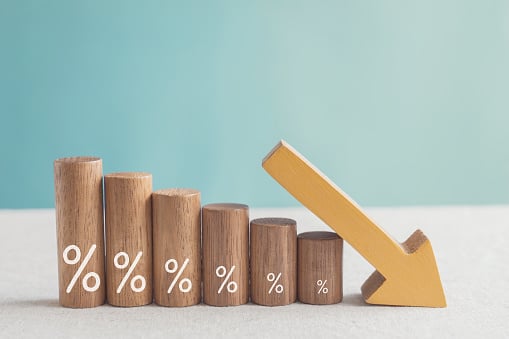 13 Feb 2021
AY Industrial Capital Markets Impacts and Opportunities
One of the key components to value, and transaction velocity, is the state of the debt markets and how they relate to the industrial asset class. In this issue we look at forecasts for debt, predictive sentiment, and how leverage in the industrial asset class compares to other property classes today, and in the past years, so that we can derive some conclusions about tomorrow's industrial debt market.
Historical 10-Year Treasury Rate Compression
When investors use debt to finance acquisitions in the real estate sector they make loan applications to lenders who generally use 10-year treasury rates as a basis for developing the correlating interest rate. Given the importance of this key indicator, we examined historical treasury rates and found some interesting data points, as it relates to industrial investment growth and what we might see as rates rise.
Generally speaking, a lower 10-year treasury rate makes the cost of borrowing cheaper and fuels more investment activity as investors can put their "money to work." Higher rates obviously put pressure on investment activity, given the higher cost of capital.
In our analysis of historical 10-year treasury rates there has been significant compression over the last 30 years, with rates generally decreasing during and after recessionary periods. Over this timeframe, the U.S economy has seen its fair share of economic recessions: the 1990 Oil Shock (Jul-90 to Mar-91), the Dot.Com Bubble (Mar-01 to Nov-01), the Great Recession (Dec-07 to June-09) and the COVID-19 Recession (Feb-20 to present). Since the Great Recession treasury rates have remained at historically low levels to fuel economic growth, though there has been volatility, up until the third quarter of 2020 when they reached their lowest mark. Since then, the average 10-year treasury rate is up 44 basis points in the first quarter of 2021, at the time of this publication.
Compression on Real Estate Investment Activity
Taking a closer look, we saw that investment activity for industrial, office, retail and multi-family assets was at all-time high's leading up to the Great Recession. At this time 10-year treasury rates were above 4.00%, and at their highest levels over this time period.
Once the Great Recession hit in December 2007, there was a significant fallout in terms of investment activity across all asset classes, especially office and multi-family. At the same time there was compression in treasury rates that fueled a surge in investment activity across the U.S. Since the first quarter 2010 there has generally been an increase in investment activity for each asset type, though average 10-year treasury rates have varied, up until the third quarter of 2020.
What is interesting is the significant growth the industrial sector has seen over this timeline. Though office and multi-family remain the assets with the largest quarterly sales volume, industrial spending generally increased since the fourth quarter of 2007 and has increased substantially from 2015 and thereafter. This suggests that the industrial sector has become one of the most attractive asset types amongst investors. Even with the relative decline in investment activity throughout 2020, the industrial capital marketplace has become more competitive than ever as investment strategies shifted towards a "flight to quality" and, as a result, pricing has increased substantially, especially for Class A facilities. The multi-family, office, and retail sectors saw the biggest drop in terms of investment activity throughout the second and third quarters of 2020 due to the economic uncertainty brought about by the COVID pandemic. Though they have rebounded in the near-term there is still some uncertainty in those marketplaces.
Compression on Real Estate Investment Activity
As we see upward movement in treasury rates over the near-term, one metric we will continue to monitor is the Fed's Senior Loan Officer Survey, especially for lending within commercial real estate. In January's report, released last week, results for most of the fourth quarter period mirrored the trajectory of the prior period, marking additional stabilization but continued tightening of lending standards. Overall, banks reported tightening standards across commercial and industrial (C&I) loans to firms of all size ranges as well as all three layers of CRE loans: 1) construction & land development loans, 2) non-farm non-residential loans and 3) multifamily loans. Many sectors also reported reduced demand within the quarter.
The survey breaks down lending to businesses and households. Most banks in the first quarter tightened standards across all of commercial real estate, but on a spectrum – the severe spike in lending standards occurred through the second and third quarters.
Industrial Investment Activity by Subtype
Building off of the prior sections, we wanted to see how industrial investment activity was allocated by property subtypes since 2015. Distribution facilities account for the greatest percentage of sales volume in the industrial sector. In fact this property type has never accounted for less than 66% of total sales activity during this timeframe. At its height, in the second quarter of 2019, distribution assets accounted for approximately $25.3 billion of industrial sales and have on average accounted for approximately 75% of total quarterly sales volume since 2015. Manufacturing facilities rank second amongst the industrial property subtypes, accounting for approximately 11.5% on average. Flex facilities account for the third largest proportion of total industrial sales volume and have, on average, accounted for approximately 11.2% of total quarterly sales volume, just behind manufacturing facilities, averaging approximately $1.3 billion in quarterly activity.
Industrial Investment Activity by Asset Class Categorization
We also tracked historical industrial investment activity according to asset class categorization (i.e. Class A, B or C) over the same timeframe. Class B industrial product remains the largest proportion of industrial sales volume since 2015. On average these assets account for approximately 55% of all sales volumes, which accounts for more than $6.0 billion in quarterly sales activity on average. Class A accounts for the second largest percentage of total sales volume over this timeframe. What is interesting is that Class A product sales have generally increased on a quarterly basis since 2015. Hence, there appears to be a "flight to quality" among investors for these assets. Class A industrial facilities account for approximately 40% of total quarterly sales volume, or $3.4 billion on average. Last, but not least, Class C product accounts for the smallest percentage of total sales activity. These assets are generally older facilities with higher capital needs than their counterparts and they account for approximately 23% of total quarterly sales activity on average.
Demand for loans experienced a similar sharp dip in 2020, but how much do rates need to rise for it to be sustained?
Demand was down the most for loans secured by non-farm non-residential properties and slightly for construction & land development loans, but each sector has slightly rebounded from mid-year 2020. Demand for loans secured by multifamily residential properties was reported to be essentially unchanged over last quarter, coming in at just over 4.0%.
Related to supply chains, auto loan demand was down in the fourth quarter, but up for credit card & other consumer loans. While each of these may be impacted by seasonal factors, auto loans spiked in the third quarter and have moved in conjunction with other consumer loans. Mortgage loans continued to decline across many sectors, including non-traditional, sub-prime and GSE-eligible.
Demand for many types of commercial real estate loans has been relatively flat from 2017 until the beginning of 2020. This may not have impacted the Class A sector as much as B & C assets, as investments may have been more equity driven, through joint ventures or recapitalizations as well as entity-level sales. At the same time, the average quarterly rate for the 10-year Treasury has oscillated within a narrow band for a longer period of time. Over roughly the last 10 years, it reached as high as 3.04% at the end of 2018, but since then, it has fallen significantly, only pushing past 1.0% in the last four quarters. How this changes investment strategies and activity will be interesting, especially while anecdotally, allocations and demand for industrial & logistics real estate remains high.
We will continue to follow the 10-Treasury trajectory and keep you informed of how its rise or fall impacts the industrial capital markets sector.
Have a great week,



Erik Foster & the Avison Young Industrial Capital Markets Team
Erik Foster, Principal
Head of Industrial Capital Markets
312.273.9486
[email protected]