Industrial Construction Levels Remain High, But Are Costs Rising?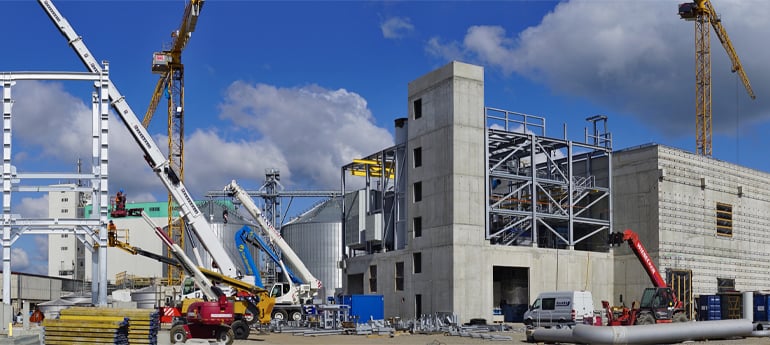 24 Apr 2021
AY Industrial Capital Markets Impacts and Opportunities
One could say that the industrial market has been on cruise control for the past several months through the pandemic, even years since coming out of the Great Recession. That said, as industrial market participants here at AY, we are always cognizant of potential "speed bumps" in the road ahead. One of those speed bumps that most of us are all too aware of is the rising cost of construction materials, which we delve into below. Enjoy this issue and please reach out with any comments or questions. As always, feel free to share this with colleagues or clients who might be interested in this topic.
Best,


Erik Foster
Principal
Head of Industrial Capital Markets
Have a minute? Please take our short survey!
Rising Construction Costs Challenge Developers?
As industrial construction continues at a strong pace across many U.S. markets, an unprecedented increases in materials pricing is putting a strain on the development sector. According to the Associated General Contractors of America (AGC) trade association, the overall cost of construction input items rose by 12.8% from April 2020 to February 2021.
This comes at a dynamic time in the real estate cycle, when new development volumes throughout the country have now exceeded 300 million square feet of projects now in the construction pipeline. While many broad categories had increases below 10%, key individual materials have seen sharp increases -- including lumber and plywood, which rose 62%; copper and brass mill shapes (37%); and steel (20%). Will rising construction input costs put additional upward pressure on rent values underwritten for new product?
Material cost issues trace back to the early days of the pandemic as statewide business closures and subsequent shutdowns by suppliers due to COVID-19 outbreaks disrupted the flow of materials and pipeline projects. Many factories and fabrication facilities were shut down and are still struggling to get back to full production due to loss of productivity from illness among their workforce or that of suppliers and freight haulers. Add in the robust demand for new product; ongoing supply chain disruption that impacts imported products; higher transportation costs, and extra expenditures for protective gear and added sanitation, and the scenario becomes even more complex.
Due to the nature of construction pricing, with bids secured months ahead of a project's ground-breaking and then ultimate delivery, suppliers and general contractors are navigating a challenging and very fluid landscape.
A review of recent cost escalation cycles for non-residential materials by the AGC shows rising material costs from November 2018 to November 2019, when the year-over-year increase ranged from 4.9% to 9.2%. For comparison, from August 2007 to September 2008, the industry saw material costs spike from a 1.6% annual growth rate to 12.9%. The ensuing financial crisis then brought pricing down quickly for about a year before it spiked on a year-over-year basis from 0.4% at the end of 2009 to 5.8% in April 2010.
More, More, More - Development Cycle Brings Millions of Square Feet
Over and above the levels of warehouse and distribution center space currently under construction, developers also completed nearly 280 million square feet of new deliveries in the U.S. in 2020. New development continues to be concentrated around major population hubs, with markets such as Atlanta, Dallas, Houston, Chicago and the Inland Empire seeing sizable activity. In aggregate, these five markets alone comprise over 116 million square feet of deliveries over the last year – which is more than the individual office markets of Austin, Miami or Portland, as examples. Interestingly, Memphis and Phoenix are two secondary markets not far behind in recently delivered space.
As previously mentioned, there is approximately 312 million square feet under construction across the U.S. as of April 2021, with much of it set to deliver in the near-term through 2022. Many of the same major markets have current construction pipelines over 10 million square feet, with the additions of Indianapolis and Nashville rounding out the mix. This wave of activity is forcing many development firms to look for creative ways to secure materials and minimize the added financial stress.
Developers Are Focusing on Creative Solutions
Material price increases have become more pronounced over the past five to six months, particularly with lumber, steel, precast, and roofing materials. In addition to price increases, there are longer lead times between material orders and delivery, which requires advanced planning to maintain the schedule.
David D. Riefe, Senior Vice President, Midwest, for Seefried Properties noted a six to eight month timeline from order to delivery on structural steel, a doubling of the typical timeline. "We now have to reserve materials farther ahead in order to meet our construction timelines. If the project doesn't move forward, we're still the proud owner of the steel."
Riefe added that the firm's predevelopment process is key to managing this risk. "We focus on the critical path and are constantly looking for fatal flaws or "show stoppers" that can derail a project. By addressing these issues upfront, we're better able to align purchasing with completion of key milestones. While unlikely, if a material order is made on a project that becomes unfeasible, we can redirect it to another development."
According to Bret Sheffield, Executive Vice President of Development Services at VanTrust, the firm has seen significant material increases in steel, wood, and PVC products. "These circumstances have forced us to get creative and look for non-traditional ways to make the projects work. This means challenging the construction teams to re-sequence the construction schedule to account for delays in the supply chain for the critical materials."
The firm has also investigated alternative building materials and worked to accelerate design documents to lock in orders for critical components earlier in the process. "If other projects cancel, we may try to acquire their vacated production slots. We have investigated bulk purchasing at the material level, the sub trade level, and have considered bundling projects with general contractors. However, these strategies must be investigated closely, because the cons often outweigh the pros," he says. "Depending how you look at this, the pessimist in me or the optimist in me, would say material prices and delivery times are not likely to drastically improve in a short period of time."
Impact on Rent
Generally, the high levels of new construction is continuing to keep rents buoyant in an otherwise fragile yet volatile economic rebound. Quarterly positive rent growth for logistics space has averaged 1.4% throughout the entire country over the last five years. Year-over-year rents remain strong, driven by continued demand for prime quality distribution and warehousing space – and despite the pandemic year, still up over 3% relative to the second quarter of 2020.
In many of the major markets with high levels of recent new development, average asking rents are up significantly over the last five years. In the Inland Empire, that has resulted in asking rent uplift of over one-third for logistics space, just slightly lower in Atlanta and Dallas.
"We have been able to keep spec development going despite the material cost increases because rental rates have been increasing and cap rates have been decreasing in most markets," says Riefe. "We work closely with the Avison Young team to keep a pulse on both the leasing markets and capital markets and incorporate this information into our underwriting."
Construction Costs: Looking Ahead
New construction has been a significant driver of industrial growth for many years and has become a focus for investors looking to gain an early entry into the pipeline of modern Class A assets. Despite increasing input costs, activity continues rather unabated. Through equity placements and early stage acquisitions, investors continue to look for opportunities to gain a footing in markets and benefit from growth cycles.
As material costs are an important factor in construction pricing and, ultimately, rental rates, it is an issue the Avison Young team is tracking closely. Look for periodic updates on this topic in the months ahead.
Sources: Bureau of Labor Statistics, Commercial Property Executive, Construction Dive
Erik Foster, Principal
Head of Industrial Capital Markets
312.273.9486
[email protected]