Many U.S. coal power plants will permanently close, but are we ready?
Coal power plant facilities are a primary employer and a key tax revenue generator for the communities they operate in, but the rapid transition toward alternative and renewable energy sources is changing the landscape.
Of the more than 13,000 coal power plants globally, some 4,600 have closed or are set to close soon, and these numbers are only projected to continue upward as cleaner, cheaper sources of energy push coal out and commitments to global climate goals are realized.
This is a move that is as advantageous for the environment as it is a tremendous opportunity for owners, operators, developers, and even larger for communities far and wide to build toward highest and best use for the future.
Early, proactive responses and an active role in what the future of these sites from community leaders for purchase or investment provides key benefits for cities, nationally and worldwide.
It starts one plant and one community at a time, making the choice to decommission, and then taking steps to see what could happen next. Often complex, yet promising, recent projects are establishing a potential approach for the post-industrial future of coal-fired power plants.
What does it look like when these places are reimagined? Let's take a trip to the shores of Ohio's Lake Erie and the former site of the Avon Lake coal power plant as an example.
Revitalizing a community landmark for future use at Avon Lake
For nearly 100 years, the coal-fired power plant on the shore of Lake Erie in the city of Avon Lake, Ohio has served as an economic backbone to the city, providing jobs to residents and significant tax revenues for city service and local schools. These benefits came at a cost, however: environmental degradation that has characterized similar industrial hubs, as well as a location that cut off the shoreline from the local community.
The city, site owner Charah Solutions through its subsidiary Avon Lake Environmental Redevelopment Group (ALERG), Avison Young, and Gensler partnered on a solution to take the site of this former plant forward into a bright new future.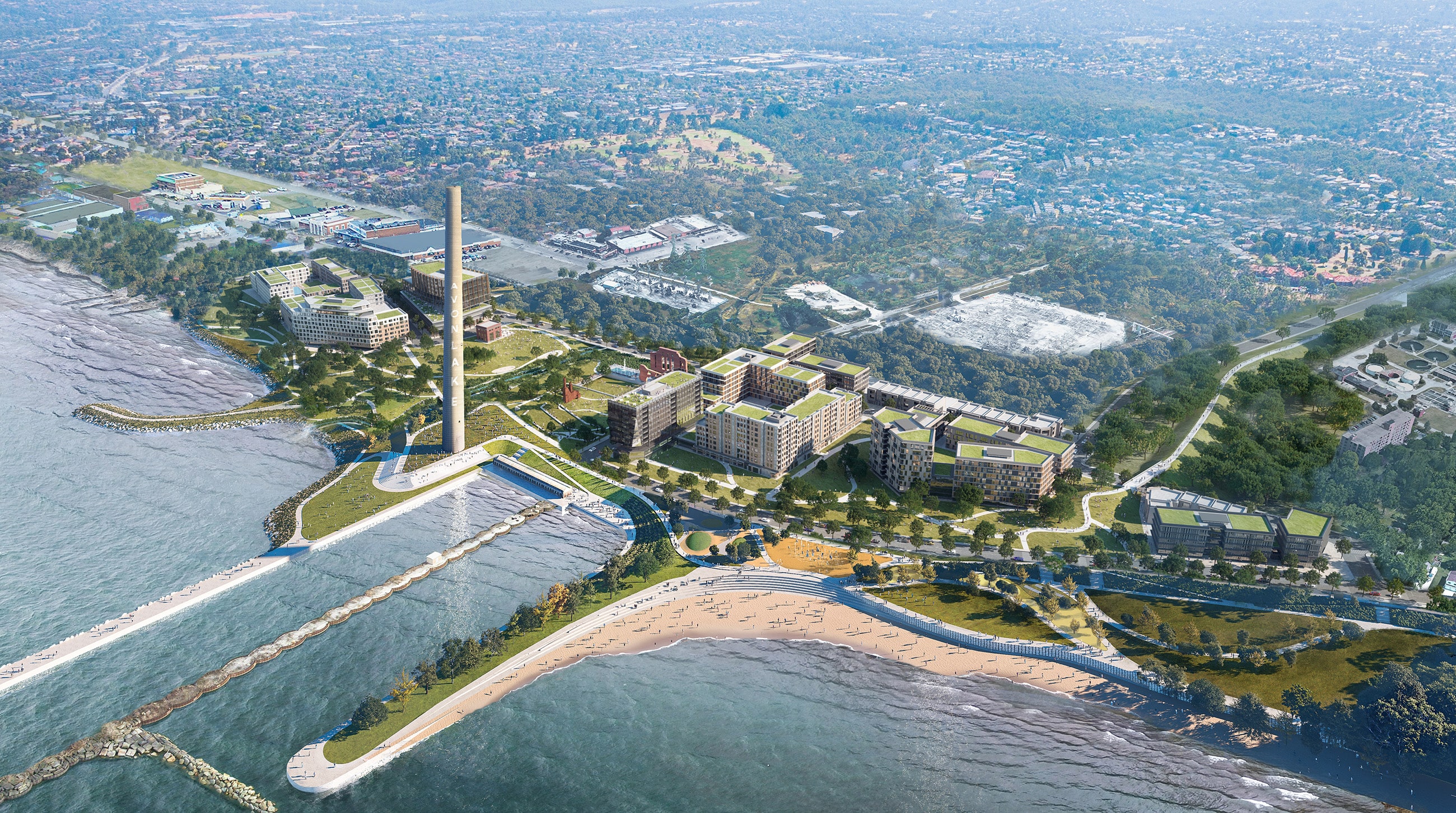 "We aim to revitalize the lakefront, connect the city to Lake Erie, and create the largest open space and public lakefront project that our region has seen in decades while serving as a catalyst for economic growth. The future of a coal power plant site is also the future of a community," said Dan Rogatto, former Avon Lake Power Plant Manager, who is now helping oversee the future of the plant for himself and generations of his family to engage with for decades to come. "We see three very critical questions that need answered as each coal power plant like this approaches a shut down: how to restore the land and successfully decommission, how to help the community uncover a future plan and place, and how to create a new and vibrant experience on the land."
Shaping a way forward for all:
How to help the community uncover a future through plan and place
It's about how we can problem solve to match needs and desires with impactful real estate solutions and development

Dick Shields

, Avison Young
"There are hundreds of these sites set for decommission and all need discovery around development, remediation, and how they will positively contribute to the communities they are in," said Dick Shields, Development Executive at Avison Young. "It's about how we can problem solve to match needs and desires with impactful real estate solutions and development and the perfect mix of partners for the area served."
This begins and ends with deep community conversations and engagement, knowing the unique make-up of the community, pulling from its history, and closing gaps related to its needs moving forward.
It's about understanding the critical role these coal power plants have played in the community and any economic impacts, including key community tax revenues. This will ensure the best opportunities and overall net positive financial gains as sites are reconsidered for future use.
As the closure of its coal power plant directly impacted funding for local schools. Reimagined developmental concepts by Avison Young along with creating new public uses on the site will reposition the Avon Lake site to contribute not only new tax revenues that would at minimum meet, and at best exceed, that of the former power plant but also to provide for new public spaces, employment and living choices to the community.
How to restore the land and successfully decommission the plant
These sites will see another day, giving back to the communities in new, cleaner, and more sustainable ways, but, for many, the path forward is easier done in partnership

Dan Rogatto

, former Avon Lake Power Plant Manager
"With the growing shutdown and decommissioning of coal-fired power plants over the next several years, it's very clear from our perspective how owners and utilities can remediate the right way: eliminate associated liabilities and environmental risk, minimize and control associated costs, meet emission reduction timeline goals, and drive economic and environmental benefits back to the local communities that have depended on these sites for decades," said Scott Reschly, Vice President of Operations at Charah Solutions, Inc. "These sites will see another day, giving back to the communities in new, cleaner, and more sustainable ways, but, for many, the path forward is easier done in partnership with remediation experts rather than attempting to move forward alone."
This is where companies like Charah come in to help utilities and power plant operators assess existing sites for remediation against needed compliance, with plans to decommission the plant, re-purpose or demolish the plant, and address any environmental conditions remaining on the site in a safe manner and complete the necessary environmental remediation that meets every environmental and governmental standard.
Proper planning and having the right partners established can make every difference in ensuring both environmental and economic considerations are being kept top of mind, producing the greatest margins for opportunity to revitalize and increase the well-being of citizens in the community, while also eliminating associated liabilities for owners and operators.
The benefits? In the case of Avon Lake, what follows are just a few of the outcomes Charah predicts for the site and its community:
How to create a new, vibrant experience on the land of former coal power plants
It's about taking this in another direction, toward a vision people can see, realize, hold, and claim authorship in as well

Andre Brumfield

, Gensler
"It's about taking this in another direction, toward a vision people can see, realize, hold, and claim authorship in as well," said Andre Brumfield, Global Director of Urban Planning and Design at Gensler. "Beyond traditional urban planning and land use, this is about surgically assessing the root issues of a place, listening without preconceived notions, and designing for improved human, social, and environmental experience and responsibility."

Input from communities should inform both the type and specifics for place-making and the masterplan design and development of the land for improved support and critical buy in. Spaces should feel catered and designed to improve the lives of citizens served.

The former coal plant site at Avon Lake kept the community from accessing the shoreline, a missed opportunity to improve general health and well-being standards for community members and the environment. It's why Gensler made sure lakefront access for the community was at the heart of Avon Lake's reimagined design, pairing an "eco park" and habitat restoration alongside plans for mixed use office and residential solutions.
Partnerships expedite impact
Together, partnerships like that of Charah (ALERG), Gensler, and Avison Young to remediate, redevelop, and reimagine coal power plants will ensure that each step of the process is driven by the right level of deep experience and expertise.
Paired with insight from local community governments, leadership, and impacted citizens, it takes all voices to call out needs and provide the most creative solutions to recycle, reuse, and adapt these sites as new community mainstays for generations to come.
Key project contacts