New York office market reports
Q4 2021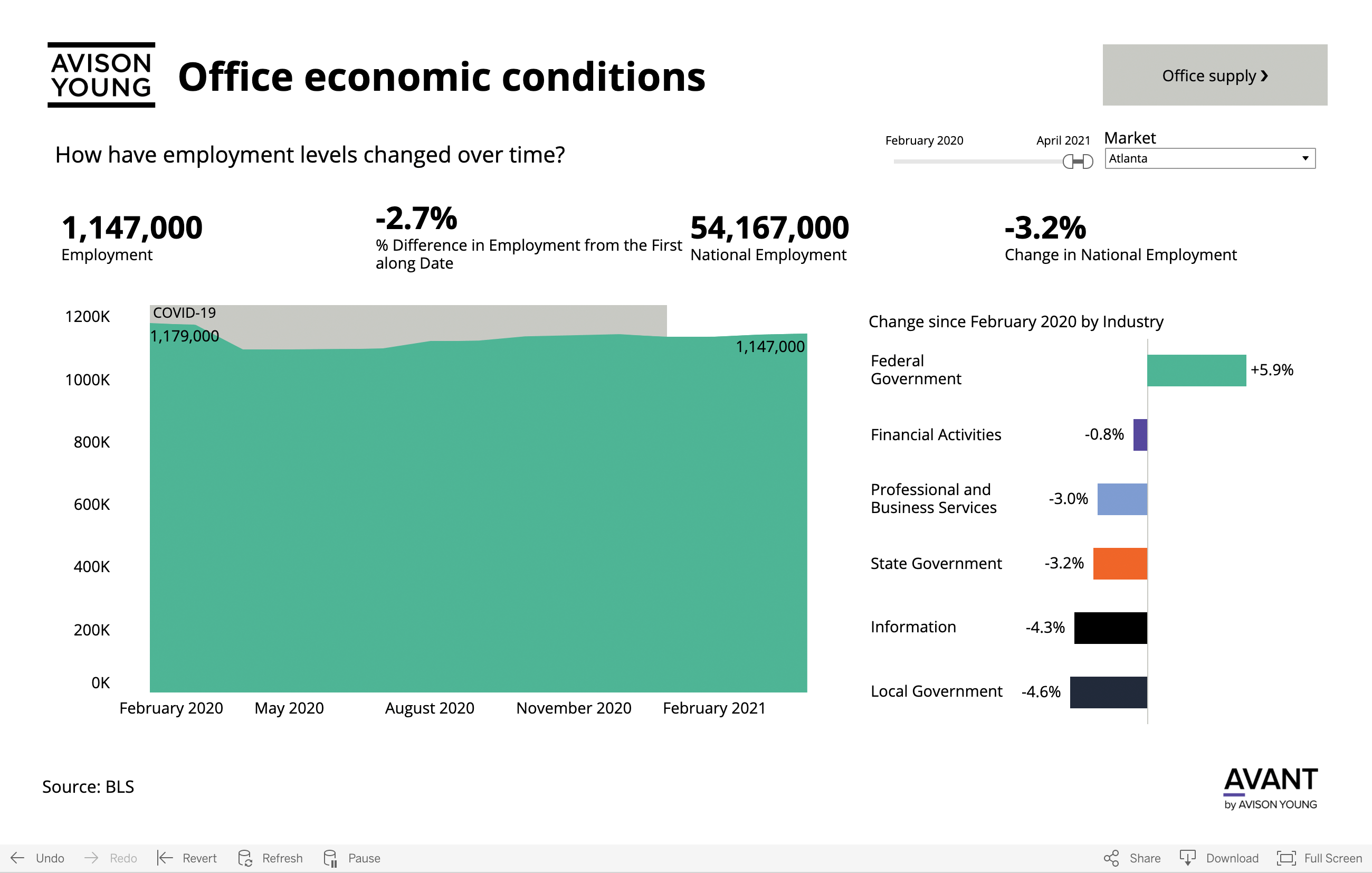 This dashboard is best viewed in a wider browser window.
Office employment conditions are positioned to remain competitive and provide positive tailwinds for the office market; however, the wide adoption of remote and hybrid work and spoking infection rates could complicate long-term office workplace strategies. Demand is still poised to rise compared with 2020 levels, however, likely stabilizing or decreasing availability rates in 2022. Tenants are likely to continue to favor high quality, transit-oriented properties, further driving a dislocation in performance between this sector and the commoditized properties that comprise the majority of the Manhattan office stock.
6.5%
Economic conditions
The Manhattan unemployment rate continued to compress in October 2021, approaching the prior 20-year historical average of 6.1%.
-51.7%
Recovery rate
Manhattan ranked #2 in the U.S. in terms of return-to-work efforts when referencing the same mid-December week in 2019.
+16.6%
Office demand
Office leasing activity increased by 16.6% year-over-year to 28.1 msf. Q3 to Q4 2021 was the most active six-month period since Q4 2019 to Q1 2020.
18.1%
Total Q4 2021 availability rate
Hampered by weaknesses in the commodity and sublease sectors, the total availability rate remains near record levels, totaling 18.1% as of Q4 2021.
-13.4%
Pricing trends
Class A net effective rents softened by 13.4% from the pre-COVID peak to December 2021.
-12.2%
Capital markets
Asset pricing decreased by 12.2% since 2019 as investors adopted more conservative underwriting assumptions given prevailing office occupier market uncertainties.
Your source for the latest New York office market reports
Get in-depth office market reports and insights from commercial real estate experts in the Greater New York area. Avison Young advisors look at New York commercial real estate activities and the latest New York statistics to provide you expert market research on New York's office properties.
Explore different topics like the latest office market pricing trends and analysis of New York's current office real estate market conditions. Gain a better understanding of New York's office real estate outlook and stay ahead of current office space trends. Make smart decisions when it comes to investing in office properties in New York's competitive office real estate market. Avison Young is your trusted source for commercial real estate office market insights in New York.
The dashboard was delivered through AVANT by Avison Young: leveraging real-time data and analytics to make cities and location-based decisions more transparent and efficient. Learn more about AVANT.
Get the latest New York office market reports right in your inbox