U.S. employment overview: tracking trends in real-time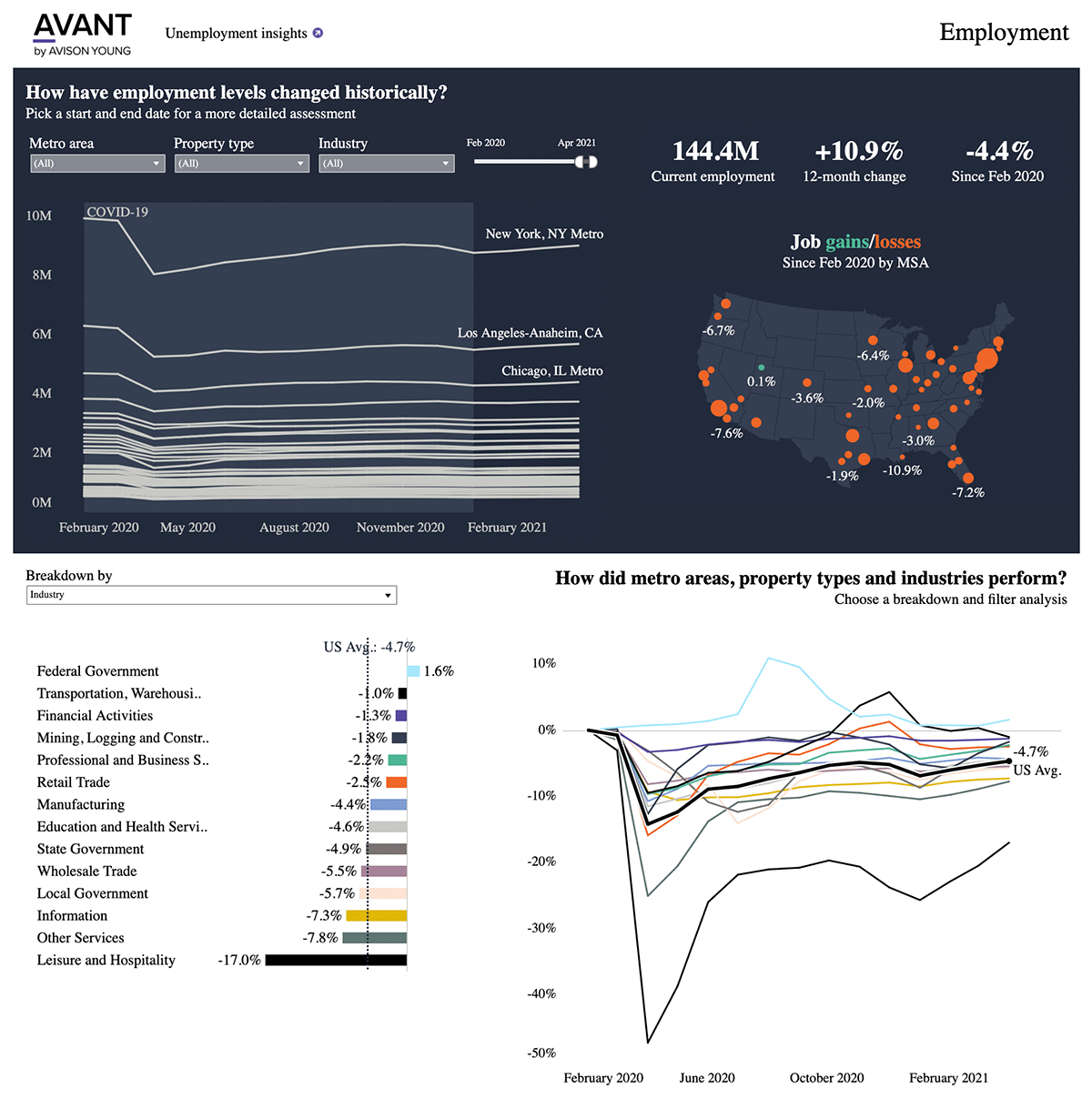 This dashboard is best viewed in a wider browser window.
The relentless headwinds from COVID-19 variants put a damper on the previously encouraging jobs report for the U.S.
Coming off very encouraging July jobs data, the numbers for August disappointed. But a closer look shows signs of hope, especially in specific sectors and regions.
The September report showed 235,000 jobs added by employers, less than one-third of the expected 725,000 new hires. Previous growth in the Leisure and Hospitality sector fell flat, presumably as pandemic concerns impacted businesses, along with end-of-summer seasonal trends. Government job growth, another contributor to previous increases, also was flat.
One sector with encouraging results was Transportation & Warehousing, which added 53,200 jobs and became the first major industry sector to exceed pre-pandemic employment levels. Professional Services also added jobs, but sustained growth may be in question as many companies have delayed return-to-the-office plans.
While the overall labor force remained down 50 basis points since the onset of the pandemic in major metro areas, there are regions that show growth. Tampa and Phoenix have seen workforces increase by more than 2% in the past 18 months. Also, areas with demographic shifts and diverse employment bases have experienced recovery in payroll and jobs.
Employers have been hard pressed to fill job openings, which reached a new record of 10.9 million. And an increase in quits led by Healthcare and Leisure & Hospitality pushed total job quits to its own record of 4.0 million. As employers struggle to maintain and grow staffing, wages have accordingly spiked with Leisure & Hospitality climbing 10.3 percent over the past year.
The big question as we look ahead is around the impact of national expiration of enhanced federal unemployment benefits. As more employees reenter the workforce, employers may finally reduce the record number of job openings, while competition for applicants had spiked wages across many industries.
This dashboard leverages Avison Young's data-based analytics platform, AVANT by Avison Young. AVANT makes city data more accessible and understandable, allowing clients to make informed, strategic decisions and realize the full potential of their real estate.