News Item - United States
Avison Young continues to grow technology platform, providing premium service delivery to clients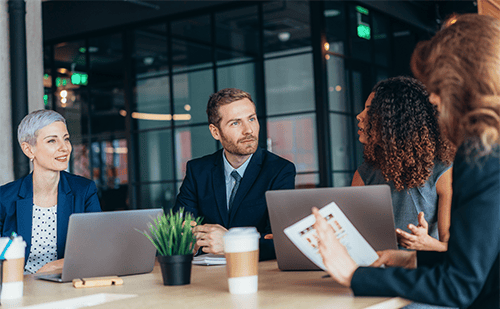 November 4, 2021
Occupier to provide an online suite of lease management solutions
Chicago, IL – Avison Young today announced an enterprise partnership with Occupier, a real estate management software company based in New York City. This partnership further expands Avison Young's investment in technology and innovation to drive digitization of services across the board for clients.
"The collaboration of Avison Young and Occupier is exciting not only for our real estate professionals, but for our clients. We're pulling in best-in-class technology from a provider that offers the top solutions available," said Harry Klaff, Principal and President of Clients at Avison Young. "This tech stack add will streamline and simplify the lease administration process from start to finish for our teams and for our clients."
Avison Young's partnership with Occupier expands the firm's technology platform with a proptech solution that automates the entire lease lifecycle, including transaction signatures, managing key dates and complying with ASC 842 or IFRS 16 accounting standards. It allows the firm to work with clients in a smarter, agile, tech-enabled way, using a single system that keeps all stakeholders involved in the process.
"Our vision is to bring the commercial real estate processes that tenants and tenant rep brokers manage on a daily basis online and we are incredibly excited to collaborate with Avison Young as their preferred lease management partner," said Occupier Co-Founder, Andrew Flint. "Corporate occupiers are experiencing an overwhelming need for real-time data and insights in order to align their real estate with their organization's business goals. Avison Young is empowering their teams to do this for their clientele with a modern, innovative technology stack. Our team looks forward to supporting Avison Young and their clients in managing a more efficient real estate lifecycle."
Avison Young, together with Occupier, is committed to providing clients the best-in-class lease administration. It is another powerful tool that demonstrates Avison Young's focus on equipping its teams and clients with technology and multi-dimensional data solutions.
About Occupier
Occupier is a New York City based provider of real estate management software. The platform enables brokers, real estate teams, and lease accounting professionals to make smarter, more informed decisions by centralizing the way they work. Occupier allows teams to simultaneously collaborate, and keeps everyone involved in the real estate transaction and portfolio management process.
Follow Occupier
Twitter | Blog | Linkedin | YouTube
About Avison Young
Avison Young creates real economic, social and environmental value as a global real estate advisor, powered by people. As a private company, our clients collaborate with an empowered partner who is invested in their success. Our integrated talent realizes the full potential of real estate by using global intelligence platforms that provide clients with insights and advantage. Together, we can create healthy, productive workplaces for employees, cities that are centers for prosperity for their citizens, and built spaces and places that create a net benefit to the economy, the environment and the community.
Avison Young is a 2021 winner of the Canada's Best Managed Companies Platinum Club designation, having retained its Best Managed designation for ten consecutive years.
For more information:
Harry Klaff, Principal & President of Clients: +1.202.508.5991
Sandra Hill, Manager, U.S. Media Relations: +1.281.853.5548