News Item - United States
AAREPLA's Fourth Annual Market Trends Breakfast brings Commercial Real Estate Thought Leaders Together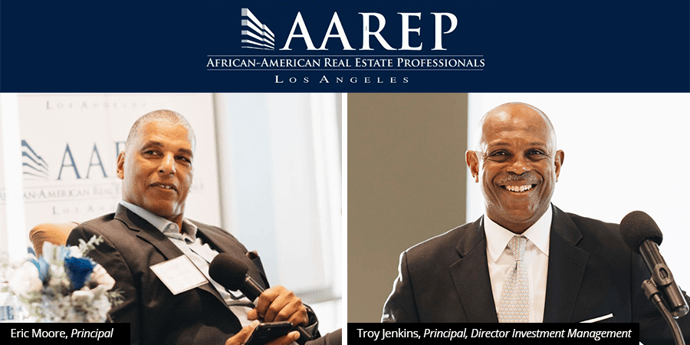 March 25, 2022
A who's who of the industry enjoyed interactive conversations, networking and a special tribute to real estate luminary, William E. Yarbro, Jr.
Los Angeles, CA, March 16, 2022 – The African-American Real Estate Professionals Association of Los Angeles (AAREPLA) and special guests gathered on Tuesday at City Club LA in downtown's City National Tower for its Fourth Annual Market Trends Breakfast sponsored by CBRE, Cushman & Wakefield, Eastdil Secured, JLL, Savills North America, Colliers, Lee & Associates, Avison Young, Sticks Holdings, LLC, Langdon Park Capital and Keller Williams Inglewood.
Over 100 guests attended the highly anticipated event that was hosted by AAREPLA's Troy Jenkins of Avison Young and Michael Tidwell, II of Cushman & Wakefield. The breakfast opened with remarks by Los Angeles City Councilmember Curren Price which was followed by a moment of silence and a warm tribute from Jenkins and Tidwell to AAREPLA's President Emeritus, William "Bill" Yarbro, Jr. Councilmember Marqueece Harris-Dawson's staff personally delivered a Certificate of Tribute and Ron Frierson, Director of Economic Policy represented the Los Angeles Mayor's Office.
Shortly after, the event convened two engaging panels. Jamie Brooks of CBRE led the first conversation with industry leaders Eric B. Moore (Avison Young), James Daughrity (Daughrity Real Estate), and Curtis Fralin (Sticks Holding, LLC) around leasing trends and insights into the future of local development. The panel offered a variety of perspectives on the impact of the recent growth in South Los Angeles and Inglewood. Insights from the discussion also included the panelists being energized by a projected return of traction with retail, quick service restaurants, industrial and office.
Danielle Curls Bennett of Alliance Property Group joined Lynn King-Tolliver of Archere Investment Management in an enlightening fireside chat on what investors can expect in the near future. Bennett and King-Tolliver both discussed how the business model for their investment groups has always incorporated ESG. This has included identifying markets that have the potential to provide investors with the opportunity to "check the social box" by creating affordable housing options for industrial workers through new development or conversions of motels. A significant takeaway from the conversation was investors should view communities from the standpoint of "what is going to make that corner better tomorrow."
After an engaging Q&A session with the audience, the breakfast closed with remarks from Mitch Rudin, Chairman and CEO of Savills North America, who is co-chairing a fundraising effort around the William E. Yarbro Memorial Scholarship. "I have been struck by the overwhelming support from the CRE industry, both locally and national. We have been doing this work for many years, providing opportunities for our members and sponsors to engage. It is always gratifying to see it all in action," said Kimberly Brown, President of AAREPLA and a Managing Director at Cushman & Wakefield.
The annual market trends breakfast has become a hallmark event for AAREPLA as it provides members and sponsors valuable information, opportunities for networking and unparalleled access to a diverse pool of talent and investment partners in the commercial real estate space.
The objective of the event was clearly met with James Daughrity echoing the sentiments of many attendees. "AAREPLA's fourth annual market trend breakfast was exactly what we needed on the cusp of this pandemic. There was a positive energy in the room, and I would like to attribute that to President Emeritus Bill Yarbro, who recently passed away. In the great words of Maya Angelou, 'A great soul serves everyone all the time. A great soul never dies. It brings us together again and again.'"
About AAREPLA
Established in 1990 in New York and 1995 in Washington DC, the African American Real Estate Professionals (AAREP) is a national network of chapters developed to support the advancement of African Americans seeking to obtain career establishment and growth within the commercial real estate industry through professional development and networking. The organization's activities have a united purpose: to support future developers, construction executives, architects, asset managers, brokers, property managers, and finance and law professionals in building relationships and obtaining the resources that aid in current and future career growth. AAREPLA was chartered in 2013.
For more information about AAREPLA, visit www.aarepla.org.
***Note to media: event photographs available for publication.
Media Contact
Kimberly Brown, President
AAREPLA
(310) 525-1923