Avison Young announces purchase of 165-acre land parcel to be the new location for the Harris County Fair & Rodeo in Houston submarket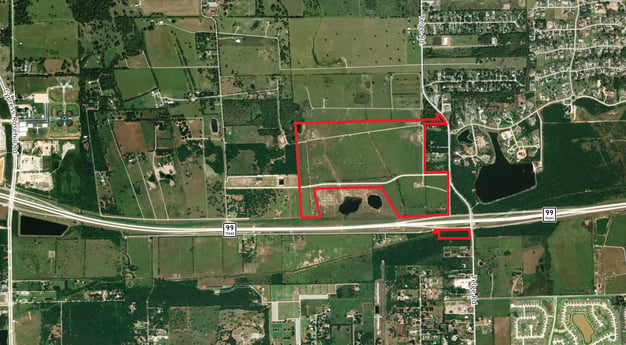 March 10, 2023
Avison Young announces purchase of 165-acre land parcel to be the new location for the Harris County Fair & Rodeo in Houston submarket
Houston, TX – Avison Young announced today it has completed the off-market acquisition of a 165-acre land parcel located on the northwest corner of Telge Road and Grand Parkway at 19835 Telge Road in Cypress, TX (northwest Harris County). The site will be the future home of the Harris County Fair & Rodeo and Fair BBQ Cook-off, as well as a number of other family-oriented community events year-round benefiting the northwest Houston and Tomball areas.
Avison Young Principal Tommy LeBlanc and Senior Associate John-Michael Kamel who are out of the firm's Houston office, represented the buyer, Stockton Foundation, Inc. The seller, Williams Family Tomball Land, LLC was represented by Wyatt Williams.
The land will be transferred by the Stockton Foundation for use as the new home of the Harris County Fair & Rodeo which has been taking place every October at East Montgomery Fair Grounds at Sallas Park in New Caney, TX.
"Our Avison Young team was able to successfully identify and negotiate the off-market sale of this large piece of land on behalf of our buyer client," said LeBlanc. "Northwest Harris County is seeing a significant amount of residential and commercial development, making this site an ideal fit for the local community. The Grand Parkway extension project has created better accessibility for the area and we anticipate this local market to continue to be a path of growth over the next several years."
Fred Stockton of the Stockton Foundation, who also serves as Chairman of the Harris County Fair & Rodeo Association (HCFRA) stated, "We are thrilled to acquire this site to be utilized by our non-profit group that is focused on engaging youth, agricultural education and development, entertainment, and events in a family friendly environment."
Stockton added that the site will likely have its first fair and rodeo event in late 2024. Several historic buildings will be relocated to the site including the 1,500-square-foot former Tin Hall caretaker house which was later converted to a chapel and will soon be renovated for use as an event facility. A large, covered rodeo structure will also be constructed on the grounds.
"We will reconstruct the old Tin Hall which was built in the late 1800s in Cypress, TX and has been closed since 2014," added Stockton. "I have salvaged many interior elements including the dance floor, the bars and the inside walls, along with the stairway to the second floor and it will be amazing to bring this building back to life in this new location."
Land sales experts LeBlanc and Kamel are currently marketing in excess of 500 acres of land in northwest Harris County.
For more information:
Media Contact:
Darcie Giacchetto, Media Relations & Content Specialist – Southwest: +1.949.278.6224
Business Development:
Tommy LeBlanc, Principal : +1.713.993.7178