News Item - United States
Avison Young to market site for mixed-use redevelopment project on waterfront in downtown Long Beach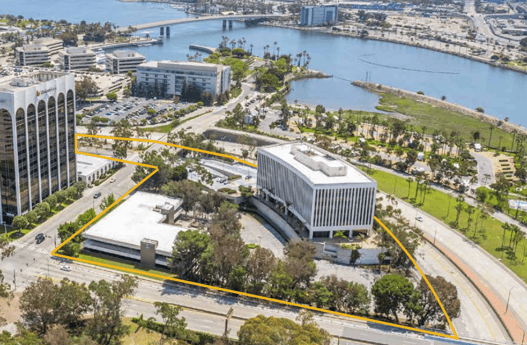 November 16, 2023
Part of the Golden Shore master plan, the fully entitled site is the only waterfront location for master-planned redevelopment in downtown Long Beach
Los Angeles, CA – Avison Young is pleased to announce the exclusive listing of Golden Shore, a prime 4.73-acre waterfront mixed-use development site in downtown Long Beach. The site is comprised of three parcels that are part of the Golden Shore master plan, and boasts full entitlements for multifamily, hospitality, and retail uses including Coastal Commission approval.
Avison Young Principal & Managing Director Damian McKinney, and Principal and Head of U.S. Multifamily Peter Sherman, are exclusively representing the seller of Golden Shore. Avison Young Principal - Capital Markets Jay Maddox is heading up the debt and equity for prospective buyers. The seller, Long Beach-based law firm Keesal Young & Logan, acquired the parcels and obtained the existing entitlements over the past several decades. All development rights are protected through 2035.
All told, the Golden Shore master plan encompasses 6.2 contiguous acres and includes the Union Bank of California building, a 14-story, 157,663-square-foot (sf) office tower and adjacent parking garage located at 400 Oceangate. The tower/parking structure sold in July 2023 and is slated for conversion to an approximately 300-unit luxury residential project. In its entirety, the project is entitled for up to 1,070 residential units; hospitality with up to 400 keys; up to 340,000 sf of office; and up to 27,000 sf of retail. The entitlement envelope is highly flexible, providing a range of development visions.
This high-profile project has the full support of the City of Long Beach who is prepared to "fast track" the architectural design and building permit process. And, because it is less than one-half mile from public transit, parking requirements are waived based on newly passed California legislation.
"Golden Shore is situated on one of the most desirable waterfront locations in Southern California and offers panoramic views of the Pacific Ocean, Long Beach Harbor, and the downtown Long Beach skyline," said McKinney. "This is an opportunity to create a legacy project and be a part of the fabric of this beloved coastal community."
Long Beach Mayor Rex Richardson stated, "The Golden Shore redevelopment is a high priority for the City of Long Beach and coincides with its future vision of downtown. This project will help meet our city's overall need for additional housing, create a new community, as well as add needed hotel accommodations to meet growing demand. We are looking forward to proactively partnering with the buyers to create this next chapter for downtown Long Beach."
The three parcels are being marketed all-together or individually and include:
11 Golden Shore, an existing waterfront coastal view 6-story, 104,350 square-foot office building on 1.8 acres, that has adaptive reuse potential for multifamily. The parcel also has an existing parking structure and potential for future expansion beyond adaptive reuse of the existing building.

1 Golden Shore, a 2.48-acre parcel which sits behind 11 Golden Shore and provides potential for multifamily. The property currently has a two-story office building that is ready for demolition and a 178-space parking structure.

Seaside Way which totals .45 acres and provides land and air rights.
"Recognizing the current very challenging financing environment for ground-up development projects, the Avison Young team has lined up some potentially interested capital sources and creative financing structures that developers can take advantage of," said Maddox.
Downtown Long Beach has grown demonstrably over the last decade into a vibrant community with an array of attractions, art galleries, boutique shops, destination restaurants and relaxing cafes, and ultimately serves a broad range of ages - from Gen Z to Baby Boomers. With over $1 billion of new public investment, Long Beach is thriving. Notable investments include the revitalization of the Long Beach Civic Center ($520 million) inclusive of a new city hall, the Long Beach Airport expansion ($80 million), DTLB Metro upgrades ($350 million), Aquarium of the Pacific expansion ($60 million), the Billie Jean King Main Library, Port of Long Beach headquarters and the reactivation of the historic Lincoln Park which is adjacent to Golden Shore.
Avison Young creates real economic, social and environmental value as a global real estate advisor, powered by people. As a private company, our clients collaborate with an empowered partner who is invested in their success. Our integrated talent realizes the full potential of real estate by using global intelligence platforms that provide clients with insights and advantage. Together, we can create healthy, productive workplaces for employees, cities that are centers for prosperity for their citizens, and built spaces and places that create a net benefit to the economy, the environment and the community.
Avison Young is a 2023 winner of the Canada's Best Managed Companies Platinum Club designation, having retained its Best Managed designation for 12 consecutive years.
Follow Avison Young
Twitter (News) │ Twitter (Deals) │ Blog │ LinkedIn │ YouTube │ Instagram
For more information:
Media Contact:
Darcie Giacchetto, Media Relations & Content Specialist – Southwest: +1.949.278.6224