null - Read Avison Young News Here | Avison Young US - United States
Avison Young news: Find out the latest industry happenings
Quarterly and topical research insights to help your business gain competitive edge in commercial real estate.
Plans revealed for Essex Medical Center state-of-the-art medical facility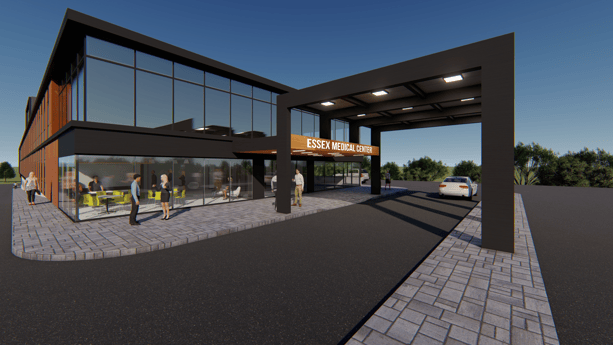 August 6, 2021
Plans revealed for Essex Medical Center state-of-the-art medical facility
The 70,000-square-foot property signifies demand for healthcare space in Northern New Jersey
Morristown, NJ – Avison Young announced today that its New Jersey office has been retained by Altera Fund Advisors for a comprehensive repositioning assignment to convert 769 Northfield Avenue in West Orange, NJ into a class A state-of-the-art medical facility, which will be reintroduced as the Essex Medical Center. Avison Young will be involved in all aspects of the redevelopment, overseeing the construction and project management, property management and leasing of the 70,000-square-foot property.
Avison Young's multidisciplinary team led by Principal and Managing Director Jeff Heller, SIOR, will be supported by Principal and Vice President Gabriel Sasso for Project and Construction Management with Senior Vice President Steven Geltzeiler overseeing leasing.
"We have a long-standing relationship with Altera Fund Advisors and look forward to working together throughout each phase of 769 Northfield Avenue's conversion from a class C building into a top-of-the-line, class A medical facility that will serve the Northern New Jersey market," said Heller. "Medical providers have been among the more resilient tenant categories throughout the pandemic, which is why we are confident that the conversion into a class A medical facility will bode well for ownership from an investment standpoint."
Construction on Essex Medical Center will begin in the fourth quarter with a completion date of late 2022. The pre-leasing marketing campaign is now underway. Upon completion, the four-story property will feature a new façade, renovated common areas, new HVAC and energy systems, upgraded electrical system, new roof, repaved parking lot, designated doctor's parking lot, new onsite food service, new lobby and portico.
"The outlook for the healthcare real estate sector remains strong and upon completion, the repositioned Essex Medical Center will satisfy the continued demand for top-notch medical facility space in Northern New Jersey," adds Terry Quinn, CEO of Altera Fund Advisors. "Essex Medical Center is an important project in the local community as it will offer the capacity to cater to a variety of medical uses in a convenient, centralized location. Avison Young has diligently provided key analytics and extensive market knowledge throughout the acquisition and decision-making processes, and we are certain the team will help us to fully maximize the value of this unique asset."
This project is situated in a region historically heavily occupied by medical tenants and is surrounded by numerous neighborhood amenities, including a bevy of shops, dining, hotels and healthcare facilities. Situated at the intersection of several highways, Essex Medical Center offers convenient access to Newark Airport as well as New York City and the Tri-State Area.
About Altera Fund Advisors
Altera Fund Advisors is a diversified commercial real estate firm focused primarily on investing in medical and healthcare-related real estate assets as an advisor, sponsor and general partner. Altera and its affiliates have acquired approximately $450 million of real estate assets around the country. Altera believes healthcare-related real estate assets are resilient through economic cycles and other unanticipated disruptions such as pandemics. Altera seeks to generate value-add and opportunistic returns through asset renovation and repositioning.
Avison Young creates real economic, social and environmental value as a global real estate advisor, powered by people. As a private company, our clients collaborate with an empowered partner who is invested in their success. Our integrated talent realizes the full potential of real estate by using global intelligence platforms that provide clients with insights and advantage. Together, we can create healthy, productive workplaces for employees, cities that are centers for prosperity for their citizens, and built spaces and places that create a net benefit to the economy, the environment and the community.
Follow Avison Young
Twitter (News) │ Twitter (Deals) │ Blog │ LinkedIn │ YouTube │ Instagram
For more information:
Natalie Weiner, Media Relations & Content Specialist, Northeast: +1 212 219 7055
Wendy Lusardi, Marketing Manager: +1 973 898 4009