null - Read Avison Young News Here | Avison Young US - United States
Avison Young news: Find out the latest industry happenings
Quarterly and topical research insights to help your business gain competitive edge in commercial real estate.
James Nelson Receives Prestigious REBNY Honor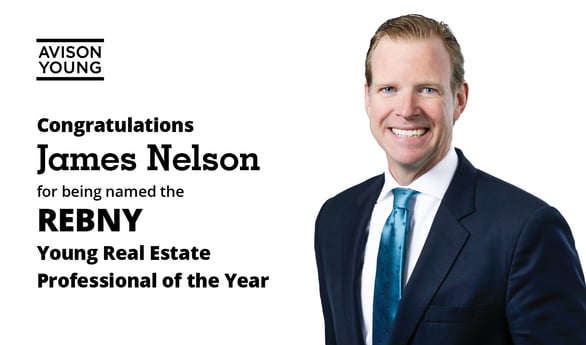 February 10, 2023
The Real Estate Board of New York (REBNY) has announced their list of distinguished New York City civic and real estate industry leaders, and James Nelson, Principal and Head of Tri-State Investment Sales, is among the honorees! James has been named The Young Real Estate Professional of the Year, which honors the incredible professional achievements as a rising star of the industry for civic leadership.
"James' impact on New York City's real estate industry cannot be denied and the remarkable success of Avison Young's Tri-State Investment Sales team is a testament to his leadership, enthusiasm, and dedication to growing our business," said Dorothy L. Alpert, Principal and President of Avison Young Tri-State. "We offer a warm congratulations to James for this milestone achievement!"
James and the honorees will receive their awards at the 2023 REBNY Annual Event, which will be held on April 20th at the Glasshouse – a signature event that brings together industry leaders and public officials for a night of celebration, networking, and awards.
"Our honorees exemplify real estate's profoundly positive impact on New York City's growth and success," said REBNY President James Whelan in a press release. "Their remarkable passion, vision and ingenuity have elevated our industry and strengthened the foundations of our City."
For more information, please see the full release here: https://www.rebny.com/press-release/rebny-announces-2023-annual-event-honorees/