null - Read Avison Young News Here | Avison Young US - United States
Avison Young news: Find out the latest industry happenings
Quarterly and topical research insights to help your business gain competitive edge in commercial real estate.
Avison Young awarded property management contract for One Centenary Way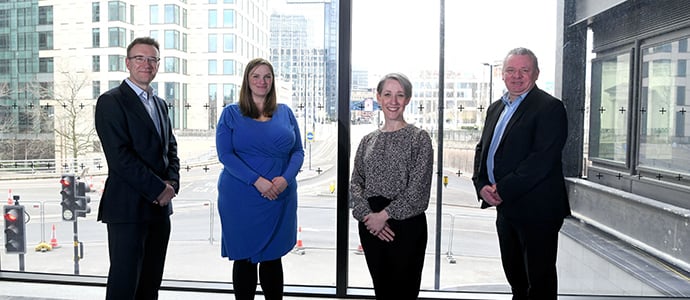 March 29, 2023
Strategic real estate advisor appointed after competitive tender process led by MEPC
Contract includes property management, facilities management, accounting, Front of House and Engage services
Appointment grows on Avison Young's existing management of the Paradise estate
Strategic real estate advisor Avison Young has been awarded the property management contract for a flagship building in the next phase of major regeneration project, Paradise, in Birmingham city centre.
Avison Young will manage One Centenary Way following a competitive tender led by MEPC the development and asset management arm of Federated Hermes. The contract includes property management, facilities management, accounting and Engage services, with the focus of the approach on occupier engagement and retention within a sector-leading environment.
One Centenary Way is the first building to be constructed in Phase Two of the Paradise development in the city centre. The 280,000 sq ft building offers first class accommodation with Arup and Goldman Sachs already committed to new office space in the building.
The building adds to the first phase of Paradise including One and Two Chamberlain Square, which has seen a mix of professional and financial firms move to the scheme, along with a number of restaurants and nightspots such as Dishoom, Albert's Schloss, Vinoteca and Rosa's Thai restaurant.
Avison Young has been involved with the transformational Paradise scheme for many years to provide advice throughout the planning, funding and mobilisation of the scheme. The new contract adds to Avison Young's current management of the wider Paradise estate and continues the close working relationship with MEPC.
Principal and Head of Property Management in the region, Guy Thompson, said:
"The Paradise development continues to contribute towards the transformation of Birmingham, regenerating the area and bringing in several recognised brands and businesses to the city centre. The tender process demanded evidence of a focus on occupier experience and engagement which we were able to demonstrate. The building has attracted prestige occupiers including Arup and Goldman Sachs already, and it is our role to satisfy, engage and retain them through their on-site experience. We will bring our service-led management to the city, creating a new level of occupier experience for Birmingham."
Sarah Csukas, who joined Avison Young last year as Director, will be the lead client relationship manager for One Centenary Way. She brings a wealth of experience from working on premium buildings in central London management for more than 10 years, including London Bridge City/More London 25 Cabot Square, One Exchange Square and One London Wall. She will be supported by Associate Director, Justin Sherratt, who has advised on and managed the estate for several years.
Guy Thompson added:
"It's a privilege to extend our working relationship with MEPC, and to be managing this landmark building. Our aspiration is to ensure it makes its mark on the city's commercial occupiers through our service delivery and the ongoing sustainability of the building, as much as it has positively impacted Brummies and visitors in terms of the city's main routes and skyline."
Caroline Rudge, Commercial Manager at MEPC, the asset and development managers for Paradise.
"Avison Young presented a tender that demonstrated attention to detail to this asset and our expectations for our occupiers, as well as a proven track record not only of their responsive approach to management of the estate, but of their style and innovation at similar assets elsewhere. Their team relationship and tailored approach to One Centenary Way secured the contract and we look forward to continuing our working relationship with the team."