null - Read Avison Young News Here | Avison Young US - United States
Avison Young news: Find out the latest industry happenings
Quarterly and topical research insights to help your business gain competitive edge in commercial real estate.
Lethbridge industrial lease rates forecasted to increase to support local economic growth: Avison Young report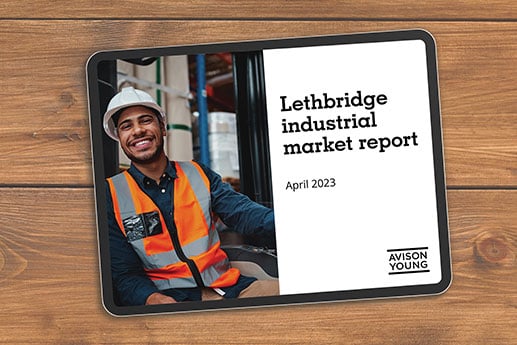 April 4, 2023
Lethbridge, Alberta – Avison Young's latest "Industrial Market Report" – for Lethbridge anticipates average lease rates for industrial commercial real estate (CRE) will increase to drive new development.
Inflation and supply-chain issues have increased construction costs and caused a slowdown in local new developments. This slowdown, coupled with high demand and low industrial inventory, has caused an imbalance in the Lethbridge market where tenants are facing limited options for space. As a result, lease rates will need to increase to ease tight market conditions and promote a stronger local market.

"Rent increases may challenge tenants initially, but overall, a rental correction will both contribute to the health and increase investment capital to rebalance the local market," said Josh Marti, Principal in the Avison Young Lethbridge office.

In Lethbridge, the average industrial rental rate increased 4.0 per cent in the last year to $9.03 per square foot (psf). Avison Young predicts that new spaces coming to market will be priced higher to match the cost of construction and tenants can expect higher lease rates in these new builds of approximately $12.50 - $13.50+ psf.

These higher lease rates will provide more certainty and capital to local investors who have been in a holding pattern since mid-2022. Now that the Bank of Canada has stabilized the overnight interest rate at 4.5 per cent and inflation has begun to slow at 5.2 percent, higher lease rates would enable investors to bring new industrial CRE to market.

"With interest rates up, and construction costs also up significantly, the per square foot rental rate doesn't make sense like it has in the past," said Doug Mereska, Managing Director in the Avison Young Lethbridge office. "While there is an abundance of inventory with other asset types, with industrial there is not. New builds will be at higher rates and trickle down to the tenants."

Lease rates in Lethbridge are low compared to similar markets and need to increase to match the cost to build and operate industrial CRE. Over time, Avison Young predicts that the overall Lethbridge market rates will also increase and renewals in existing space will likely increase as well to match the market.

"Tenants are facing a lack of inventory in Lethbridge due to a combination of some obsolete product and a slowdown in new development," said Vinko Smiljanec, Associate in the Avison Young Lethbridge office. "The tight market conditions also mean that tenants will need to plan well ahead of lease expiries because of the lack of inventory."

Lethbridge has a positive outlook for 2023. Large private ventures are bringing production, capital, and jobs to the community such as the McCain plant expansion and the PIP International facility development. Provincial investments, notably the PrariesCan allocation of $11.2M of funding for 18 projects in Lethbridge and area and the completion of the Lethbridge Agri-Food Hub & Trade Centre, are growing local agri-business and supporting the diversified Lethbridge economy.

"Lethbridge has the fundamentals in place to offer the supply needed to meet the pent-up demand," said Marti. "This could potentially pave the way for a surge of growth for our region if the local market is willing to keep pace with our neighboring markets."

The current Lethbridge industrial vacancy rate sits at 3.9 per cent indicating a very limited inventory since much of that vacant space is aged or obsolete. There is an estimated 126,000 sf of industrial property currently under construction.
About Avison Young
Avison Young creates real economic, social and environmental value as a global real estate advisor, powered by people. As a private company, our clients collaborate with an empowered partner who is invested in their success. Our integrated talent realizes the full potential of real estate by using global intelligence platforms that provide clients with insights and advantage. Together, we can create healthy, productive workplaces for employees, cities that are centers for prosperity for their citizens, and built spaces and places that create a net benefit to the economy, the environment and the community.

Avison Young is a 2022 winner of the Canada's Best Managed Companies Platinum Club designation, having retained its Best Managed designation for 11 consecutive years.
www.avisonyoung.com
Follow Avison Young
Twitter (News) │ Twitter (Deals) │ Blog │ LinkedIn │ YouTube │ Instagram

For more information:
Download the report

Media contact:
Karlene Quinton
[email protected]
Marketing Director
+ 1 403.330.3338