null - Read Avison Young News Here | Avison Young US - United States
Avison Young news: Find out the latest industry happenings
Quarterly and topical research insights to help your business gain competitive edge in commercial real estate.
Accuracy Deutschland mietet rund 1.000 Quadratmeter im Aqua, FOUR Frankfurt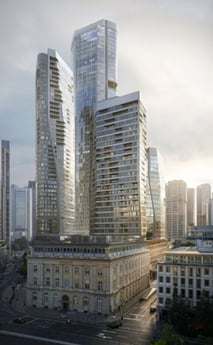 August 14, 2023
Image: FOUR Frankfurt. Bild: Groß & Partner / Bloomimages
Die Unternehmensberatung Accuracy Deutschland GmbH hat rund 1.000 Quadratmeter Bürofläche im T4/Aqua des FOUR Frankfurt gemietet. Eigentümer des Turmes ist der Hamburger Immobilien-Investmentmanager Union Investment. Das global agierende Immobilienberatungsunternehmen Avison Young war bei der Anmietung beratend und vermittelnd tätig.
Das Hochhausensemble FOUR in der Frankfurter Innenstadt ist eine der größten innerstädtischen, vertikalen Projektentwicklungen Europas. Zudem ist es das erste Bauprojekt, das als "nachhaltige vertikale Stadt" mit dem Qualitätssiegel DGNB-Platin der Deutschen Gesellschaft für Nachhaltiges Bauen (DGNB) für den gesamten Rückbau zertifiziert wurde. Beim Bau und dem späteren Betrieb des Quartiers steht der verantwortungsvolle Umgang mit Ressourcen im Fokus. Smarte Technologien, hocheffiziente Licht-, Energie- und Belüftungskonzepte sowie begrünte Flächen tragen zu einer nachhaltigen und energiesparenden Quartiersentwicklung bei.
Auf dem Areal entstehen vier neue Hochhäuser mit bis zu 233 Metern Höhe, in denen rund 95.000 Quadratmeter Büros, ein Premiumhotel, etwa 600 Eigentums- und Mietwohnungen sowie Serviced Apartments, Einzelhandel und Nahversorgung, Restaurants und Bars, Frankfurts erste Foodhall und ein öffentlich begehbarer Dachgarten in rund 25 Metern Höhe Platz finden.
Kay Wüste, Partner bei Accuracy in Frankfurt: "Wer ambitionierte Ziele hat, kann sie bei uns erreichen. Da ist es doch naheliegend, dass wir unseren Mitarbeitern auch eine entsprechende attraktive Arbeitswelt bieten möchten. Wir legen Wert auf die Förderung der Fähigkeiten unserer Mitarbeiter und daher ist es uns wichtig, für sie eine inspirierende und moderne Umgebung zu erschaffen. Wir freuen uns sehr, Teil dieses einzigartigen Projektes zu sein."
Karolina Thoben, Groß & Partner: "Vier Hochhäuser in einem urbanen Raum zu entwickeln, ist eine besonders anspruchsvolle Aufgabe. Es ging darum, zugleich moderne, nachhaltige und attraktive Arbeits- und Lebenswelten zu schaffen. Wir freuen uns, dass unser Konzept der Quartiersentwicklung von so vielen hochkarätigen Mietern geschätzt wird. Je vielfältiger die Arbeitswelt in den Türmen ist, desto bunter wird auch das Leben im Quartier. "
Yasmin Hilsky, Associate Director Office Leasing bei Avison Young in Frankfurt: "Wir freuen uns sehr, dass wir Accuracy diese Flächen vermitteln konnten. Mit Unterstützung aller Projektbeteiligten konnten wir die Wünsche und Anforderungen an eine neue, moderne Arbeitswelt für Accuracy umsetzen. Von Anfang an konnten wir unseren Kunden von den Vorzügen des Quartiers begeistern und freuen uns mit der Vermietung ein Stück zur namhaften Mieterstruktur der neuen Frankfurter Skyline beigetragen zu haben."
Neben Accuracy haben sich bereits u.a. Baker McKenzie, Simmons & Simmons, Nuveen und Sanofi Aventis für das Aqua im einzigartigen Projekt als Standort entschieden.