null - Read Avison Young News Here | Avison Young US - United States
Avison Young news: Find out the latest industry happenings
Quarterly and topical research insights to help your business gain competitive edge in commercial real estate.
Avison Young stellt neuen Impact Report vor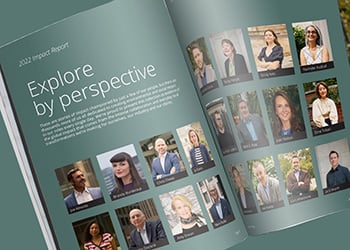 September 7, 2023
Fotografische Gestaltung des Berichts durch gemeinnützige Organisation "Women Photograph"
Frankfurt am Main, 7. September 2023 – Das weltweit tätige Immobilienberatungsunternehmen Avison Young hat seinen aktuellen Impact Report veröffentlicht, in dem es darlegt, welche Fortschritte in den Bereichen Klimaschutz, Diversität, Gleichberechtigung und Inklusion sowie Gemeinwesen als Teil der unternehmenseigenen ESG-Strategie mit Blick auf das vergangene Jahr erzielt wurden.
Der Bericht beschreibt unter anderem die Entwicklungen hin zu einer Netto-Null-Emission, zu einem vielfältigen und integrativen Team sowie zur Schaffung von sozialen Werten und gesellschaftlichem Einfluss. Zu den auf diese Ziele ausgerichteten Projekten von Avison Young in diesen Bereichen zählen beispielsweise folgende:
Der neue Unternehmenshauptsitz zielt auf mehr Konnektivität, Nachhaltigkeit und soziale Auswirkung, also auf das "S" von ESG. Er befindet sich weiterhin in Toronto, jetzt aber im so genannten Toronto-Dominion Centre (TD Centre) im Herzen des kanadischen Finanzdistrikts;
Die Arbeitsplatz-Neugestaltung in der Niederlassung in Manchester mit dem Schwerpunkt auf Integration und Well-Being. Die Büroräume bieten Ruhezonen, ein gedämpftes Lichtkonzept, abgerundetes und biophiles Design, also gesunde Lebensräume im Einklang mit der Natur, und damit eine auf den Menschen ausgerichtete Konzeption für Mitarbeitende und Besuchende;
Die Strategie, die Expertise zu wichtigen gesetzgebenden Verordnungen früh in die Kund:innenberatung einfließen zu lassen. Ein Beispiel dafür ist das so genannte New York´s Local Law 97, das weltweit als das ambitionierteste Gesetz im Bereich Gebäudeemissionen gilt.
"Über unsere Umweltinitiativen hinaus haben wir uns besonders im Rahmen des ´S´ von ESG weiterentwickelt. Die zunehmenden sozialen Herausforderungen werden den Städtebau und die Immobilienwirtschaft zukünftig verändern. Unsere Teams stellen sich weltweit proaktiv dieser Aufgabe", so Mark Rose, Vorsitzender und CEO von Avison Young. "Uns ist bewusst, dass eine einzelne Organisation die komplexen Herausforderungen nicht allein bewältigen kann. Kollaboration ist der Schlüssel zur Entwicklung nachhaltiger Lösungen und Wirkung. Deswegen arbeiten wir verstärkt mit Interessenvertreter:innen von Regierungsstellen, Stadtverwaltungen, gemeinnützigen Organisationen und unseren Kolleg:innen aus der Immobilienbranche zusammen."
Die fotografische Gestaltung des neuen Impact Report von Avison Young wurde von der gemeinnützigen Organisation "Women Photograph" übernommen. Sie versteht sich als Stimme von und für Frauen und nicht-binäre visuelle Journalist:innen und stellt sicher, dass die Geschichtenerzähler:innen so vielfältig sind wie die Gruppen, die sie vertreten.
Den vollständigen Impact Report erhalten Sie anbei oder unter:
Über Avison Young
Avison Young ist ein globales Immobilienberatungsunternehmen und schafft wirtschaftliche, soziale und ökologische Werte. Als eigentümergeführtes Unternehmen sind wir ein starker Partner und investieren in den Erfolg unserer Kunden. Bei Avison Young verbinden wir lokale mit globaler Expertise und setzen intelligente Plattform-Technologien ein, mit denen wir unseren Auftraggebern entscheidende Know-how-Vorteile bieten und neue Wege aufzeigen, das gesamte Potenzial von Immobilien auszuschöpfen. Gemeinsam mit unseren Kunden entwickeln wir Konzepte für ein gesundes und produktives Arbeitsumfeld und für Orte der Begegnung, die sich positiv auf die Wirtschaft, Umwelt und Gesellschaft auswirken.
Kontakt Medien Avison Young
ROZOK GmbH
Martina Rozok
M: +49 170 23 55 988
E: [email protected]