The Data Bite: Office workforce availability
Local talent on a silver platter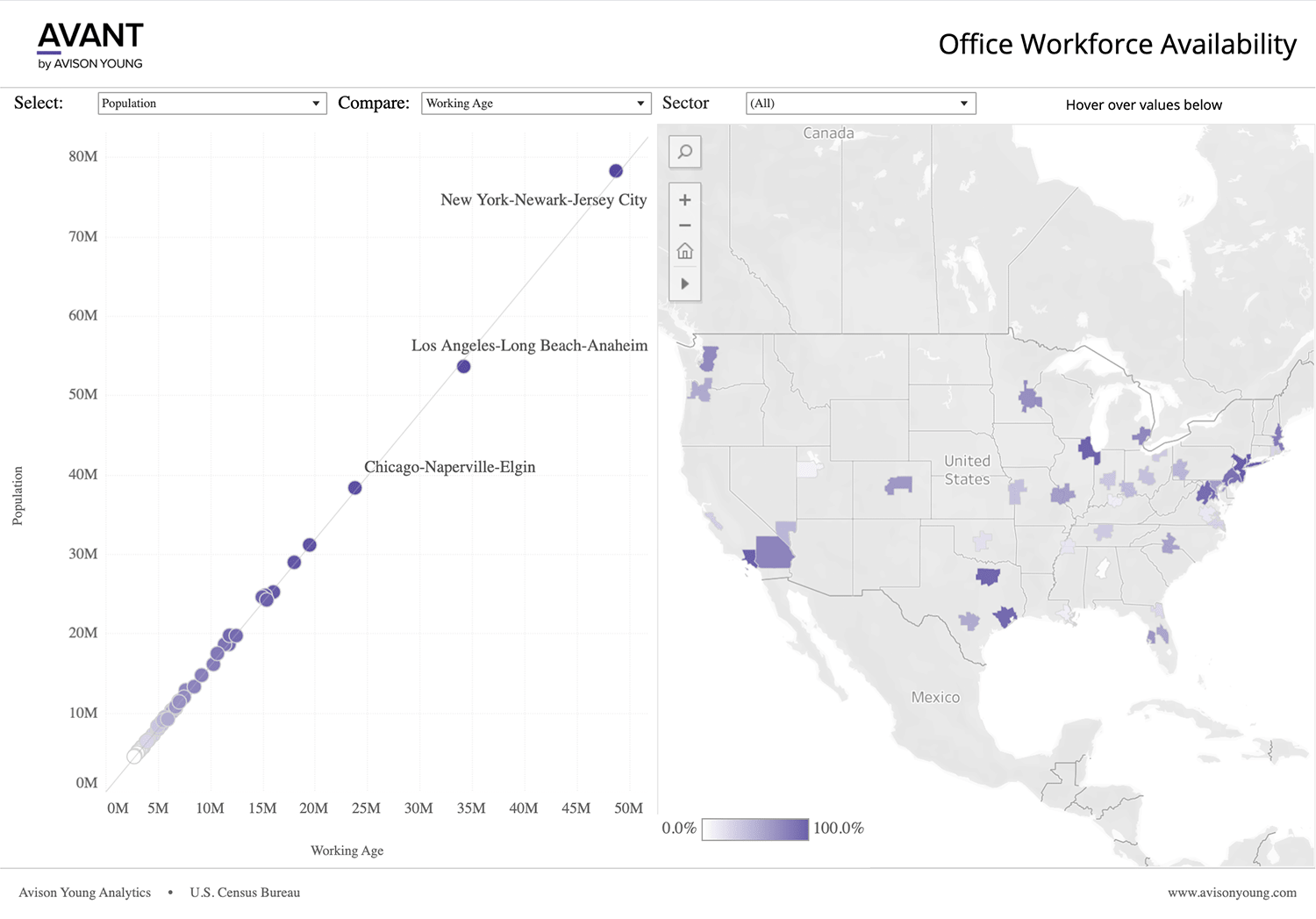 This dashboard is best viewed in a wider browser window.
The shuffling continues as companies with office workers grapple with changing real estate strategies. But even as back-to-the-office needs vary between markets and industries, one card is in play for everyone: the competition for available office staff.
Recently released data on the U.S. labor market shows that the war for office talent --- which existed before the pandemic --- shows no signs of letting up. It is true that there have been job losses in the office sector, but not nearly as much as other industries. According to the Bureau of Labor Statistics, office-using job growth contracted by 3.0% from February 2020 to May 2021. Other sectors were hit much harder. Hospitality (-14.9%), Retail (-4.3%), and Education and Health (-4.8%) all saw more severe declines.
But even during the disruptions of the past two years, wage increases continued, indicating the competition for qualified and available office staff. Salaries in the financial activities sector grew 5.9%, professional services grew 3.6%, and information grew 2.3% year over year.
The above dashboard that leverages our real-time data analytics platform, AVANT by Avison Young, can help companies plan their real estate strategies. Knowing where the short supply of critical talent is located in this fluid labor market is important data that can drive office-using companies' decision-making processes.
Which markets have the greatest availability of office talent in terms of population versus office occupation? Which markets have seen the most growth in people who have recently moved to the area? These questions and more can be answered by the interactive dashboard. Knowing what is behind the numbers, and where the trends are headed, will result in smarter real estate decisions.