U.S. employment overview: tracking trends in real-time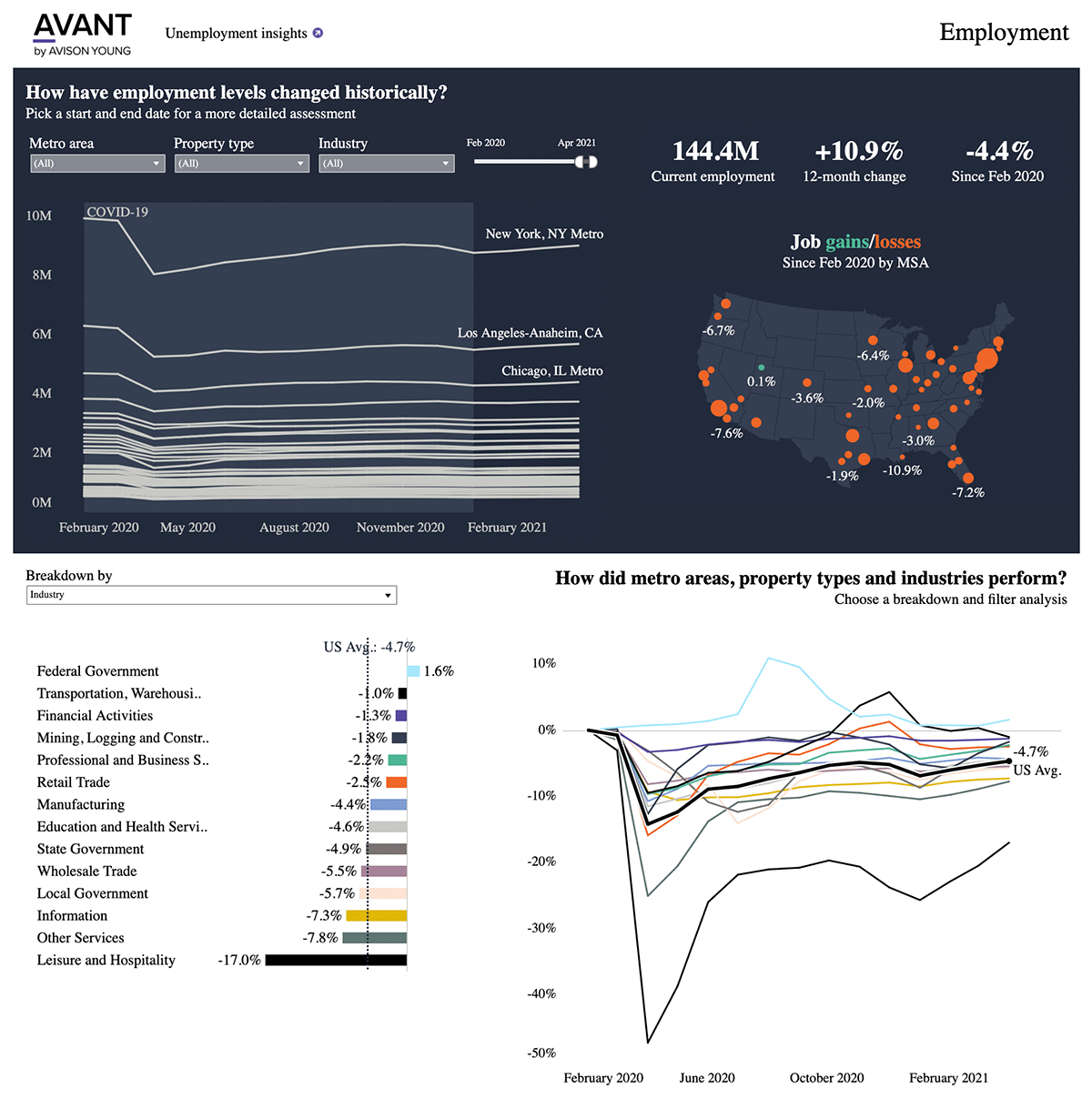 This dashboard is best viewed in a wider browser window.
The most recent U.S. jobs report shows continuing growth, as employers added more than 400,000 jobs for the fourth straight month amidst signs that worker turnover is beginning to decline. Meanwhile, concerns with inflation continue as economists watch Federal Reserve actions closely, following the first interest rate increase since 2018.
The March jobs report showed employers adding 431,000 jobs, just missing the 490,000 predicted growth. These increases were evident across many public and private sectors. The top two sectors were Leisure and Hospitality and Professional and Business Services, which added 112,000 and 102,000 new jobs, respectively. The retail sector saw an increase in gains this month, adding 49,000 new jobs compared to 37,000 the month prior.
This job growth is taking place in a tight labor market, with the participation rate of 62.4 percent the highest in recent years, and the unemployment rate continuing to fall to 3.6 percent, just 10bp above the pre-pandemic rate of 3.5 percent. March saw positive trends in the problem of worker turnover, which has challenged employers for many months. Among the unemployed, those who voluntarily left their jobs declined 210bp to 13 percent, while those rejoining the labor force increased by over 200bp month-over-month to 32.7 percent.
As we look ahead in 2022, the impact of rising interest rates and their potentially cooling effect on the economy will be a key measure, following the March 16th rate hike. This comes at a time when inflation rates are at the highest levels in recent years, and expectations for it to remain above the Fed target rate of 2 percent through 2023.
This dashboard leverages Avison Young's data-based analytics platform, AVANT by Avison Young. AVANT makes city data more accessible and understandable, allowing clients to make informed, strategic decisions and realize the full potential of their real estate.
Key contacts