U.S. employment overview: tracking trends in real-time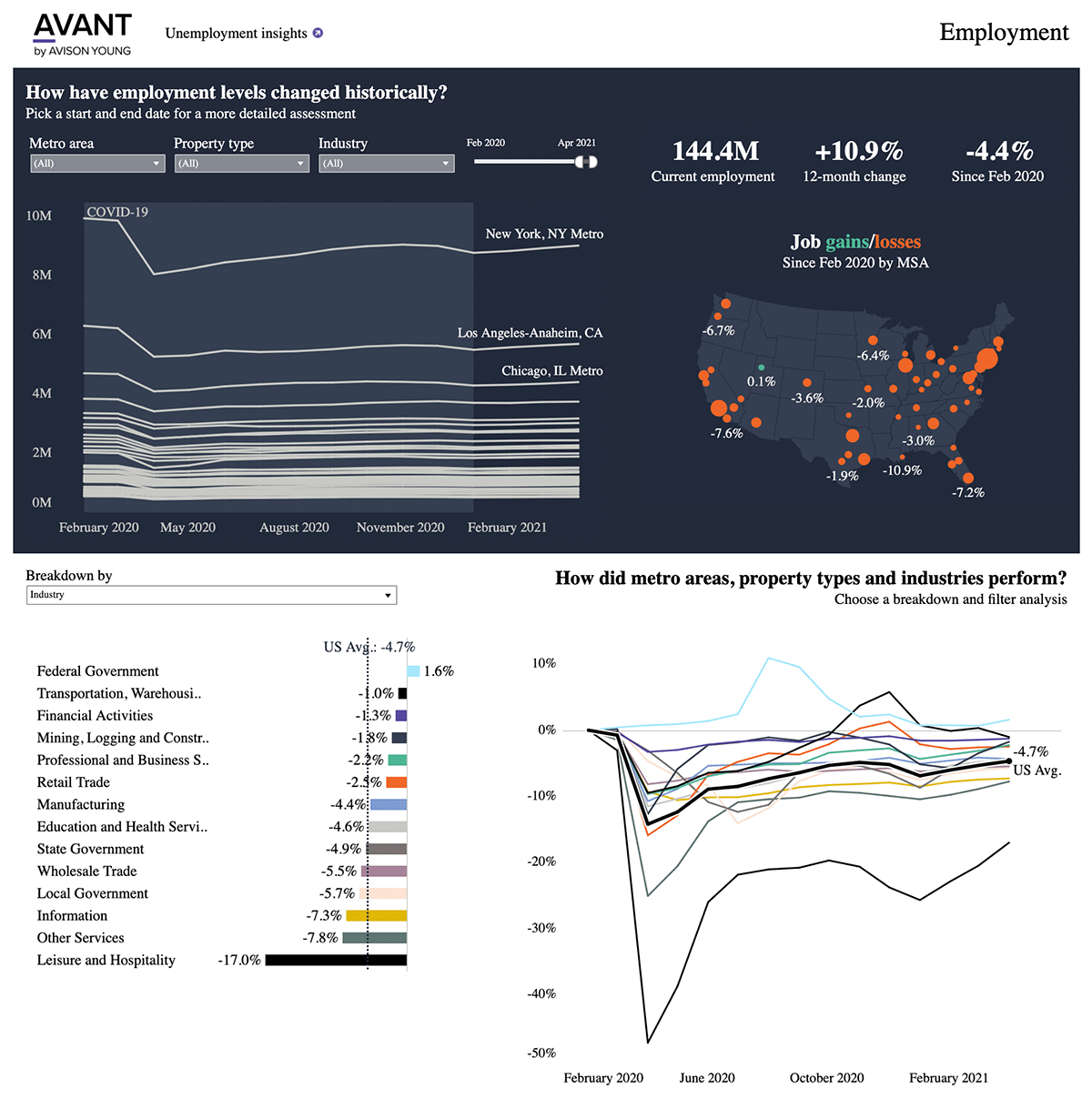 This dashboard is best viewed in a wider browser window.
After over half a year of strong economic growth, August data indicates a gradual loosening of the labor market.
August 2022 jobs numbers were generally in line with predictions, with the economy adding 315,000 jobs compared to the 300,000 projected by economists. While this is still a substantial amount of growth by historical measures, it is down considerably from more than 500,000 jobs added in July. Professional and Business Services and Healthcare and Social Assistance registered the largest job gains this month, adding 68,000 and 62,000 new jobs, respectively.
The unemployment rate increased for the first time in months, rising 20bp from 3.5% to 3.7%. Combined with a 30bp increase in the labor force participation rate to 62.4%, these conditions have contributed to some easing in the tight labor market. However, job market loosening could be compromised by the rise in job openings, which rebounded from 11 million to 11.2 million from June to July.
In more signs of a slowing economy, the percentage of unemployed that suffered permanent job losses rose considerably, increasing from 30.9% to 32.9% month-over-month. This data point reflects the increasing number of layoffs announced, particularly in the tech sector.
Inflation rates continued to be the leading cause for concern. The year-over-year inflation rate decreased from 8.5% to 8.2% this month in part due to large decreases in energy cost, but it remains well above historical averages and is outpacing wage growth in multiple major employment sectors. Continued high inflation will likely necessitate the Federal Reserve to continue interest rate hikes, bringing into question whether an interest-rate-led recession is still possible in the coming months.
This dashboard leverages Avison Young's data-based analytics platform, AVANT by Avison Young. AVANT makes city data more accessible and understandable, allowing clients to make informed, strategic decisions and realize the full potential of their real estate.
Key contacts