U.S. employment overview: tracking trends in real-time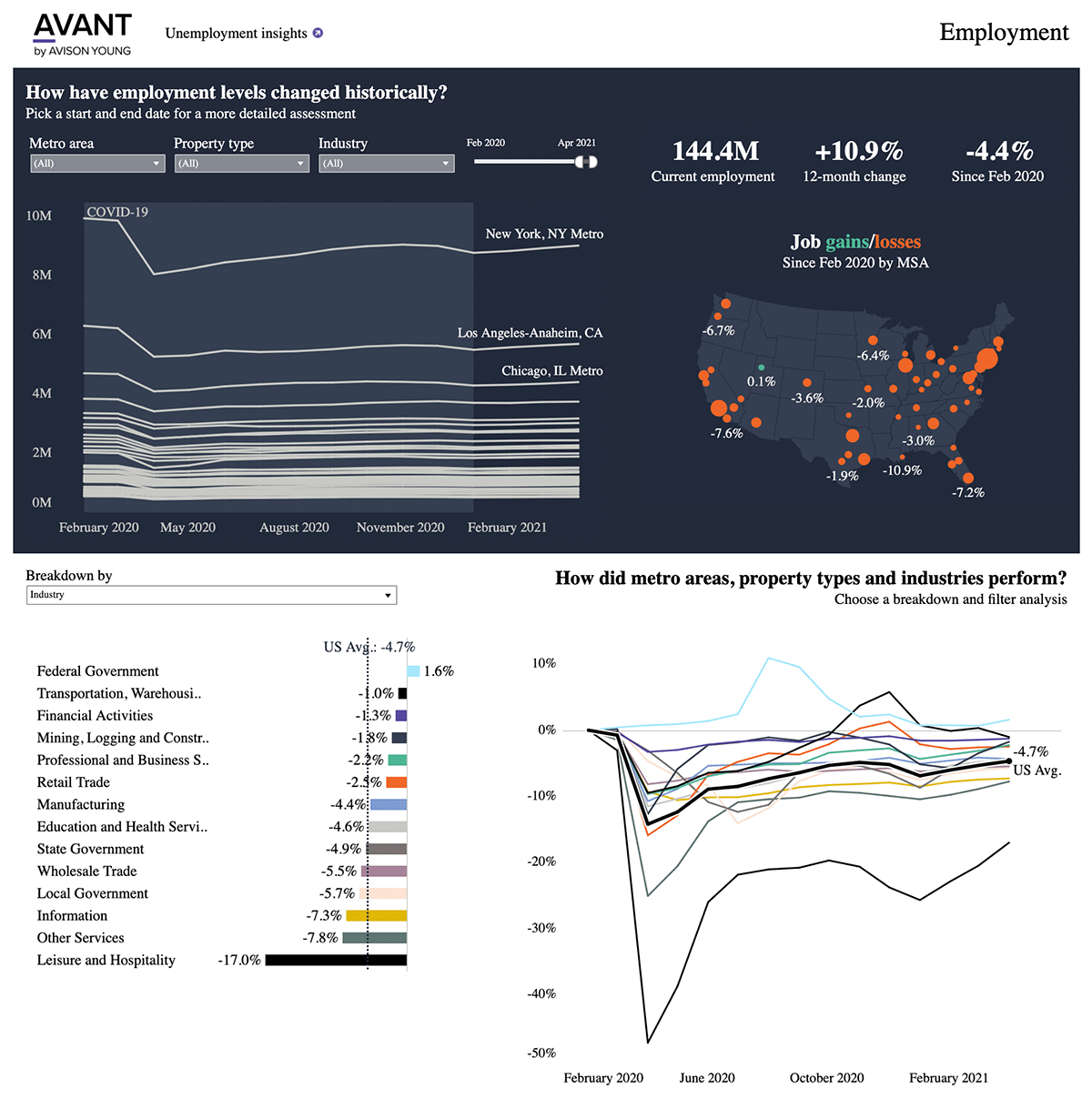 This dashboard is best viewed in a wider browser window.
Explore real-time U.S. employment data across regions, industries, and property sectors
The U.S. labor market's recovery throughout the COVID-19 pandemic has evolved at a rapid pace. As states, municipalities and businesses take varied approaches to reopen and demographic patterns shift, labor markets have exhibited unprecedented swings. To stay on top of key trends that impact location-based decisions, we've taken a comprehensive look at employment data across metropolitan areas, industries and property sectors through economic cycles and the current recession.
Employment trends have diverged across markets and industries
Non-tourism and hospitality dependent metro areas that have benefitted from population migration trends the past year and relaxed pandemic-related restrictions have surpassed other markets' job recoveries, while gateway metro areas including New York and Los Angeles have experienced accelerating job growth in recent months as reopening efforts progress. On average, major metro areas have recovered nearly 61 percent of pandemic-era lost jobs; however, the range spreads from nearly 25 percent for Orlando to 87 percent for Austin.
Headwinds for employers to fill job postings
Despite elevated unemployment, job openings have surged to 9.3 million as the labor market becomes increasingly supply-constrained. Behind the surge in job openings, the number of quits has accelerated rapidly as a confluence of factors including worker confidence, increased unemployment benefits and ongoing pandemic concerns collide. Now more than ever, monitoring, and incorporating employment-based data into real estate decisions is vital for companies' business strategies.
This dashboard leverages Avison Young's data-based analytics platform, AVANT by Avison Young. AVANT makes city data more accessible and understandable, allowing clients to make informed, strategic decisions and realize the full potential of their real estate.