Space Race 2.0 - how the U.S. retail sales recovery is prompting a nationwide hunt for distribution space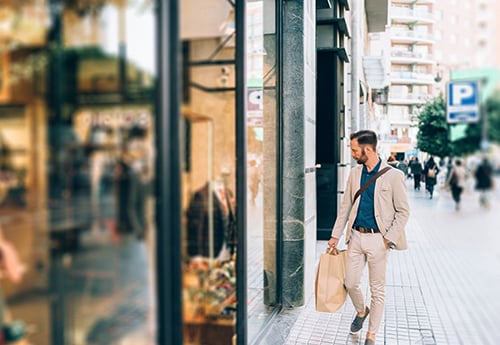 May 19, 2021
The post-COVID retail sales recovery is well underway, with total U.S. retail sales exceeding expectations and surging 7% in January, fueled by the second round of stimulus checks that encouraged spending after the holiday season. Consumers again spent aggressively in March after receiving a further $1,400 stimulus grant courtesy of the nearly $2 trillion American Rescue Plan Act that Congress passed earlier in the month. Total retail sales accelerated by 10.7%, far higher than the 6.1% economists had anticipated due in part to an escalation in spending at bars and restaurants (up 13.5%). Although retail sales growth moderated slightly in April, it is still indicative of strength as it follows an upwardly revised March number. Falling unemployment numbers are also good news for retail, as the declining trend in that leading indicator further fuels consumer spending, which drives nearly 70% of economic activity. Job growth helped to underpin the recovery as new unemployment filings for the first week of May fell below 500,000 for the first time since the pandemic began.
U.S. households are simply spending more, with confidence buoyed by gains in the job market, a reduction in layoffs, an aggressive pace of vaccinations nationwide, and the steady reopening of the economy as states lift restrictions. The use of consumer credit is up, whether from increased confidence or necessity, growing at an annualized rate of 7.4% in March. The combination of a robust consumer recovery, a resurgent manufacturing sector and lingering supply chain constraints are fueling concerns over inflation, with the Q2 Consumer Price Index showing a 2.6% increase over the year. In March the Institute for Supply Management reported a 3.9% increase in the manufacturing sector, the fastest pace of growth in the last 40 years, which is partly responsible for the rising prices of lumber and materials nationwide.
The recovery is expected to gather pace through the remainder of this year, with expectations that the U.S. economy will see its fastest growth in more than 20 years leading the National Retail Federation to anticipate that U.S. retail sales will grow by 6% - 8% in 2021. The shift to e-commerce was instrumental in supporting retail activity during 2020, with online sales hitting a peak of 16% of total sales in the second quarter before tapering off slightly at the end of the year. A significant proportion of this shift is likely to be permanent, with e-commerce sales projected to grow to between 18% and 23% of total sales by the end of 2021 according to Statista. Retailers continue to invest in their digital capabilities to gain omnichannel share and are increasingly considering tailoring a larger proportion of their marketing toward their online audience to complement in-store activity – a move that better optimizes fulfillment costs to drive overall profitability.
Improving retailer performance and rising consumer spending are helping to fuel already robust industrial demand as e-commerce operations absorb more and more space for the transportation and storage of goods. This is particularly apparent in many metros where demand is significantly outstripping the supply of urban logistics inventory, with the availability of quality space for the purposes of distribution, fulfillment and last-mile delivery rapidly diminishing.
Ironically, the single largest factor impacting space availability nationwide is e-commerce giant Amazon. Its domination of the national industrial market persists. The company occupies or controls 158 million sf of distribution space in the U.S. – almost half its global footprint. Consumer demand for home delivery has been fierce in the post-COVID age; Amazon's net income more than tripled to more than $8 billion in the first three months of 2021 with sales in North America increasing by almost 40% while worldwide sales grew by an incredible 60%, illustrating the global nature of the shift in consumer spending to online channels.
While Amazon is a dominant market force, the universe of e-commerce is wide. Category killers like Target and Walmart (along with Kohl's and Home Depot) are also focused on expanding and improving their e-commerce capabilities. Alongside such high-profile names, however, are the myriad of retailers of all types and sizes who now have an established omnichannel presence and continue to compete for market share while balancing the costs of fulfillment, distribution and last-mile delivery.
Supply chain concerns first became evident during the summer of 2020, impacting the revenues of many retailers when product shortages meant they were unable to meet demand. As a result, they are now favoring resiliency over efficiency in their supply chains and carrying higher levels of inventory, which is further fueling demand for logistics space. The situation was aggravated earlier this year as semiconductor shortages coupled with the Suez Canal blockage further highlighted frailties within global supply chains. It is clear that during a time when there is a natural movement toward online shopping and a declining trend in the average retail footprint that the need for the storage and distribution of retail goods will increase, fueling continued demand for industrial space. Much of this demand will remain focused on locations in and around urban areas, where supply is limited. Until space is repurposed or redeveloped to satisfy these needs, expect competition for available units – and rental rates – to continue to rise.