Sightlines - United States
The Data Bite: Chicago industrial values continue steady march upward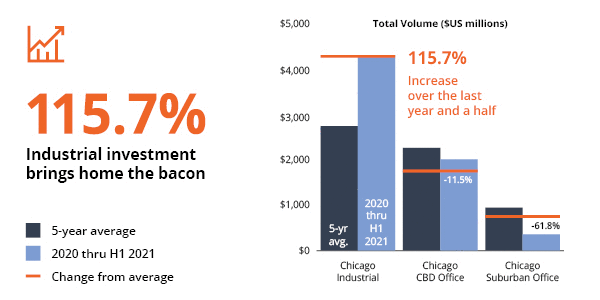 June 21, 2021
Chicago has always been a diverse market, with both manufacturing and professional services key drivers of the local economy. During the COVID-19 pandemic, those with capital took advantage of this diversity in dramatic fashion, with industrial investment activity surpassing office activity by 50%. Meanwhile, many investors eyeing the office sector remained on the sidelines looking for signs of return-to-work momentum.
The numbers tell the story of this shift that drove industrial sector volume substantially higher. Compared to the 5-year average for the sector, capital on assets was deployed at a rate 15.7% higher than the norm. This surge to the industrial sector approached $4.3 billion since 2020. It also translated into higher valuations for Chicago industrial assets, with a 13.3% higher per square-foot rate than the 5-year average, to $86/sf in the first half of 2021.
Investment in the office sector, by contrast, largely stalled as the pandemic's impact on the workplace took hold. Uncertainty over future working patterns paused leasing decisions in Chicago and investors took notice. Asset investment volumes for the market were down nearly 90 percent in the first half of 2021, compared to the 5-year average. This decline was seen in the overall market as well as the central business district.
There are signs of hope in the office market. Chicago has officially reopened for all activity and companies are pushing for employees to return to the office. At a recent virtual meeting of the Chicagoland Chamber of Commerce, business leaders shared plans for bringing staff back as well as the benefits of conducting business in person. The hope is this momentum builds before fall, as commuters return to downtown Chicago and suburban office parks. But the question remains, will investment dollars follow?
Snack-sized data and insights delivered weekly… and like any good snack, it's both delightful and easy to digest. To get your fill delivered weekly in your inbox, sign up with our form.