Sightlines - United States
The Data Bite: Overbuilding in the industrial sector is different this cycle, isn't it?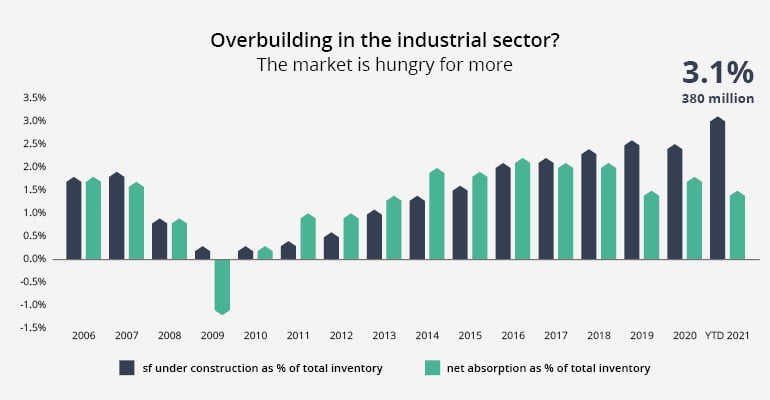 July 26, 2021
The number may at first be surprising. Under construction right now in the U.S. is 380 million square feet of warehouse and distribution space. But before worries emerge of overbuilding, a close look at the data shows a resilient sector that is meeting the need for new, prime logistics space.
The volume of space being built right now is impressive. New development is at its highest level in 15 years, representing 3.1% of total existing inventory. Put another way, that is twice the size of the entire Los Angeles area office market. The industrial and logistics sector's strength, even during the economic downturn, can be traced in part to the changing nature of commerce today.
Especially important is the need for close-in, last mile logistics and additional space near population hubs. With double digit growth in e-commerce spending and supply chain disruptions that require supporting services like third-party logistics and parcel delivery, space is at a premium in major markets across the country.
Looking at the 15-year average for major U.S. markets, aggregate vacancy is 250 basis points lower than historical norms. The need is there, with 87% of cities currently reporting tighter inventory compared to yearly averages. Additionally, while it may appear as a small percentage, net absorption is currently at 1.5% of total market inventory, double the same long-term average.
Unlike other real estate sectors, industrial and logistics experienced only a slight dip during the pandemic. It has recovered over the last rolling four quarters and remains stable across seasonal cycles. Construction levels will need to be closely monitored in the months ahead. But the evidence is there that the sector can absorb any short-term surge as demand continues for prime and Class A opportunities.
While our data bites are meant to be snacked-sized and easy to digest, we welcome everyone to pull a seat up to the table and engage us in the smorgasbord that is the industrial & logistics sector right now.
Snack-sized data and insights delivered weekly… and like any good snack, it's both delightful and easy to digest. To get your fill delivered weekly in your inbox, sign up with our form.