Sightlines - United States
Rising supply-demand disparity in the U.S. cold storage market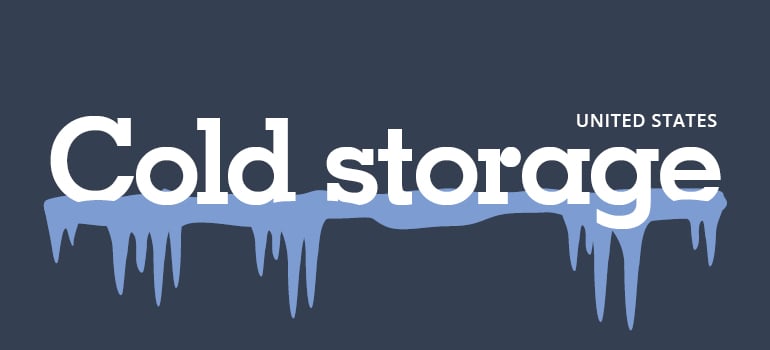 August 26, 2021
The U.S. cold storage market has gone from an "in vogue" and very niche segment of the industrial market to a critical "in need" function in supply chains in the last 18 months. Once primarily a target for opportunistic real estate investors, the pandemic has made more visible, and palpable, how under-served we remain for new, prime, functionable climate-controlled space. There is promise, however, as key development begins to spring up – following demographic and demand trends. How are consumer, population, and development data intersecting with increasingly complex demand pressures as economies re-open and e-commerce habits change? We take a look.
As cold storage space becomes an increasingly visible hub in the U.S. industrial market, demand for it continues to outpace existing supply, much of which is decades old. The construction of modern cold storage facilities – with higher cubic foot capacity and clear heights, modern automation, and enhanced safety measures – also lags demand, even as rising automation in refrigerated warehouses is projected to boost demand even further.
Now: consider the anticipated growth of the cold storage market. Valued at $89 billion in 2018, it is projected to reach $218 billion by 2026, growing at a compound annual rate of 11.7% from 2019 to 2026. According to the Global Cold Chain Alliance's 2020 Global Cold Storage Capacity Report, North America and China have accounted for most of the increase in reported capacity since 2018. Population drives consumption, and the U.S. is currently the largest market in the world, followed by India and China. The top five global players are Lineage Logistics, Americold Logistics, United States Cold Storage, AGRO Merchants Group and NewCold Advanced Cold Logistics, none of whom primarily develop refrigerated space.
COVID-19 changed the cold storage landscape. Two very different high-demand products – life-saving vaccines (which need to be kept at very specific and inflexible temperatures to remain effective) and groceries – are competing to share limited built space. There will be ramifications for biopharma at large should the supply of existing space prove inadequate to meet demand for life-affirming medications. COVID-19 also clearly impacted how consumers bought their groceries. Driven largely by a desire to prevent exposure to germs as well as offering a true convenience during a very inconvenient time, the success of grocery delivery has led to considerable demand across many global markets, accelerating the anticipated growth rate of the cold storage market. Consumers have largely embraced the grocery delivery model, and many households plan to continue using the service moving forward post-pandemic.
Current cold storage market dynamics
Now let's take a closer look at the numbers themselves. For our analysis, we looked at refrigerated/cold storage buildings 20,000 sf and larger in the lower 48 contiguous states, with particular focus on the top 20 metro areas in terms of population. While warehouse/distribution space in these top 20 markets totals 6.4 billion sf, only 1.3% is comprised of cold storage space. In fact, cold storage space only accounts for 1.1% of the total U.S. industrial market, with 17.2% of all cold storage inventory located in the nation's top 5 largest markets (New York, Los Angeles, Philadelphia, Chicago and Dallas). Totaling approximately 251 million sf in size, the cold storage market is largely concentrated proximate to significant population centers, which is critical in quickly reaching most U.S. consumers.
To further demonstrate inequity between supply and demand in the cold storage sector, consider that there is 1.11 sf of refrigerated space for each U.S. consumer (per capita) compared to 69.16 sf of total industrial space. Then factor in that cold storage and grocery supply chains still mirror the hub & spoke model that traditional retailers followed in the 1990s, where large distribution centers were located proximate to the stores they fulfilled. While the e-commerce supply chain model incorporates a large distribution center feeding 3-5 smaller fulfilment centers that then feed 5-10 small infill last-mile facilities proximate to consumers, little has been done to implement a similar structure for buildings that are part of cold chain logistics.
With an increased focus on the safe transport, delivery and storage of goods – particularly perishable foods and pharmaceuticals –a delta exists between the supply of refrigerated space and growing market demand for it. The states with the most existing cold storage inventory include California, Texas, Illinois, Michigan and Florida – with little to no inventory located in lower population states (i.e. Montana, Wyoming and New Mexico).


The top 20 most populous metropolitan areas account for 34% of the nation's total inventory of refrigerated/cold storage space, with the greatest concentration found in the Dallas, Chicago, Los Angeles, Atlanta and New York metro areas.


The only market to see new development of cold storage space so far during 2021 was South Florida, where 185,731 sf delivered in the Miami market. The tightest market with respect to overall size is Chicago, where only 1.2% of the metro's 11.6 million sf is available. On the other hand, the Dallas market – which is similar in size to Chicago – is 7.5% vacant with the highest level of new development activity underway, currently totaling 746,490 sf, or 25% of all new refrigerated space currently being developed in the nation's top 20 largest metro areas.


Five of the nation's 20 most populous metros are in the South, although inventory and availability vary greatly by market. Total vacancy of refrigerated space in the Atlanta metro area as of 2Q-2021 was a mere 1.46%, necessitating the additional 569,890 sf currently underway to help sate strong demand in one of the nation's top industrial markets. Houston, on the other hand, is currently 8.0% vacant with nearly 700,000 sf of new space on the way. In this 'tale of two markets' the key difference is the total amount of cold storage space when compared to total population. Houston has 0.61 sf of cold storage space per capita while Atlanta has 1.11. In fact, only four of the nation's most populous markets had an average sf per capita in excess of 1.00, the others being Dallas (1.63), Chicago (1.22), and Baltimore (1.20).


Developers are focused on the South
Multiple investors are active in the cold storage market but there are very few actual developers, and the location of projects underway follows one very important demographic - population. There is a well-accepted truth that retail follows rooftops, and cold storage space does as well. With the most significant population gains taking place in the nation's southern states, or "smile states", it should come as no surprise that most of the active projects under construction are situated in the southern part of the U.S. – specifically within the staunch Dallas, Atlanta and Houston markets where there is a collective 2 million sf underway. While that at first glance may seem a strong number, it comprises only 3% of the current total of refrigerated space in the country. New space is also underway in the West (591,354 sf, or 20.18% of the total underway), the Midwest (175,684 sf, or 6.00%), and the Northeast (175,000 sf, or 5.97%). No space is currently being developed in the densely populated Mid-Atlantic region, an area that is already arguably underserved.


Mitigating factors moving forward
There are multiple reasons why developers dislike breaking ground on speculation, not the least of which involves the high price to build modern cold storage product. However, the tide is beginning to turn and spec projects in the current climate seem somewhat less daunting than they did pre-pandemic. It is also worthy of note that in addition to new construction efforts, there has been considerable "box-within-a-box" retrofitting of older warehouses to accommodate today's demand without having to incur today's steadily escalating prices for construction materials.
The future of cold storage
The future supply chain will be increasingly digital and autonomous, with the ability to support direct-to-consumer ("D2C") fulfillment. Moving forward, volumetric efficiency in infill locations will become an important factor as D2C and micro-fulfillment cold chain needs mount. The online grocery fulfillment market is poised to adapt as well. For example, 20 Ocado-powered fulfillment centers for Kroger are planned in several major U.S. markets. The first of these planned fulfillment centers finally opened in April 2021 in Ohio, a state that already has strong penetration by the Kroger brand. In the South region, where Publix largely dominates the grocery market in many metro areas, Kroger-Ocado fulfillment centers are opening or planned in Orlando, Tampa and Jacksonville, in addition to new facilities in the Atlanta and Dallas metros. Similar facilities are also planned in Phoenix and Baltimore, in addition to sites in Wisconsin, Michigan and unspecified locations in the West and Pacific Northwest.
The U.S. cold storage sector is poised to advance – both from a highly-specialized, large-scale and purpose-built environment as well as a close-in, equally-roboticized and more numerous D2C network – powered by changes in consumer habits and needs. How the climate-controlled real estate ecosphere continues to adapt along with them will undoubtedly create new opportunities for both users and investors.
Get in touch
Lisa McNatt – Director, Insight
Aaron Ahlburn – Innovation Lead, Global Logistics
Peter Kroner – Regional Manager, Innovation & Insights
Sources: CoStar and the Census Bureau