Holiday shopping sales to spike as supply shortages loom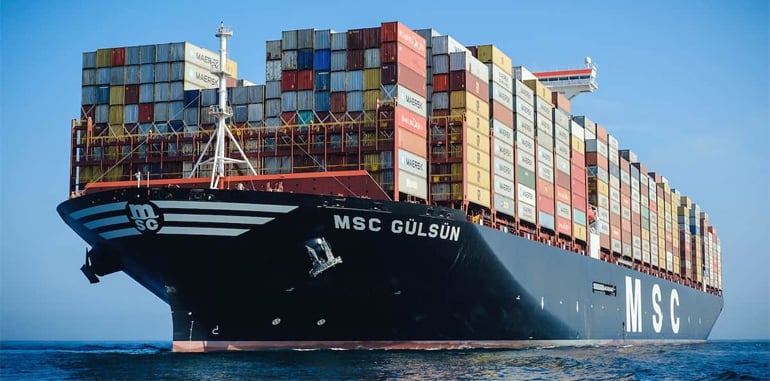 September 17, 2021
As the holiday season approaches, retailers are bracing for a surge in consumer spending, while navigating congested ports, the potential for significant shortages and product price increases. Holiday sales are expected to reach $800 billion this year, the stakes are high for retailers trying to capture market share, and so are the industrial facilities that directly, and indirectly, support those retailers. In this issue, we look at how the industrial sector is preparing for this record sales cycle and what experts are predicting will be a very busy end to 2021.
Best,


Erik Foster
Principal
Head of Industrial Capital Markets
Uncertainty ahead as holiday shopping meets supply chain
The industrial sector is bracing for a record surge in holiday shopping at a time when supply chain volatility and labor shortages threaten to temper an otherwise robust outlook. Industry experts predict a strong shopping season. However, it will be characterized by an uneven flow of goods from ports to warehouses and distribution centers, and through to final retail stores or online consumer fulfillment.
According to Bain & Company, 2021 holiday sales are expected to reach $800 billion, a 7% increase from 2020 and a notable increase from the typical 4.2% growth rate seen over the past 10 years. Predictions by Deloitte show a similar theme, with sales rising 7% to 9%, fueled by the growing economy and strong consumer demand.
Strong consumer demand is expected to push sales upward across all major product categories, from toys to apparel and electronics. While that prognosis is good, consumers will likely see the biggest shortages in the toy and electronics categories because of pandemic-related closures of overseas factories and overall supply chain disruption. Many retail channels are suggesting consumers buy early and expect shortages. Home Depot recently offered a glimpse into the future when it announced recently that an early release of Halloween decorations had sold out across its national platform.
Retail outlook for holiday 2021
The National Retail Federation (NRF) notes that the retail sector is facing shortages throughout the supply chain, from insufficient shipping capacity to increased shipping costs to a lack of warehouse, truck and rail capacity.
This compression in demand planning and acceleration in timing for warehouse and distribution space has been a boon for the industrial property ownership sector, pushing leasing, construction and investment activity to record levels in many markets. In an ever-tightening market, the industrial sector is continuing to see robust demand for warehouse and logistics space, with vacancies dipping below 4% in many markets and down to 1% in Los Angeles. But that means higher real estate costs for occupiers, at a time when they are also facing higher shipping costs, and consumers will have to pay higher prices this holiday season on many items.
This leasing surge by big box retailers, logistics firms and others includes an estimated 5% to 10% boost in "safety stock" storage as businesses try to keep more good on hand and avoid the types of product shortages experienced in the early days of the pandemic.
This volatile supply-demand environment creates a higher threshold for retailers, as they seek to keep supplies flowing and satisfy the growing demand for efficient online and in-store order, shopping and pickup options. Retailers that planned ahead and ordered extra inventory and are flexible in marketing alternative items for those on backorder are expected to fare the best in this situation. Some, including Lululemon, are adding in more costly air freight as a means of obtaining more goods for the holidays.
Port congestion slows product flow – but escalates shipping prices
While robust consumer demand and the stronger economy are positive signs for the holiday season, inflation and other headwinds are pushing back against growth. Several ports continue to see a backlog of ships and hundreds of thousands of shipping containers stranded on ships or in terminals waiting to be moved.
Even when goods can be moved through the ports, they face additional congestion as they enter warehouses, distribution centers and freight rail yards, as many are at capacity. Coronavirus outbreaks over the summer forced shutdowns in factories in Vietnam and Bangladesh, for example, slowing the delivery of goods into the U.S. Some railyards restricted shipments from West Coast ports to the Midwest, further disrupting the supply chain.
Just this week, the Drewry World Container Index increased 2.9% or $291, and is now 323% higher than a year ago. It is now at $10,374.64 per 40-foot container, the 22nd consecutive week of increases, regardless of shipping from Shanghai to Los Angeles or to New York.
According to the recently released Global Port Tracker report by NRF and Hackett Associates, U.S. ports handled 2.19 million TEUs (twenty-foot containers or its equivalent) in July, up 2% from June and up 14.2% from a year ago. The report projected that August volume would reach a record, increasing by 7.8% year-over-year.
Pricing: Nowhere to go but up
Regardless how retailers and the industrial sector manage the holiday flow of goods, all signs point to price increases to cover the various disruptive factors. Salesforce predicts that U.S. retailers will see an additional $223 billion in costs this year due to increases in the cost of freight, manufacturing and labor, for example. Supply may also be strained for package deliveries, leading to price increases or limited availability, particularly as the peak holiday shopping deadlines occur.
The process of moving goods through the ports and into warehouses, stores and into consumers' homes is heavily reliant on labor, which continues to be in short supply. According to NPR, the retail industry lost 632,000 retail workers in June as part of a wave of workers reconsidering their careers as a result of the pandemic. Some retailers are boosting pay and focusing now on holiday staffing strategies to offset some of the labor challenges.
On the industrial side, hiring is also a priority, from warehouse workers to truck drivers to package delivery workers. Walmart plans to hire an additional 20,000 employees throughout the supply chain, from freight handlers to lift drivers, to meet holiday demand. Amazon announced a longer term hiring plan to add 125,000 workers throughout its facilities.
Heading into the holiday season, all eyes are on the precarious mix of stronger consumer demand, low product supply and cost increases. Which retailers will come out ahead and how will consumers respond? This holiday season could be one for the record books, hopefully not for the history books, but truly not one for the faint at heart.
Sources: Drewry, Hackett Associates, Money, National Retail Federation (NRF), Yahoo Finance
Click the image for Economic Indicators