Sightlines - United States
Coworking comeback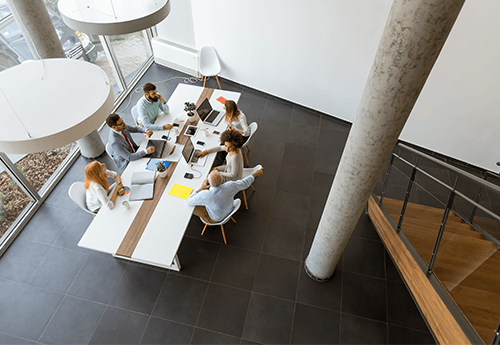 October 25, 2021
At the onset of the pandemic, the flexible office sector looked to be one of the most vulnerable segments of the global office market. With a layout denser than most other offices, the typical coworking space isn't exactly ideal for social distancing. To make matters worse, coworking members are typically on short-term agreements cancellable within a matter of months, which means that coworking operators' revenue could dry up at the drop of a hat even as the operators remain on the hook to pay rent. But while the pandemic itself could have been a catastrophe for the sector in the short term, its influence on the way people work has positioned flexible office products to play a larger role in the long-term future of the office market.
According to an Avison Young survey from April 2021, 80% of global real estate leaders expect to implement a hybrid work model involving a mix of in-office and remote work. Such models are likely to employ flexible office, though to what extent remains to be seen.
The hybrid workplace is not a one-size-fits-all approach. Enterprise occupiers are beginning to acknowledge that portfolio management strategies of the future will include some combination of core (fixed, long-term) leases and telework, despite many executives' vocal support for a full return to office.
Straddled in the middle are flexible workspace options, which can complement both core and work-from-home strategies.
Flexible office is ideal for companies learning to accommodate fluctuating numbers of employees coming into the office, or for companies that aren't yet sure what their post-pandemic office strategies look like. Flexible products can also enable companies to have a presence in multiple offices across a region at a relatively low cost, helping employers tap into deeper pools of talent at a time when labor is in short supply.
Renewed interest in coworking can be observed in search query data from Google Trends. At the onset of the pandemic, nationwide searches for the term "coworking" plummeted dramatically. Twelve months later, when the COVID-19 vaccines were first widely offered, search interest rose almost as sharply as it had fallen. In fact, it rose to an all-time high in late June 2021. This near-instantaneous fall and subsequent spike seem to suggest that, although coworking was not a suitable option for most people during the depths of the pandemic, it will remain an attractive option in more normal times. As we emerge from the pandemic, the US cities generating the most search interest for coworking are largely primary markets. Austin, TX is the notable exception; as an emerging tech hub and the target of a major residential and commercial migration over the past few years, Austin's interest in flexible office options should come as no surprise.
Revitalized interest in flexible office may take a few more months to notably impact the performance of existing coworking spaces, but demand has already started to move in the right direction: according to flex data provider UpSuite, demand for flexible space increased 41% between Q1 and Q2 of 2021. For some providers, especially those in gateway cities like New York, this equates to higher new inquiry volume than before the pandemic.
According to September data from UpSuite, coworking spaces across the US and Canada are 44.3% occupied on average, having fallen slightly from 45.8% at the beginning of 2021. This hasn't stopped providers from pushing up their prices in anticipation of increased demand, however, as falling rates have reversed direction in recent months. In September, the average price per desk rose 1.2% month-over-month to $480. The average price for a 1-person private office grew more substantially, up by 2.1% month-over-month to $833. These 1-person offices saw a larger price increase than larger, multi-desk offices, which could suggest that coworking members are still choosing their new workspaces with social distancing in mind.
Although consumer interest has returned and pricing is edging upward, leasing activity for new coworking spaces remains heavily subdued. In 2019, prior to the onset of the pandemic, coworking providers signed more than 5 million sf of new leases in US primary markets. In 2020, that number was less than 200,000 sf, or less than 4% of the 2019 total, and 2021 is on pace for a similarly slow performance barring a major uptick toward the end of the year. However, we should not assume that a lack of new leases means that nothing is happening in the flexible office sector. Rather, the sector is undergoing some operational shifts that have slowed down its expansion but will likely increase long-term viability.
Management agreements: most coworking operators of the past would have signed a traditional lease with an office landlord and then re-licensed that space to its own members, most major operators in 2021 are looking to structure partnerships with landlords rather than forge ordinary landlord-tenant relationships. Such agreements usually involve sharing a portion of coworking revenues with the building owner in lieu of part or all the rental payment, which shifts both some risk and some upside from operator to owner. It can take some time to find a landlord that is amenable to such an agreement and additional time to negotiate all the details, so coworking companies may expand their footprints more slowly post-pandemic even if coworking demand makes a full recovery.
Owner/operators: the drop in coworking leasing may be due in part to the fact that not all coworking spaces start with leases these days. Although operators are still seeking partnerships with building owners, more and more owners are taking steps to cut out the middleman and run their own coworking spaces. This isn't purely a pandemic-era phenomenon – major global owners such as Boston Properties and Tishman Speyer have had flexible office concepts for years now – but it was accelerated during the downturn as landlords contemplated what to do with built-out coworking spaces whose operators had shut down.
Space takeovers: landlords are not the only ones viewing shuttered coworking spaces as opportunities. As coworking spaces have folded throughout the pandemic, other operators have jumped to take over select locations under their own brands. In the Washington, DC region, for example, 54 coworking spaces announced their closures between March 2020 and Summer 2021, but 18 of those locations were taken over under new names. With so many empty coworking locations vacated by prior operators, it's no wonder that leasing for new spaces has slowed while new providers make their way through this supply of already-built space.
Some trends are emerging among closed coworking locations, too. In Washington, DC, urban coworking spaces were more than twice as likely to close as suburban ones: 35% of urban spaces announced their closures, compared to less than 14% in the suburbs. Moreover, among flexible spaces that closed, suburban ones were twice as likely to be taken over and kept open under another operator. Many urban residents have been uprooting and moving to the suburbs during the pandemic, which could be driving operators' bullishness on such areas. Alternatively, as office tenants experiment with distributed, flexible models, coworking providers might be wise to double down on the suburbs in order to offer a network of outposts that surround urban downtowns.
Urban or suburban, flexible office providers aren't out of the woods just yet, as COVID-19's Delta variant weighs heavily on post-Labor Day return-to-office activity. But thanks to these shifts within flexible operating models – not to mention the closures of many of their competitors – those providers that emerge from the pandemic should be on more stable footing and be better equipped to weather future downturns in the office market and the broader economy.
The dangers of month-to-month and similar short-term agreements have now been fully recognized, which will likely spur further transformation among coworking models. This could involve partnering with landlords to shoulder some of the risk, seeking corporate contracts to limit the scope of tenant downsizing, or simply incentivizing tenants to commit to longer terms upfront. Any combination of such measures should help strengthen the sector as it plays an increasingly important role in the long-term future of the office sector.
John Andril is the Mid-Atlantic Regional Manager, Insight, based in our Washington, D.C. office.