While Amazon's retrenching of real estate requirements dominated headlines, their strategy shift is much more nuanced and complicated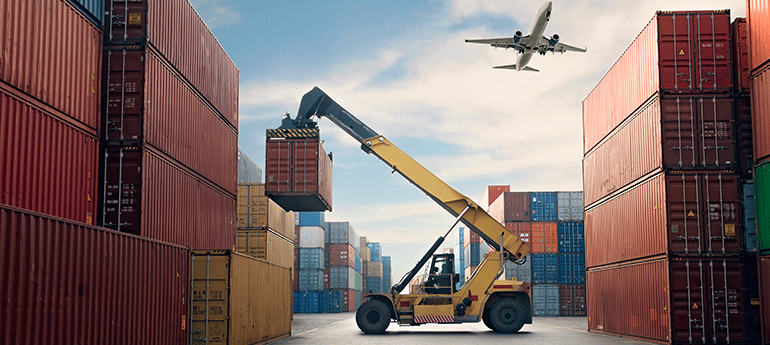 September 9, 2022
Over the past four months, Amazon has been recalibrating its industrial portfolio after doubling its industrial space during the pandemic, then facing significant losses in Q1 2022. Yet as the e-commerce giant moves through a period of retrenchment in some areas, it is also pursuing new growth opportunities in select markets. Let's look at the impact of Amazon's market moves and what we can learn from their new steps forward.
Erik Foster
Principal
Head of Industrial Capital Markets
[email protected]
+1 312.273.9486
The latest on Amazon's space issues
As the clear front runner by far in the e-commerce race for space, Amazon's quest for new expansion seemed unstoppable leading up and through the pandemic. Consumers dramatically increased online shopping, prompting the giant e-tailer to aggressively ramp up its property expansion, doubling its footprint to around 400 million square feet and securing thousands of acres for future development.
However, Amazon found itself too far ahead on its projections after economic headwinds moved in this year and a slight shift of consumer momentum back toward in-store retail. The news of a $4 billion loss for the first quarter amid overestimated earnings projections caught many in the industry by surprise. This loss came after the company reported an $8.1 billion profit in Q1 2021.
This news sent jitters through the sector, given Amazon's role in leading the wave of industrial space utilization and stirring economic development in its path. The end of Q3 is near, and Amazon is looking at efforts to rebalance its space usage and expand in some key areas.
In the past four months, Amazon has closed or halted plans to open 42 facilities totaling about 25 million square feet and delayed the opening of another 21 facilities totaling 28 million square feet, according to a report by MWPVL International, which tracks its logistics facilities. Amazon is moving ahead with completing buildings that are currently under construction, but is delaying those openings for up to two years. The pullback will continue for the near term as Amazon reorients its property portfolio.
The aforementioned financial issues are also affecting Amazon's massive workforce, which is estimated to be around 1.5 million people. The workforce shrunk by about 100,000 people in the second quarter, which was the largest quarter-to-quarter pullback in the company's history.
Impact on local communities
These moves are having a notable impact on many local communities that rely on the tax revenue and job growth typically delivered by Amazon. The company recently announced plans to close two last-mile delivery stations in the Baltimore area which employ more than 300 workers.
In California, Amazon has cancelled plans for nine facilities, including five in the Bay Area and two in Southern California, totaling more than 4.4 million square feet of space.
Natural selection?
While Amazon is pulling back on existing space and new development, and trying to sublease at least 10 million square feet of space, the company is making selective moves to open warehouses in key locations. For example, the company recently purchased 120 acres of land in the Inland Empire from Seefried Industrial Properties. The land was pre-approved for development of a 3.4-million-square-foot multi-story warehouse, but it's unclear when that project will start, according to GlobeSt. Nonetheless, the Inland Empire remains a top industrial market, and consistently has one of the lowest industrial vacancy rates in the nation.
According to FreightWaves, Amazon received local approval in the summer to build a five-story, $300 million distribution center in Niagara, NY that will span 3.1 million square feet. It would support about 1,000 employees, working with a fleet of thousands of robots, and will be designed to distribute goods to middle- and last-mile facilities.
Amazon is also building other mega-warehouses in Ontario, CA (a five-story, 4.1 million square feet facility) and Loveland, CO (a five-story, 3.8-million-square-foot facility). These would be larger than the company's biggest warehouse, a 3.6-million-square-foot distribution center in the Nashville market. So, despite a pullback and rebalancing of some space, Amazon is strategically looking at where it makes sense to open new facilities. MWPVL estimates that the company will open 250 more facilities this year in a range of sizes and locations, including 21 large, multi-story facilities.
E-commerce sales slow
One factor driving Amazon's shift in space usage is a decline or moderation in e-commerce sales, when measured as a percentage of total retail sales. According to a report from Mastercard, e-commerce sales in June increased just 1.1% YOY compared with a 97.6% jump from June 2019 to June 2022. In-store sales grew by 11.7% YOY in June 2022 compared with a 10.7% increase from June 2019 to June 2022.
While inflation is one factor, there also is a change in consumer behavior as a "return to normal" mindset moves in across many communities and consumers shift some of their buying power back to in-person shopping and dining. This does not diminish the powerful impact of e-commerce, but it does point to a need for e-commerce businesses to recalibrate their growth projections. Amazon's approach is already showing positive results, as its second quarter earnings report showed net sales growing 7% YOY, with an expected jump in the third quarter to between 13% and 17%.
Amazon remains the industry behemoth, the market influencer and the one to watch for insights into how e-commerce growth will impact industrial space usage in the future. The company has an unrivaled industrial footprint, with about 1,200 active distribution centers totaling 375 million square feet of space compared to Walmart, which has about 200 active facilities with a much smaller footprint.
Sources: Bloomberg, CoStar, Freightwaves, GlobeSt., Orange County Register