Sightlines - United States
Consumers show cautious optimism on spending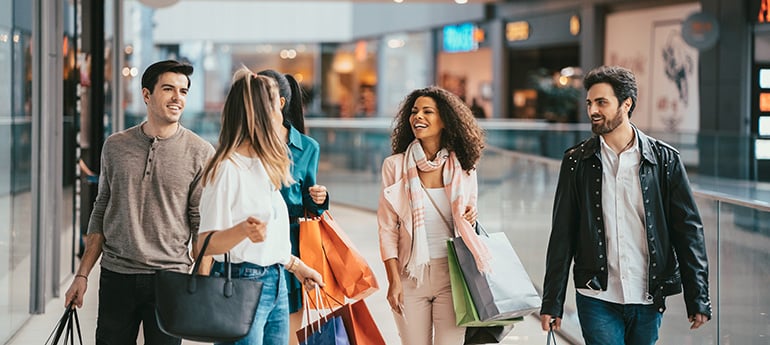 October 25, 2023
The U.S. consumer continues to defy some economists' expectations, spending at stable to elevated levels across most categories. From travel and entertainment to electronics and clothing, many consumers remain committed to spending. This is good news for many commercial real estate segments, including the retail and industrial sectors as they facilitate the movement of all those consumer goods. Here's a look at consumer spending and its role in supporting the U.S. economy
Erik Foster
Principal
Head of Industrial Capital Markets
[email protected]
+1 312.273.9486
Consumers show cautious optimism on spending
The all-important U.S. consumer continues to show endurance and defy some economists' expectations. Following a spring when consumers showed optimism around travel, shopping and other spending categories, the summer became more of the same. That's good news for many commercial real estate segments, including the retail and industrial sectors as they facilitate the movement of all those consumer goods.
According to McKinsey & Company's ConsumerWise sentiment survey, U.S. consumer sentiment about the economy remained somewhat upbeat through the summer. This level of optimism was reflected in an increase in consumer spending of about 3% year-over-year, with a positive change seen across most categories. Among the segments tracked by McKinsey, home entertainment and cosmetic stores showed the largest annual spending increases at 12% and 13%, respectively. The travel segment recorded an 11% increase.
A long-term review of consumer spending by the Bureau of Labor Statistics, shows that average consumer spending for all areas increased 9% from 2021 to 2022, closely following the 9.1% increase from 2020 to 2021. The largest percentage increase in expenditures was in cash contributions (14.1%), followed by food (12.7%) and personal care products and services (12.3%). All three of those categories recorded smaller increases than from 2020 to 2021, however.
While consumer spending on food increased 12.7% in 2022, the increase was lower than the 13.4% recorded in 2021. The increase was driven by food purchased away from home, which increased 20.1% while spending on food for home consumption increased 8.4%. Personal care products and services also recorded a smaller decline than in 2021 when that spending level rose 19.3%.
Transportation expenditures continued to increase over the year, rising 12.2% in 2022, after an increase of 11.6% in 2021. Entertainment expenditures decreased 3.1% in 2022, after increasing 22.7% in 2021. This decline was driven by a 24.5% decline in other entertainment supplies, equipment, and services expenditures, which contrasts sharply with the 60.6% increase in 2021.
Consumers focus on travel and more travel
While consumers certainly faced many challenges with travel over the past few years, many remain committed to planning their escapes. A Forbes Advisor survey of 1,000 travelers noted that 87% expect to travel at least as much as they did in the past year, with nearly 50% saying they expect to travel more. Younger respondents were particularly bullish on travel, with 59% of those 18 to 26 planning to travel more. This sentiment was shown across multiple modes of travel, from road trips to airline travel.
The travel industry has seen a significant growth in activity over the past few years as many U.S. consumers focused on breaking away from their pandemic-era confinement and exploring more of the world. Travel industry research from August showed total travel spending at 1.2% above last year's level for the third month in a row. Air travel demand was up 12% in the summer compared to the previous year and hotel demand remained consistent on a yearly basis, with a 0.2% dip in July. With air and fuel costs dropping notably, travel prices were nearly the same as in the summer of 2022. Lodging, food and beverage costs remain somewhat elevated, however.
Consumers remain cautiously optimistic
In tracking sentiment during the third quarter of 2023, The McKinsey report noted that consumer optimism dropped slightly from the highs seen in the spring. During the summer, 33% of consumers noted optimism about the economy and 44% reported mixed sentiments, a slight increase from April 2023.
Optimism about the economy grew the most among Baby Boomers, edging up from 21% in April 2023 to 28% in August 2023. Millennials reported the biggest decline in optimism, down to 39% from 55% in April. And, while high-income consumers have been keeping many retailers, restaurants and travel businesses happy over the past few years, they reported the largest decline in optimism relative to other income groups.
Moving toward year-end and the important holiday shopping season, consumer spending will be on the radar for many economists. Stay tuned for more on that important barometer as Avison Young tracks consumer sentiment and spending activity and its impact on industrial warehouse usage and the overall economy.