Avison Young Partners with Atlanta High School for Work Study Program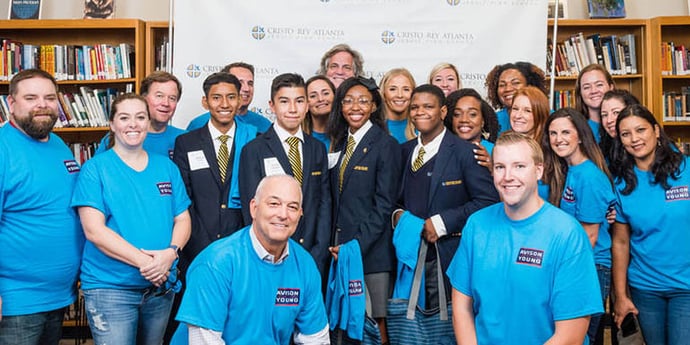 September 6, 2018
ATLANTA – September 6, 2018 – Avison Young's Atlanta office today announced a partnership with Cristo Rey Atlanta Jesuit High School to host four student interns as part of the school's innovative Corporate Work Study Program (CWSP).
Cristo Rey Atlanta Jesuit High School students work five full days at Atlanta businesses each month. Students are given access to a rigorous, quality college preparatory education that otherwise would be too expensive but through the CWSP a large percentage of each student's tuition costs are covered.
"It's a win-win situation. The students benefit from networking and gaining work experience, and the companies participating benefit by seeing what our students can do," said David O'Shea, CWSP relationship manager.
The interns begin their assignment at Avison Young with orientation on September 10 and will work through the end of the school year.
"The students will be working across the company in property management, accounting and research. They will not only learn the basics of commercial real estate, they will also see how everyone plays a part in making a company successful," said Sara Barnes, research manager, Avison Young.
Cristo Rey Atlanta Jesuit High School offers a unique curriculum that combines academics, extra­curricular programs, and professional work experience to prepare students for success in college and beyond. All students enrolled in the school participate in a unique CWSP through which they develop important skills and finance most of the cost of their education. CWSP provides students the opportunity to build core skills that will help them succeed in college and the modern workplace.
"This is our first year working with the program, and we are excited to have these young people on board. We look forward to helping them learn and grow through working with our Avison Young team," said Steve Dils, Managing Director of Avison Young's Atlanta office.
About Cristo Rey
Cristo Rey Atlanta Jesuit High School is a Catholic learning community that educates young people of limited economic means, of any faith or creed, to become men and women for and with others. Through a rigorous college preparatory curriculum, integrated with a relevant work study experience, students graduate prepared for college and life.
About Avison Young
Avison Young is the world's fastest-growing commercial real estate services firm. Headquartered in Toronto, Canada, Avison Young is a collaborative, global firm owned and operated by its principals. Founded in 1978, the company comprises 2,600 real estate professionals in 84 offices, providing value-added, client-centric investment sales, leasing, advisory, management, financing and mortgage placement services to owners and occupiers of office, retail, industrial, multi-family and hospitality properties.