Georgia Wins 'Project Pie' Jobs For Shut Down Waffle Plant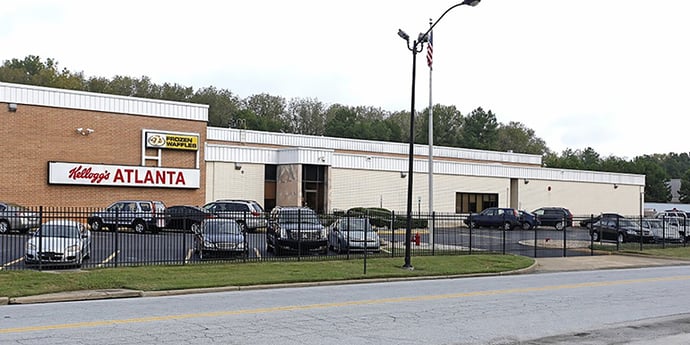 April 29, 2020
Chip Watson - Costar
Costar - April 29, 2020 | 03:32 P.M.
- When former employees of a shut down frozen foods facility in Fulton County near Atlanta heard a company was going to tour the plant for a possible expansion, some were so excited they showed up for the site visit.
Those former employees got good news this week when Georgia Gov. Brian Kemp announced that SatisPie, a sister company of Rochester, New York-based Batter Up Foods, plans to spend $34 million to renovate the facility at 5601 Bucknell Drive, about 13 miles west of downtown Atlanta.
SatisPie provides frozen, ready-to-bake pies to Walmart and Sam's Clubs locations nationwide, and the new facility will make pies and waffles and pancakes. Once fully operational, the plant will employ 162 people and have the capacity to produce 580 million waffles a year, the governor's office said.
During the competitive site selection process, Georgia economic officials used the secret code term "Project Pie" to identify the effort to win the jobs from SatisPie.
Kellogg Co. closed the facility last fall and laid off 108 workers.
Batter Up affiliate Briar Patch Holdings bought the 102,457-square-foot facility on 6.9 acres for $4 million, or $39 per square foot, according to CoStar data, in early April. The seller was New Mill Capital of Calabasas, California, which only acquired the property 10 months earlier from Kellogg Co., according to CoStar.
During the stay-at-home orders aimed at slowing the spread of the coronavirus, frozen foods such as pizza, waffles and pancakes have been in high demand, keeping Batter Up and SatisPie plants busy.
"They wish they could start producing today" because demand is outstripping its production capability, Georgia Department of Economic Development Chief Operating Officer Bert Brantley said in a LinkedIn message.
Batter Up makes frozen waffles and pancakes sold under retailers' private labels.
"Batter Up Foods is yet another American small business success story," Kemp said in a press release. "Their decision to bring their operations to our state is a testament to our outstanding workforce and pro-business environment. I can't wait to see the opportunities Batter Up Foods creates for the hardworking Georgians in the Atlanta area."
Batter Up plans to build its new Georgia operation in two phases. The first phase centers on renovating the existing building. In the second phase, the company will construct a second building to expand the plant, according to a fact sheet from the Development Authority of Fulton County.
On Tuesday, the DAFC board approved a resolution to induce a bond for $34.3 million to help cover the costs of developing the frozen food plant. As part of an incentives package, Batter Up will get a total tax break of about $1.4 million over the next 10 years, according to the fact sheet. The overall economic impact of the plant will be more than $152 million, according to the Development Authority.
Batter Up CEO Mike Pinkowski said the new frozen food facility "will produce top-of-the-line breakfast items for the world-class retailers we serve, while employing hundreds of workers in this area."
The governor's office said the former Kellogg's plant "will be upgraded in phases beginning this year." Batter Up already is seeking workers for the plant.
"Their long-term investment is a testament to our skilled workforce and attractive existing infrastructure, both of which will continue to prove critical in the coming months and years," Development Authority CEO Al Nash said in the release.
For the Record
The Georgia Department of Economic Development was represented by its Global Commerce division's assistant director, Hank Evans, who worked in partnership with Georgia Quick Start, the Development Authority of Fulton County, Georgia Power and the Metro Atlanta Chamber for the site selection process. Chip Watson of Avison Young and Brent Weitnauer, now with CBRE, marketed the former Kellogg's plant for sale.