Atlanta office market reports
Office insights Q3 2021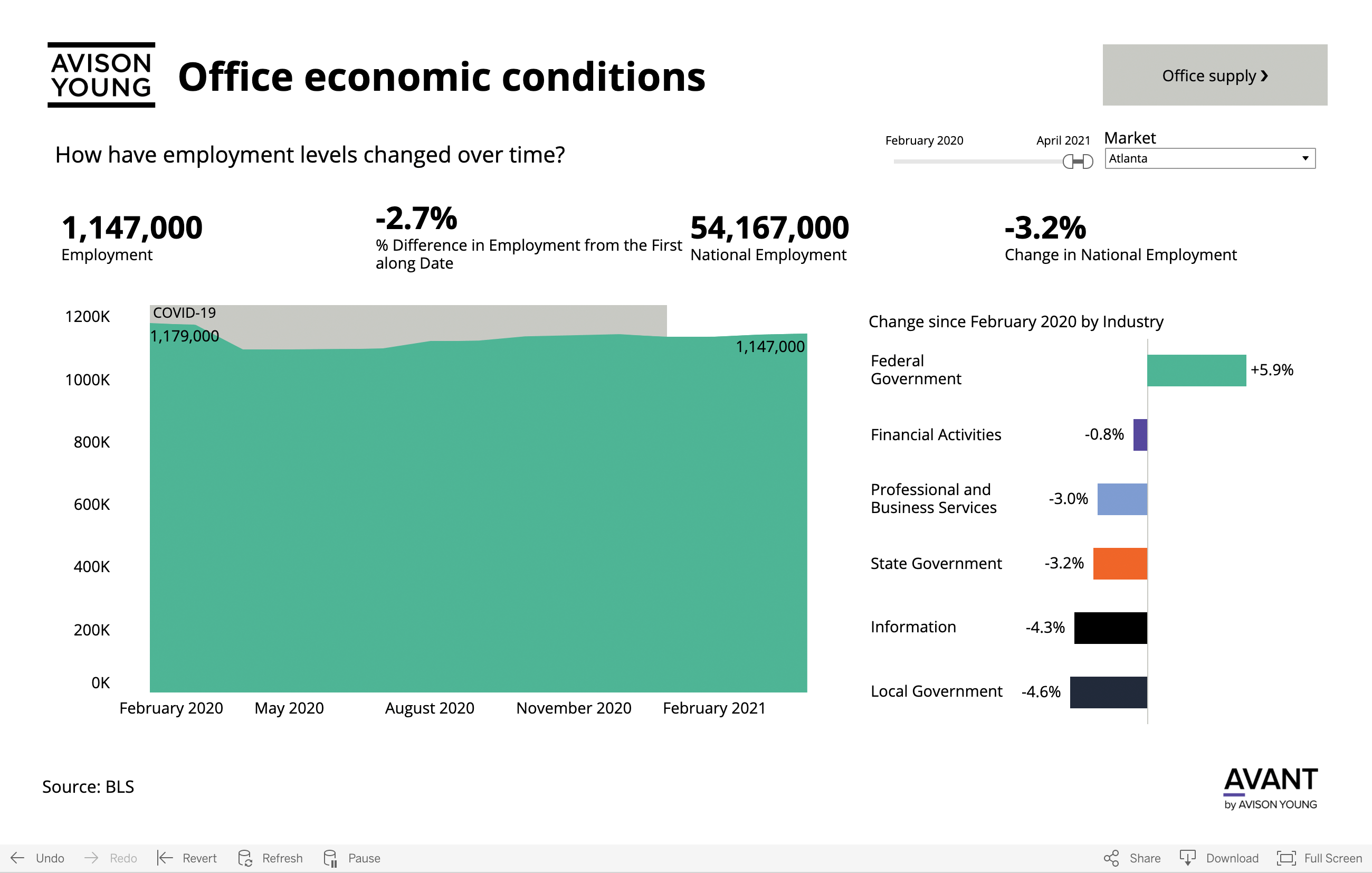 This dashboard is best viewed in a wider browser window.
Strong leasing and investment sales activity seen during the third quarter of 2021 have pushed the metro Atlanta office market towards pre-pandemic levels. Though the vacancy rate remained unchanged, the market saw significant positive absorption during the quarter which is anticipated to continue through the end of the year.
3.1%
Economic conditions
Unemployment rate in metro Atlanta, down 950 bps from the height of the pandemic.
68%
Recovery rate
The overall post-COVID rate of recovery based on extrapolated cell phone data. Led by growth in transit and education.
2.4 msf
Office demand
Total leasing activity in metro Atlanta during the third quarter. Largest quarterly total since the third quarter of 2019.
4.0 msf
Office supply
Amount of new office space currently under construction. The market has seen 2.8 msf of new space added to the inventory through the third quarter.
2.6%
Pricing trends
Year-over-year increase in rental rates. Anticipated to remain steady as landlords evaluate their concession packages and construction costs begin a downward trend.
$3.2B
Capital markets
Total office investment volume (in billions) in metro Atlanta for the period from Jan 2020 through Jun 2021. The largest sale during Q3 was Cousins Properties' $300 million acquisition of 725 Ponce in Midtown.
Your source for the latest Atlanta office market reports
Get in-depth office market reports and insights from commercial real estate experts in the Greater Atlanta area. Avison Young advisors look at Atlanta commercial real estate activities and the latest Atlanta statistics to provide you expert market research on Atlanta's office properties.
Explore different topics like the latest office market pricing trends and analysis of Atlanta's current office real estate market conditions. Gain a better understanding of Atlanta's office real estate outlook and stay ahead of current office space trends. Make smart decisions when it comes to investing in office properties in Atlanta's competitive office real estate market. Avison Young is your trusted source for commercial real estate office market insights in Atlanta.
The dashboard was delivered through AVANT by Avison Young: leveraging real-time data and analytics to make cities and location-based decisions more transparent and efficient. Learn more about AVANT.
Get the latest Atlanta office market reports right in your inbox