Austin office market report
Q2 2021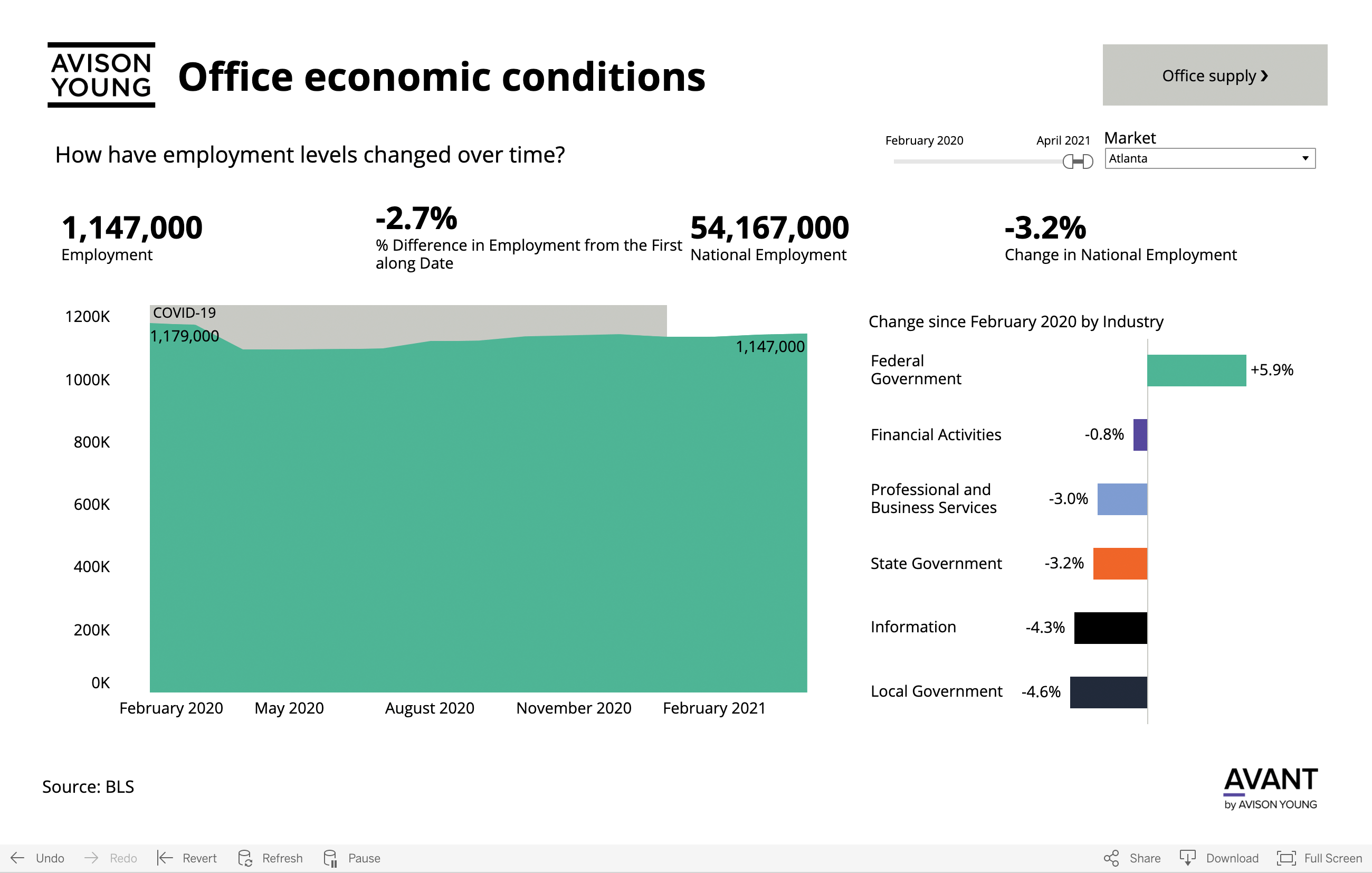 This dashboard is best viewed in a wider browser window.
Historically tightened labor market conditions were halted by the pandemic with 204,971job losses between February and May 2020. However, reopening efforts enabled the Austin MSA to recover 89.5% of jobs lost at the height of the pandemic. Asking rents have continued to escalate as demand will continue to grow through the rest of 2021 and through 2022.
89.5%
Economic conditions
Austin has recovered 89.5 percent of the total jobs lost at the height of the pandemic and ranks as one of the top U.S. metropolitan statistical areas for office-using job growth.
The market has a larger office workforce than it did prior to the start of the pandemic.
60.2%
Recovery rate
The overall post-COVID rate of recovery based on extrapolated cell phone data is 60.2 percent.
However, overall return-to-work efforts remain low, measuring just 22.2 percent compared with pre-COVID levels.
88.5%
Office demand
Sublease space accounted for 88.5 percent of total net absorption in Q2 2021.
Austin reported 146,106 sf of positive net absorption in Q2 2021 due to out-of-state demand.
4.6 msf
Office supply
Approximately 4.6 msf is under construction across Austin, which is 59.0 percent preleased.
The total vacancy rate, including direct and sublease options, stands at 13.0 percent.
Sublease availability has declined by 17.1 percent since Q4.
8.7%
Pricing trends
Asking rents have grown by 8.7 percent since Q4 2020 as landlords remain bullish on the market.
2.0 msf
Capital markets
The market saw more than 2.0 msf of sales activity already in 2021 compared to 1.4 msf of sales activity for the year in 2020.
Your source for the latest Austin office market reports
Get in-depth office market reports and insights from commercial real estate experts in the Greater Austin area. Avison Young advisors look at Austin commercial real estate activities and the latest Austin statistics to provide you expert market research on Austin's office properties.
Explore different topics like the latest office market pricing trends and analysis of Austin's current office real estate market conditions. Gain a better understanding of Austin's office real estate outlook and stay ahead of current office space trends. Make smart decisions when it comes to investing in office properties in Austin's competitive office real estate market. Avison Young is your trusted source for commercial real estate office market insights in Austin.
The dashboard was delivered through AVANT by Avison Young: leveraging real-time data and analytics to make cities and location-based decisions more transparent and efficient. Learn more about AVANT.
Get the latest Austin office market reports right in your inbox