Boston office market reports
Q3 2021: Within the Boston Market, the third quarter has shown signs of investor and tenant optimism alike.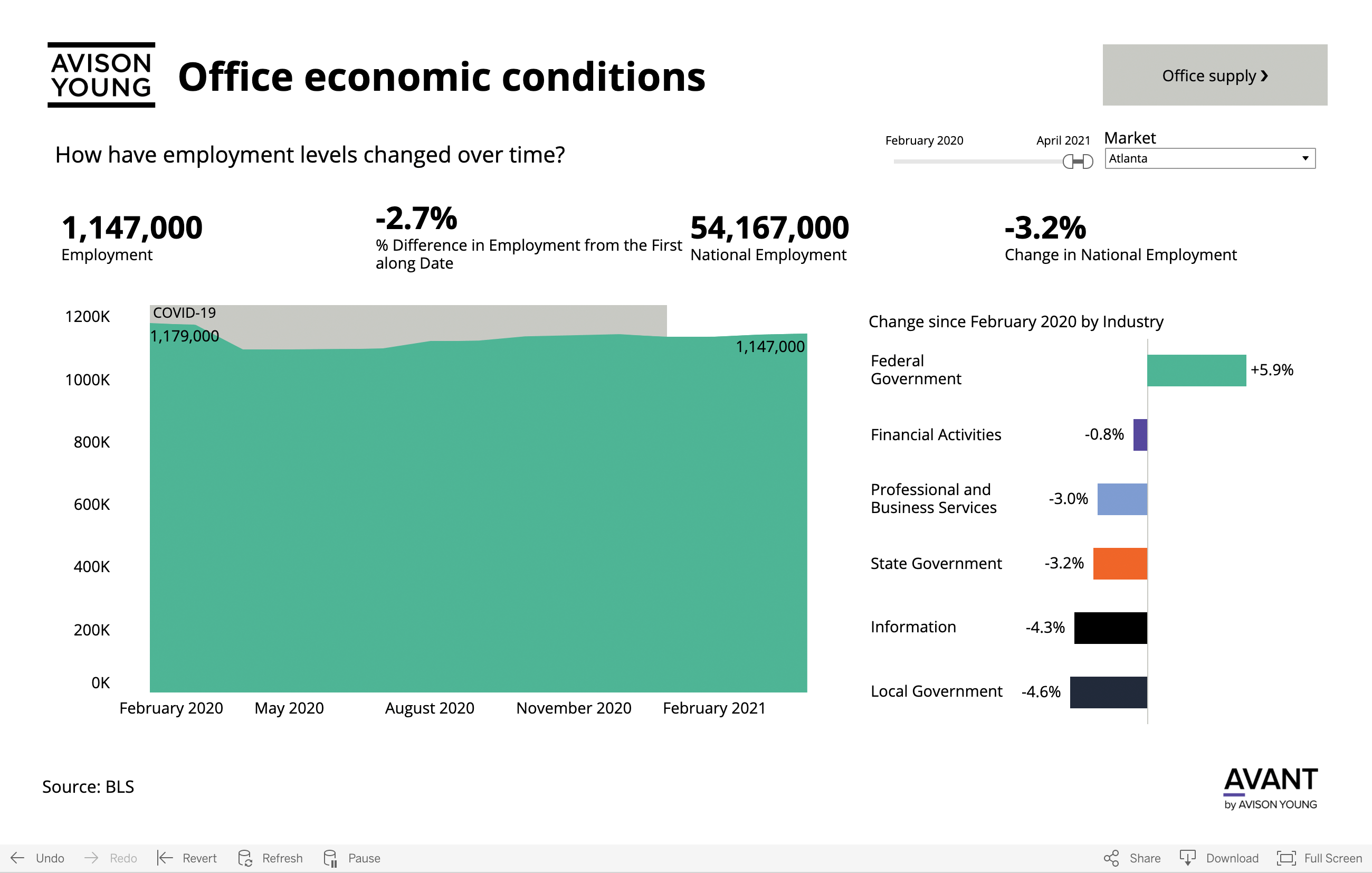 This dashboard is best viewed in a wider browser window.
With decreasing unemployment, as well as increasing absorption from the lows of the pandemic, it can be said that Boston has a resiliency that is unmatched, when comparing to other gateway cities, where their recovery and has not reached as high levels, as marked by our Vitality Index. Suburban Boston has significantly aided the confidence seen in the market.
5.0%
Unemployment rate
Reopening efforts and higher vaccination rates have allowed the Boston unemployment rate to rebound from a high of 15.6 percent in April 2020 to 5.0 percent in August 2021.
-58.8%
Office recovery rate
Despite significantly lower visitor volumes compared with other areas around Boston, return-to-work efforts are the strongest compared with other U.S. gateway cities. Office visitor volumes are -58.8 percent versus the week immediately preceding the quarantine, significantly outpacing the U.S. gateway cities' average of -72.3 percent.
4.2 msf
Sublease supply
The sublease market continues to drag aggregate fundamentals, accounting for 4.2 msf of vacant space in the Boston market. However, notable tenants are withdrawing large sublease blocks from the market, which can be attributable to an anticipated return to the office or tepid sublessor demand in this market segment.
5.6%
Increase in asset pricing
There is optimism in the market, there is a positive 5.6 percent increase in Boston office pricing from 2020 to present, this is attributed to investor's interest in higher quality office assets.
11.9%
Net effective rents differential
The average differential in net effective rents from across the entirety of the Boston market, from pre-pandemic to now is 11.9 percent, with the suburban markets being impacted less by the recession.
10.5%
Concessions increase
Landlords continue to offer generous concession packages to tenants to entice them to rent, with tenant improvement allowances increasing 10.5 percent from 2019 to present.
Your source for the latest Boston office market reports
Get in-depth office market reports and insights from commercial real estate experts in the Greater Boston area. Avison Young advisors look at Boston commercial real estate activities and the latest Boston statistics to provide you expert market research on Boston's office properties.
Explore different topics like the latest office market pricing trends and analysis of Boston's current office real estate market conditions. Gain a better understanding of Boston's office real estate outlook and stay ahead of current office space trends. Make smart decisions when it comes to investing in office properties in Boston's competitive office real estate market. Avison Young is your trusted source for commercial real estate office market insights in Boston.
The dashboard was delivered through AVANT by Avison Young: leveraging real-time data and analytics to make cities and location-based decisions more transparent and efficient. Learn more about AVANT.
Get the latest Boston office market reports right in your inbox