Charlotte office market reports
2Q21 highlights and trends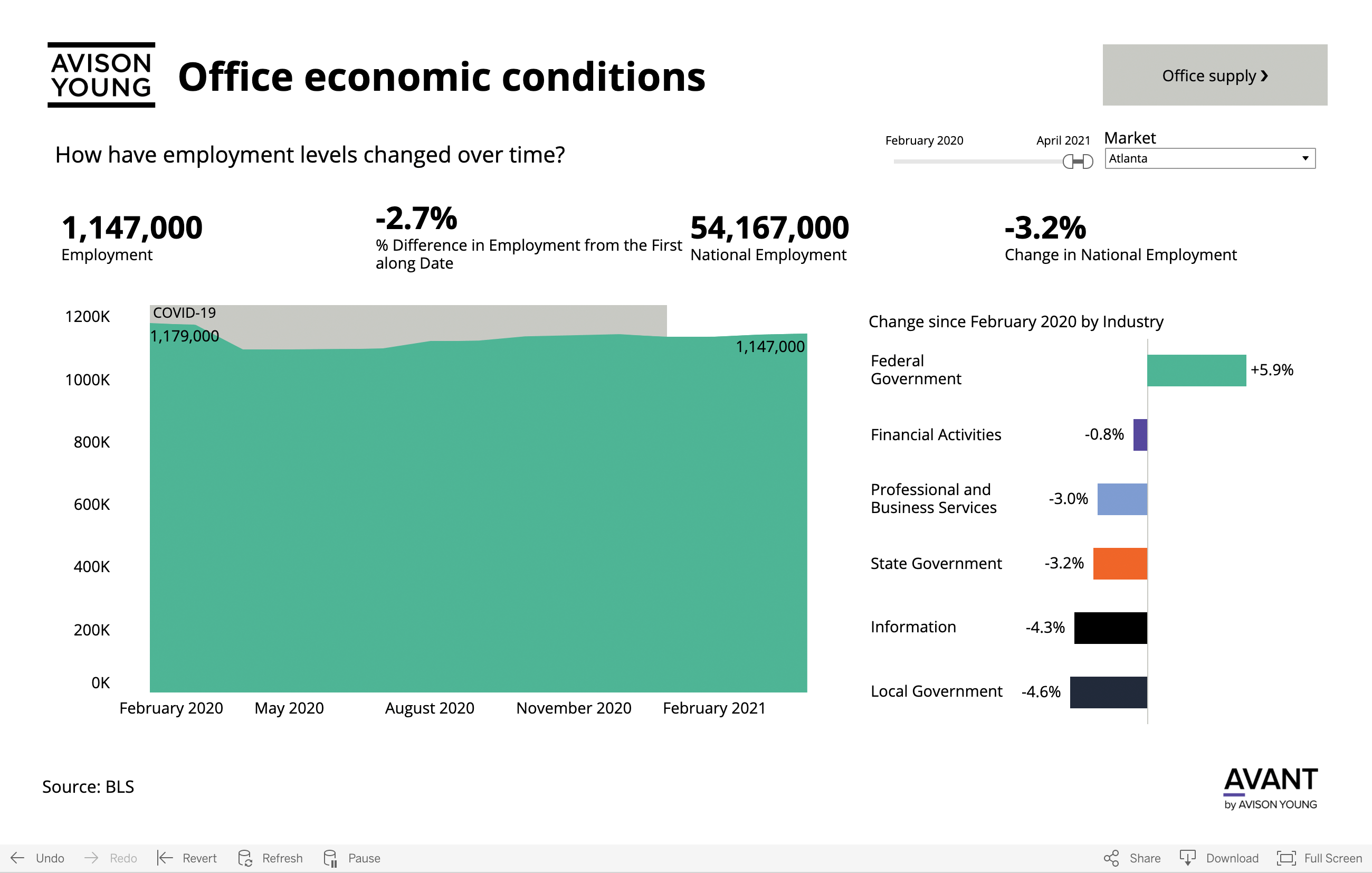 This dashboard is best viewed in a wider browser window.
As reopening efforts continue, Charlotte's economy has started to see recovery in 2021. Many companies are embracing a hybrid work model as they begin to return to the office. Leasing activity is expected to trend upwards in the second half of the year and into 2022 as companies continue to expand or relocate into Charlotte at a healthy pace.
8.3%
Economic conditions
Charlotte has emerged as a top-performing metro area economically as the unemployment rate has dropped rapidly from a high of 13.9 percent to 8.3 percent. Over the course of the pandemic's recovery, employment has grown 16.2 percent since April 2020.
68%
Office demand
The "flight to quality" trend persists, with the Class A segment accounting for 68% share of post-COVID leasing activity.
75%
Office supply
Sublease supply is focused heavily on the CBD submarket, where nine out of Charlotte's 16 large sublet blocks are located. 75 percent of Charlotte's large sublet blocks are in Class A buildings.
0.5%
Pricing trends
Base rents declined by 0.5 percent over the past year, which contrasts with declines of early 2000s (-4.4%) and the global financial crisis (-1.7%).
5.2%
Capital markets
Attracting foreign capital targeting growth markets, single-tenanted 300 S Brevard Street traded for $560 per sf early in the year, yielding a cap rate of 5.2%.
1.2%
Labor statistics
Office-using job losses have totaled 1.2 percent compared with 4.5 percent fo rother industries' job losses. Charlotte's vibrant financial sector has already surpassed pre-pandemic levels while federal government payrolls have grown 2.9 percent.
Your source for the latest Charlotte office market reports
Get in-depth office market reports and insights from commercial real estate experts in the Greater Charlotte area. Avison Young advisors look at Charlotte commercial real estate activities and the latest Charlotte statistics to provide you expert market research on Charlotte's office properties.
Explore different topics like the latest office market pricing trends and analysis of Charlotte's current office real estate market conditions. Gain a better understanding of Charlotte's office real estate outlook and stay ahead of current office space trends. Make smart decisions when it comes to investing in office properties in Charlotte's competitive office real estate market. Avison Young is your trusted source for commercial real estate office market insights in Charlotte.
The dashboard was delivered through AVANT by Avison Young: leveraging real-time data and analytics to make cities and location-based decisions more transparent and efficient. Learn more about AVANT.
Get the latest Charlotte office market reports right in your inbox