Charlotte office market reports
3Q21 highlights and trends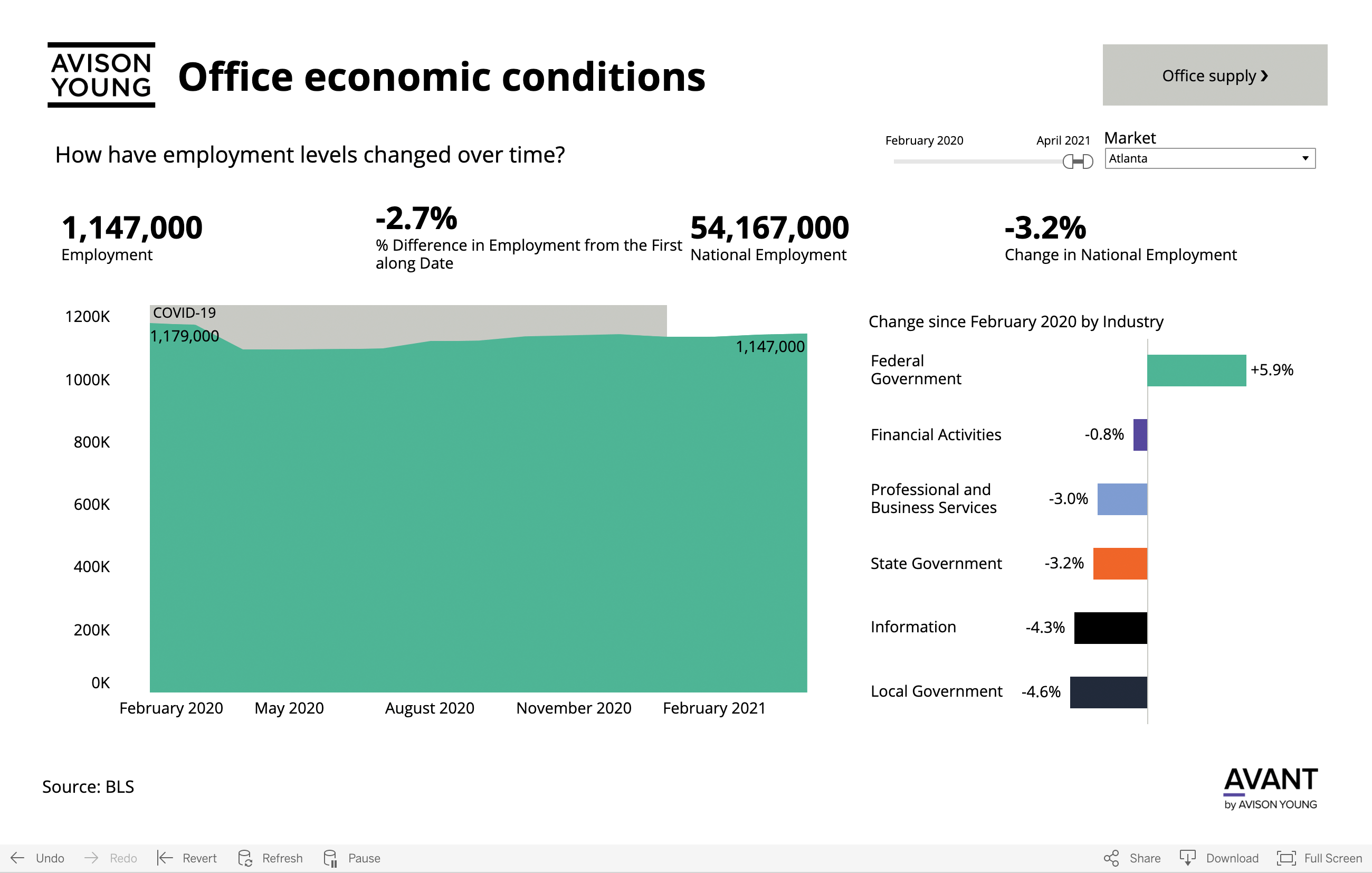 This dashboard is best viewed in a wider browser window.
With its growing technology sector, the Charlotte office market has been improving steadily towards market recovery. Office demand is beginning to rebound as YTD 2021 leasing activity reached 2.2 msf.
4.4%
Economic conditions
Unemployment in Charlotte is now at 4.4% percent, after recovering from a pandemic high of 13.9 percent.
65%
Recovery rate
The overall post-COVID rate of recovery based on extrapolated mobility data is 64.8 percent suggesting that many consumers are ready to return to their pre-Covid routines, yet offices are seeing only 36.0 percent of pre-Covid mobility.
2.2 msf
Office demand
Leasing activity is gaining ground after declining in the first half of 2021. Year-to-date activity reached 2.2 msf in Charlotte.
17.5%
Office supply
Direct and sublease vacancies now sit at 17.5 percent, slightly below the Great Recession.
Pricing trends
Average asking rents increased by a modest 1.7% year-over-year, though rising concessions stabilize this increase on a net effective basis.
$1.8B
Capital markets
Cap rates and asset pricing are expected to remain steady based on increased economic momentum and renewed investor interest. Private investors continue to dominate, representing 52% of total buyer composition. Trailing-12-month sales volume totaled $1.8B.
Your source for the latest Charlotte office market reports
Get in-depth office market reports and insights from commercial real estate experts in the Greater Charlotte area. Avison Young advisors look at Charlotte commercial real estate activities and the latest Charlotte statistics to provide you expert market research on Charlotte's office properties.
Explore different topics like the latest office market pricing trends and analysis of Charlotte's current office real estate market conditions. Gain a better understanding of Charlotte's office real estate outlook and stay ahead of current office space trends. Make smart decisions when it comes to investing in office properties in Charlotte's competitive office real estate market. Avison Young is your trusted source for commercial real estate office market insights in Charlotte.
The dashboard was delivered through AVANT by Avison Young: leveraging real-time data and analytics to make cities and location-based decisions more transparent and efficient. Learn more about AVANT.
Get the latest Charlotte office market reports right in your inbox