Cleveland office market reports
Q2 Office Market Report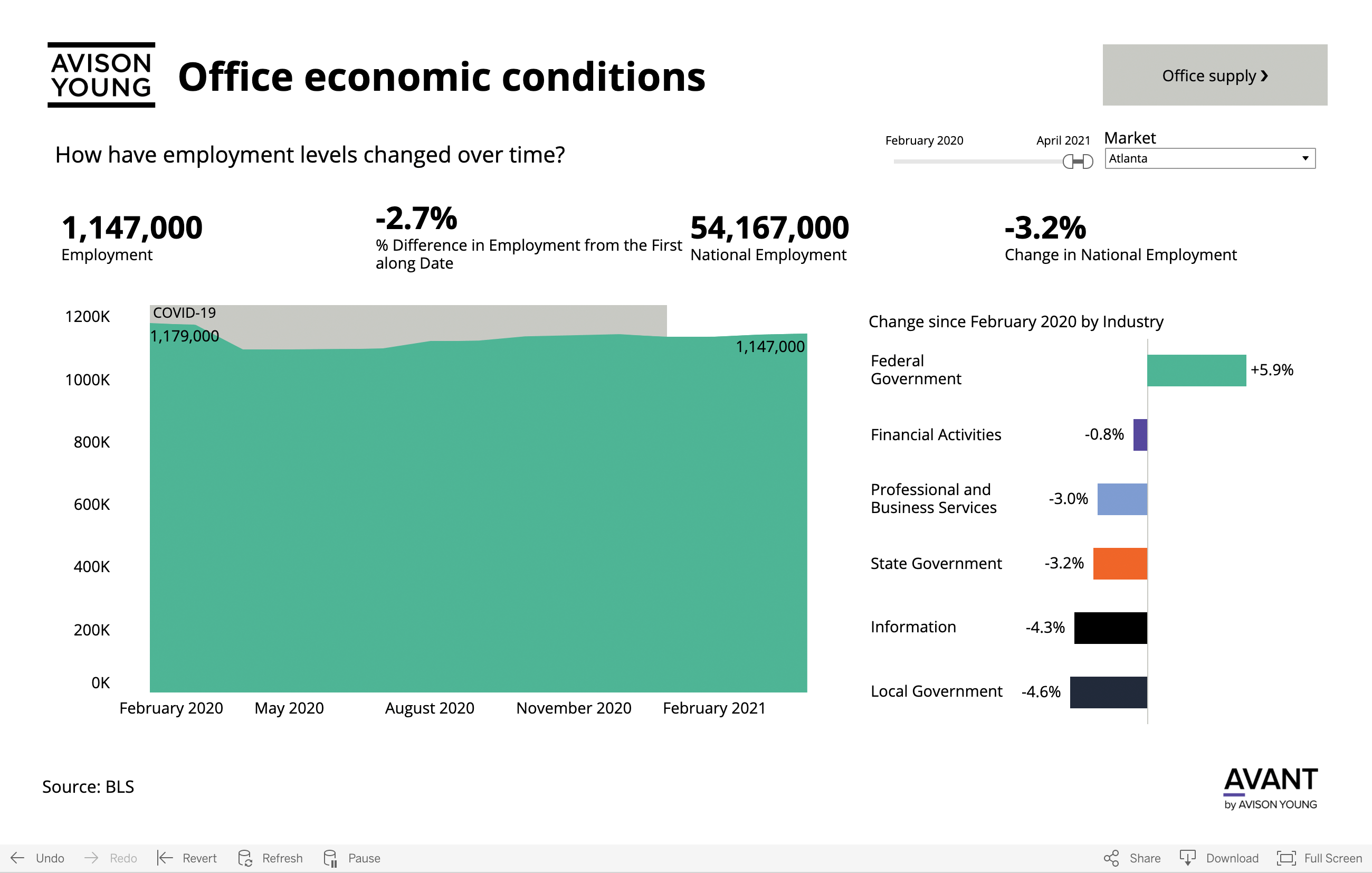 This dashboard is best viewed in a wider browser window.
Cleveland's industrial sector showed continued resilience during the first half of 2021, with vacancy at 5.3%, only increasing 40 basis points during the pandemic. Developers continue to push forward with new projects to satisfy demand from industrial users, bringing the total square footage under construction to 2 msf.
50.2%
Share of total Cleveland MSA population that is fully vaccinated
Cleveland proportionate vaccination rates continue to outweigh U.S. averages as state and local regulations have remain at ease.
4.6%
Cleveland metropolitan unemployment rate as of April 2021, dipping below the height of the financial crisis
Historically tightened labor market conditions were halted by the pandemic with over 230 thousand job losses between February and May 2020. However, reopening efforts enabled the economy to add 23.6% jobs since May 2020. .
-2.7%
Change in the office-using employment during the pandemic
Cleveland MSA job losses have declined by 4.8% since the start of the pandemic, though office-using jobs contracted by just 2.7%. This recession's impact on the office-using labor market has been less severe than the global financial crisis, when Financial Activities job losses totaled 6.2%. .
-46.9%
2020-pro-rated 2021 vs. prior 20-year annual average leasing activity
There is no modern precedent for the post-COVID slowdown in leasing activity - not 2001 not 2008- due to the sudden change in office occupiers' future workplace strategies and the 2020 recession.
-0.8%
Net absorption as a percentage of inventory, 2020 through Q2 2021
Negative absorption from 2020 to 2Q21 has totaled 880 thousand sf. This negative absorption approaches the lows of the early 2000's recession (-1.0%) and global financial crisis (-0.4%).
8.8%
Record high Cleveland vacancy as of Q2 2021
The Q2 2021 vacancy rate is a record high in terms of sublease, direct and total percentages. When the ratio of sublease-to-total vacant space reaches 26.0%, it is historically accompanied by a double-digit rent decline. That ratio stands at 29.4%
Your source for the latest Cleveland office market reports
Get in-depth office market reports and insights from commercial real estate experts in the Greater Cleveland area. Avison Young advisors look at Cleveland commercial real estate activities and the latest Cleveland statistics to provide you expert market research on Cleveland's office properties.
Explore different topics like the latest office market pricing trends and analysis of Cleveland's current office real estate market conditions. Gain a better understanding of Cleveland''s office real estate outlook and stay ahead of current office space trends. Make smart decisions when it comes to investing in office properties in Cleveland's competitive office real estate market. Avison Young is your trusted source for commercial real estate office market insights in Cleveland. .
Get the latest Cleveland office market reports right in your inbox