Taking its Toll: How the Pandemic Is Shifting Activity Along the Dallas North Tollway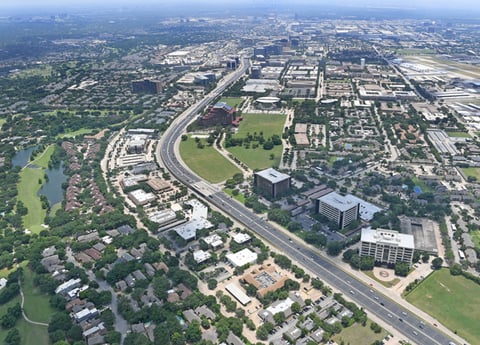 September 24, 2021
By Greg Langston, Principal, Managing Director, Avison Young
The Dallas North Tollway (DNT) is a staple thoroughfare for Dallas Fort-Worth (DFW), connecting the metroplex's urban core in Dallas to the thriving northern suburbs.
Over the past 12 years, since the recovery from the Great Recession began, much of the market's activity and energy has occurred along this tollway. Weighing the performance of assets in submarkets that connect to the DNT versus those that don't, those in DNT-connected submarkets have outperformed in total and in annualized averages.
Centers of Action
Three core submarkets — Uptown/Turtle Creek in the urban core, Upper Tollway/West Plano and Frisco/The Colony in the far north region — have driven much of this growth. The northern suburbs have done a great job attracting massive corporate headquarters and relocations deals, while Uptown/Turtle Creek has created a unique identity as a thriving urban hub full of walkable amenities, mixed-use developments and more.
Beyond the DNT, major developments like Cypress Waters have helped drive strong interest and activity to the center of the region. To the west, Tarrant and Denton counties have seen robust growth along State Highway 114, with several major institutional employers like Deloitte, Charles Schwab and Fidelity Investments building campuses around the Westlake area. Still, when people think of the DFW office market, they seemingly think of the submarkets along DNT.
When looking at where much of the development and leasing activity in the metro has occurred, there is a direct correlation between tollways and absorption. DFW's infrastructure has three major tollways — the DNT, President George Bush Turnpike and the Sam Rayburn Tollway.
The office properties along these three tollways alone account for 16.2 million of the 30.9 million square feet absorbed in the metroplex over the last 10 years. Our data visualization tools reveal that construction projects are concentrated along these tollways, as are areas with high median household incomes. This abundance of available inventory, coupled with proximity high-income households, will likely keep leasing activity in the tollway areas healthy for the foreseeable future.
Leasing activity should remain healthy as well at these tollway properties, but COVID-19 may also play a part in accelerating trends that were already underway. The pandemic has shown that the office market and its usage are up for reevaluation.
Work-from-home protocols were largely effective and showed that people could be remote during at least part of their work week and still perform their jobs well. Moving forward, offices will have to grapple with supporting workforces that will likely demand this flexibility, at least on a part-time basis.
This shift will likely shake up office leasing and development patterns. Submarkets within the urban core could become less ideal as full-time locations for workers whose homes are in the suburbs.
Quality suburban office buildings that offer reduced commute times could become even more appealing. Amenities such as lounge areas and beers on Fridays may not be enough to convince people to commute 30 to 45 minutes each way to sit in an office. This is especially true with regard to buildings along tollways. In this context, employees not only have to commute to an office, but also pay the fares of the tolls each way just to get to work.
As the market has evolved, several major players have reevaluated their office footprints. Companies like Uber and Liberty Mutual have listed hundreds of thousands of square feet of office space for sublease as they have had to adjust their space requirements.
The sublease market has stabilized in recent quarters, after seeing a tripling in volume through 2020 due to the pandemic. So far, the supply of new speculative inventory has yet to slow, with DFW having over 6 million square feet of this product under construction at the end of the second quarter.
Of that supply, roughly 40 percent is available. Availability in newer, more amenitized and ideally located buildings will likely continue to drive the flight-to-quality trend that has characterized much of the recent leasing activity. Vacancy rates are expected to rise in older product, especially larger high-rise buildings in the downtown area, where the vacancy rate is already 24.7 percent.
Key Considerations
Recruiters, landlords and property managers are all going to have to meet this changing market. Accommodating a workforce that expects flexibility will be a unique challenge. Office owners will have to find ways to keep spaces engaging and personalized, especially for those workers who are placed on rotating desks, coworking spaces or hoteling stations.
If an employee can't personalize his or her space with things like family photos because he or she is only there once or twice a week, creating a personalized attachment and sense of place within the office environment may be difficult. This could affect retention and talent attraction.
Within this new multiverse, companies will have a wide variety of solutions that can all play out in different ways. Beyond hoteling and rotating schedules, companies could also consider flex office solutions in satellite locations that are closer to commuting employees, then downsize their main location to offset costs. Whatever this structural change looks like, the world of office occupancy and how we view and engage with our office space will be different than what it was pre-pandemic.
For the most part, office usage had worked the same way for decades. As the economy adjusts to this new normal, DFW's affordability and central location should continue to be benefits. As technology continues to progress and companies continue to adapt to a changing digital world, it is unlikely we will ever go back to operating in office buildings as we used to.
Get ready! It's a brave new world.
As posted on September 21, 2021, REBusinessOnline