Dallas-Fort Worth office market reports
Q2 2021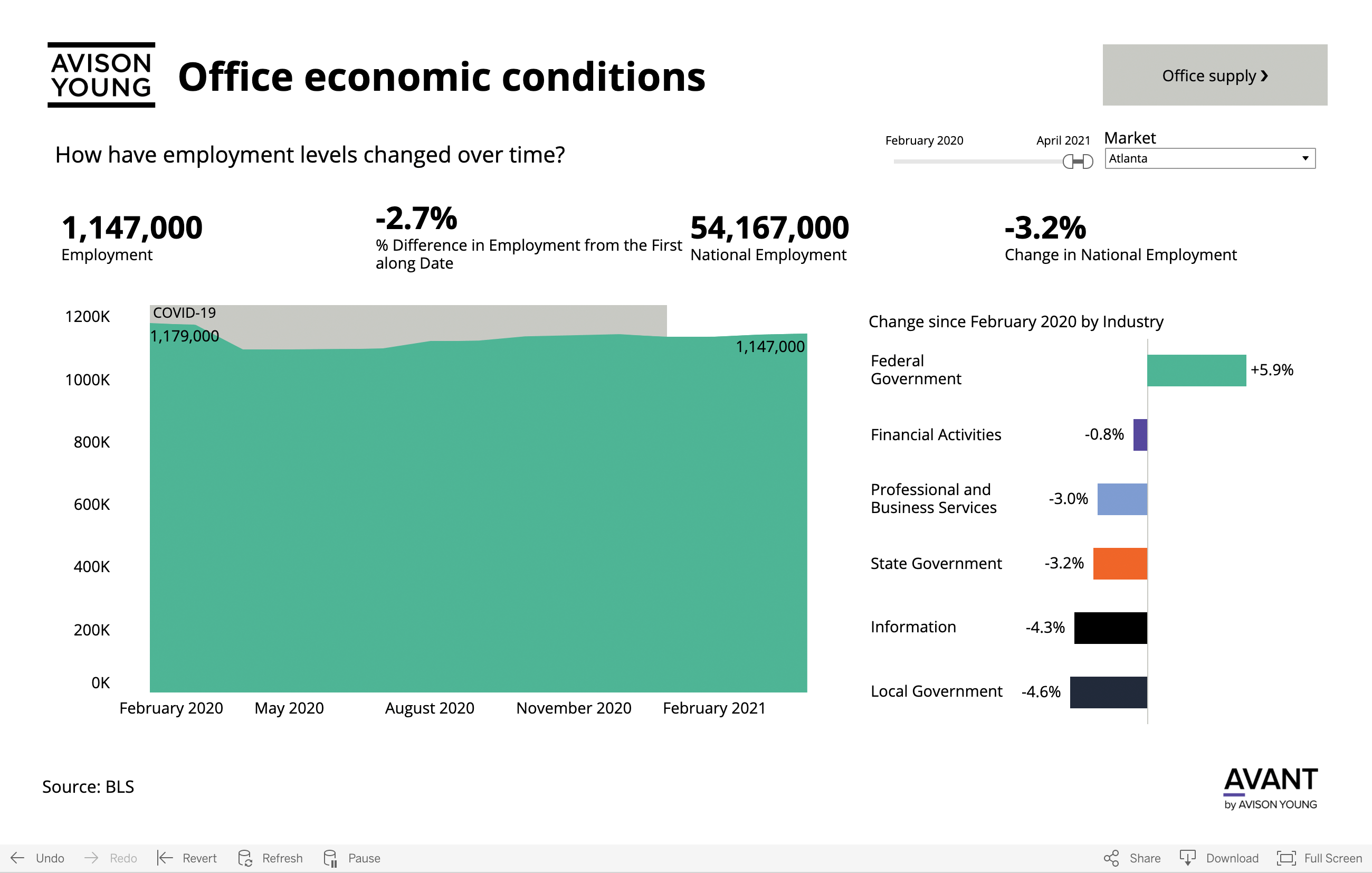 This dashboard is best viewed in a wider browser window.
Direct and sublease vacancy have reached nearly all-time highs of 19.7%, while the flight to quality trend persists for the Class A and Trophy segments. Reopening efforts have allowed the metro to fall below the national unemployment rate of 6.1%.
Economic conditions
The unemployment rate has steadily declined from a pandemic high of 12.5% as reopening efforts have allowed the local economy to rebound.
Recovery rate
As indicated through extrapolated cell phone data, more than half of pre-pandemic activity has returned with banking and media firms returning more quickly than other large corporate office users.
Office demand
Absorption as a percentage of total post pandemic leasing, as the flight to quality trend persists for the Class A and Trophy segments, even while overall net absorption is still negative.
Office supply
Record sublease vacant space on the market, as sublease continues to drag down aggregate fundamentals. Sublease has added to the total 9.1 msf of total available space.
Pricing Trends
Rents have continued to rise through the pandemic and resulting recession—a diverging result from previous recessions which saw periods of decline in rents
Capital markets
Office assets sold in the last 12 months—an annualized decrease of 46.6% when compared with the past five-year average.
Your source for the latest Dallas-Fort Worth office market reports
Get in-depth office market reports and insights from commercial real estate experts in the Greater Dallas-Fort Worth (DFW) area. Avison Young advisors look at DFW commercial real estate activities and the latest DFW statistics to provide you expert market research on the area's office properties.
Explore different topics like the latest office market pricing trends and analysis of DFW's current office real estate market conditions. Gain a better understanding of DFW's office real estate outlook and stay ahead of current office space trends. Make smart decisions when it comes to investing in office properties in the Dallas-Fort Worth Metroplex competitive office real estate market. Avison Young is your trusted source for commercial real estate office market insights in Dallas-Fort Worth.
The dashboard was delivered through AVANT by Avison Young: leveraging real-time data and analytics to make cities and location-based decisions more transparent and efficient. Learn more about AVANT.
Get the latest Dallas-Fort Worth office market reports right in your inbox