Denver office market report
Q3 2021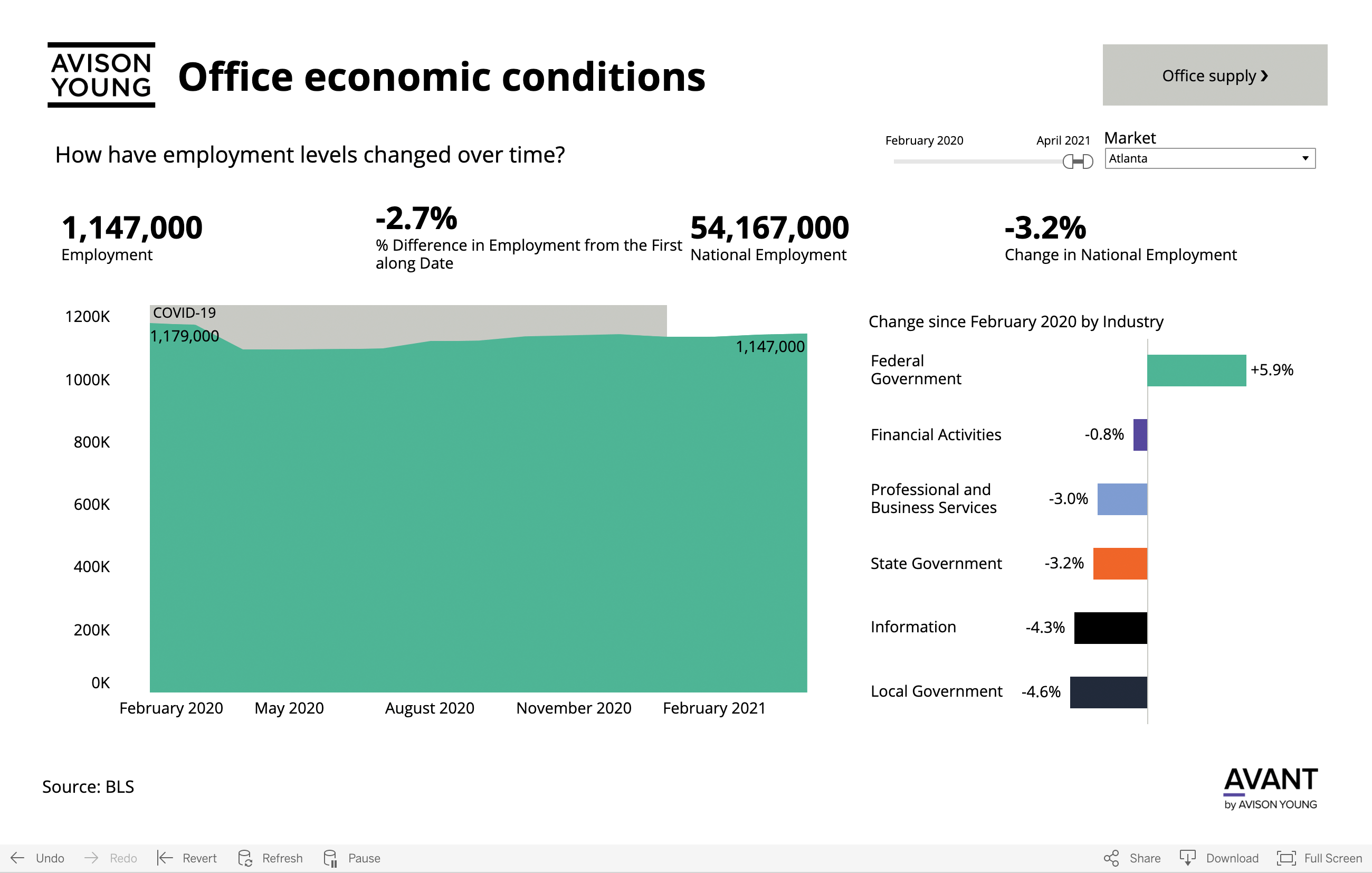 This dashboard is best viewed in a wider browser window.
The Denver market continues to make recovery progress as leasing activity in Q3 2021 reached its highest point since Q1 2020 while the unemployment rate has improved to 5.5% in August 2021, down from 12.4% in April 2020. Rents have held firm throughout the pandemic while sales activity has picked up among institution investors.
5.5%
Economic conditions
Denver's unemployment rate continues to improve while total private sector office-using jobs have surpassed pre-pandemic levels.
2.2 msf
Leasing activity
Leasing activity in Q3 2021; Denver has seen two consecutive quarters of 2.0+ msf of leasing activity and are on pace to surpass 2020 totals.
18.5%
Overall office vacancy
Overall vacancy saw a slight decline in Q3 2021 when compared to Q2 2021 which offers a positive sign for the market and demonstrates an overall slow-down in new vacancies being brought to the market.
3.0 msf
Total available sublease space
Sublease vacancy saw its first quarter-over-quarter decline since Q4 2019 in Q3 2021 as leasing activity has picked up and tenants are beginning to move forward with long-term real estate decisions.
130,661 sf
Absorption
Denver's net absorption in Q3 2021; this is the first quarter of positive net absorption since Q4 2019.
$29.52 psf
Direct asking rents
Asking rents have held firm throughout the pandemic, growing by approximately 1.0% since Q4 2020..
Your source for the latest Denver office market reports
Get in-depth office market reports and insights from commercial real estate experts in the Greater Denver area. Avison Young advisors look at Denver commercial real estate activities and the latest Denver statistics to provide you expert market research on Denver's office properties.
Explore different topics like the latest office market pricing trends and analysis of Denver's current office real estate market conditions. Gain a better understanding of Denver's office real estate outlook and stay ahead of current office space trends. Make smart decisions when it comes to investing in office properties in Denver's competitive office real estate market. Avison Young is your trusted source for commercial real estate office market insights in Denver.
The dashboard was delivered through AVANT by Avison Young: leveraging real-time data and analytics to make cities and location-based decisions more transparent and efficient. Learn more about AVANT.
Get the latest Denver office market reports right in your inbox