Detroit office market reports
Q2 2021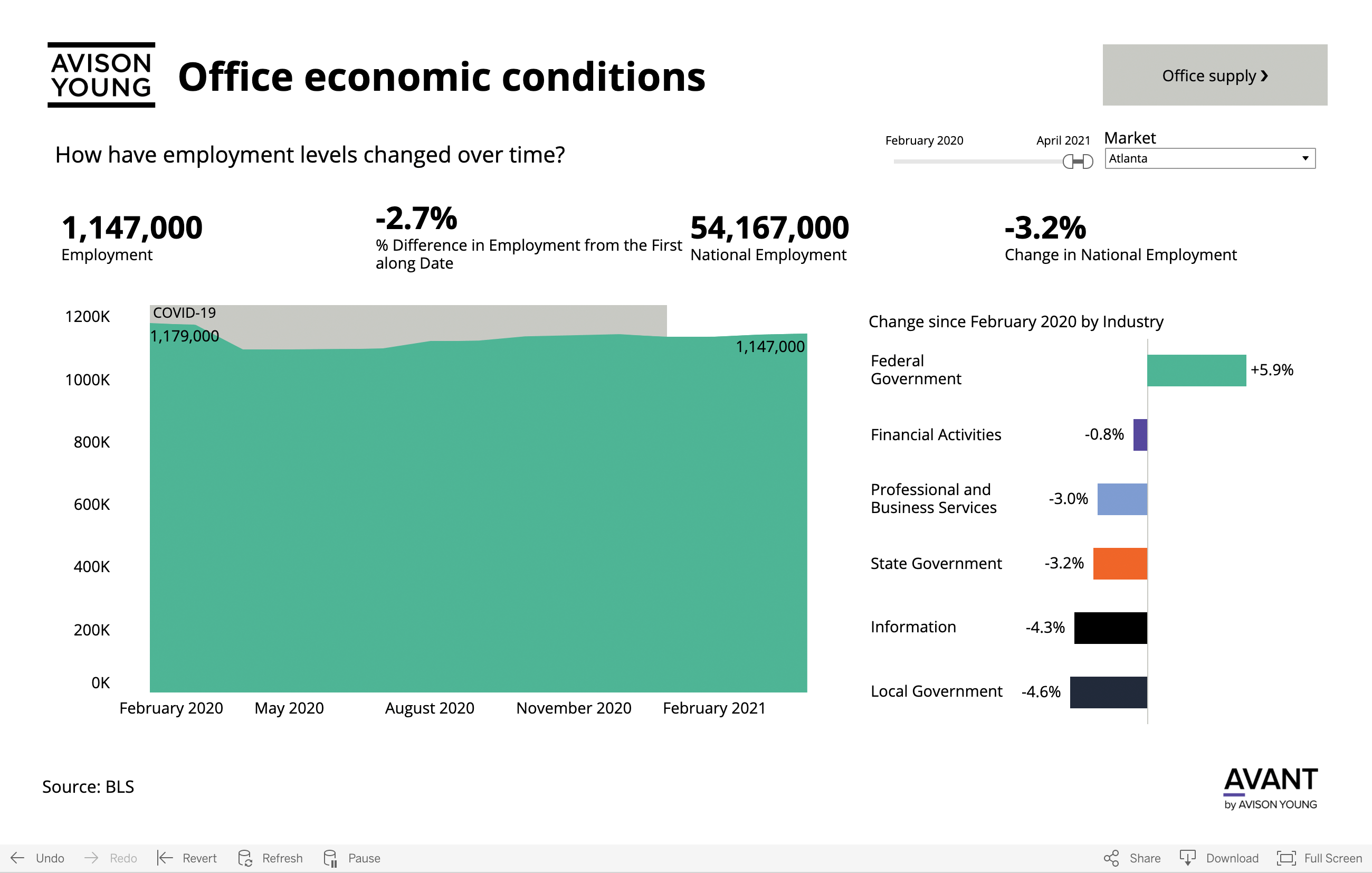 This dashboard is best viewed in a wider browser window.
The Detroit Office market has proven to be more resilient than prior recessions when looking at several fundamentals including unemployment, employment, vacancy, and investment volume. In addition, Detroit did not see a spike in sublease availabilities as observed in several other markets throughout the pandemic, the large office occupiers such as Meridian, GM, Ford and Blue Cross Blue Shield did not add any sublet space to the market.
The State of Michigan recently announced the full re-opening which lifted most restrictions and can anticipate an uptick in activity during the second half of 2021. Bellwether companies are beginning to return to the office, a leading indicator for rejuvenated office demand. The most notable being, Quicken Loan who returned to work on June 7th which could have a trickle-down effect on other banks and industry segments.
3.7%
Detroit unemployment rate as of April 2021, dipping below pre-pandemic level
Historically tightened labor market conditions were halted by the pandemic with nearly 600,000 job losses between February and May 2020. However, reopening efforts enabled the economy to add 31% jobs since May 2020.
-3.3%
Change in office-using employment during the pandemic
Detroit MSA job losses have declined by 6.7% since the start of the pandemic, though office-using jobs contracted by 3.3%. Office using job losses accounted for only half of total MSA's performance and this recession's impact on the office-using labor market has been less severe.
-54.6%
2020-pro-rated 2021 vs. prior 20-year annual average leasing activity
There is no modern precedent for the post-COVID slowdown in leasing activity - not 2001 nor 2008 - due to the sudden change in office occupiers' future workplace strategies and the 2020 recession.
-1.3%
Net absorption as a percentage of inventory, 2020 through Q2 2021
Negative absorption from 2020 to 2Q21 has totaled 2 million sf, totaling -1.3% of the existing stock. This negative absorption mirrors the lows of the early 2000's recession (-0.8%) and global financial crisis (-1.2%).
12.8%
Detroit's vacancy as of Q2 2021
The Q2 2021 vacancy rate was recorded as 12.8%- up 180 basis points (bps) from pre-pandemic level of 11%. This current spike in vacancy is significantly lower then the all time high of 18.2% in 2010.
$547M
Detroit office dollar volume 2020 to present
Office sales activity has temporarily paused during the risk-pricing crisis, decreasing by an annualized rate of 34.7% compared with prior five-year average dollar volume.
Your source for the latest Detroit office market reports
Get in-depth office market reports and insights from commercial real estate experts in the Greater [Enter market name] area. Avison Young advisors look at Detroit commercial real estate activities and the latest Detroit statistics to provide you expert market research on Detroit's office properties.
Explore different topics like the latest office market pricing trends and analysis of Detroit's current office real estate market conditions. Gain a better understanding of Detroit's office real estate outlook and stay ahead of current office space trends. Make smart decisions when it comes to investing in office properties in Detroit's competitive office real estate market. Avison Young is your trusted source for commercial real estate office market insights in Detroit.
The dashboard was delivered through AVANT by Avison Young: leveraging real-time data and analytics to make cities and location-based decisions more transparent and efficient. Learn more about AVANT.
Get the latest Detroit office market reports right in your inbox