Fairfield/Westchester office market reports
Q4 2021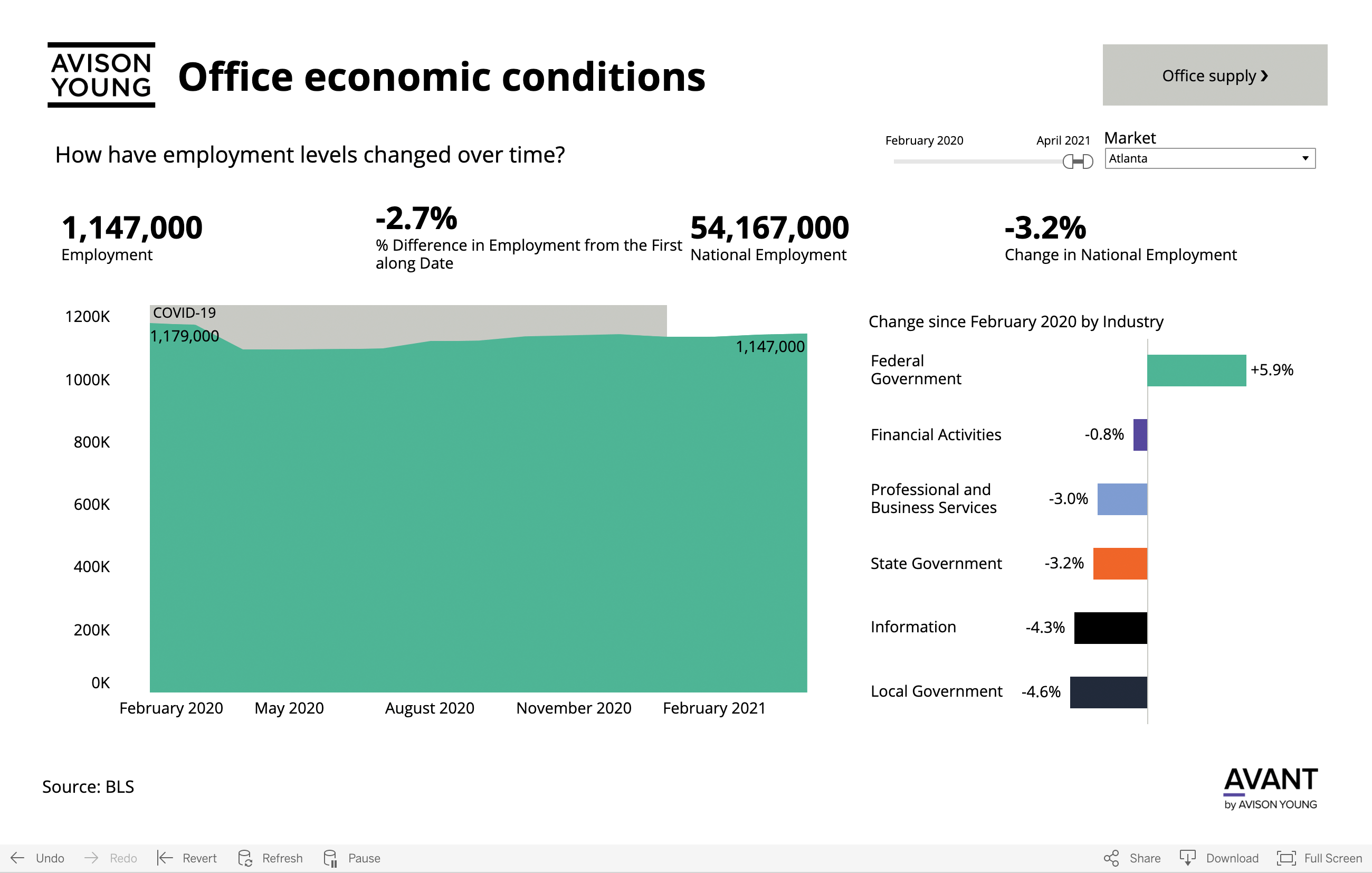 This dashboard is best viewed in a wider browser window.
Office employment conditions are continuing to trend towards pre-pandemic levels due to a strong vaccination and decreasing unemployment rate. However, return-to-work policies may be hindered due to the emergence of hybrid work models. These hybrid work models have caused companies to question their office needs, decreasing demand and asset pricing. Office demand has decreased by 31.1 percent compared with long-term historical averages and asset pricing is 4.1 percent lower from 2019 to present. With low demand for office space, Class A availability rates (sublease and direct) total 30.2 percent.
5.2%
Economic conditions
Reopening efforts and higher vaccination rates have enabled the Fairfield County unemployment rate to rebound from a high of 11.6% in June 2020 to 5.2% in October 2021.
74.6%
Recovery rate
The share of the total Fairfield County population that is fully vaccinated is 74.6 percent, potentially allowing for greater return-to-work efforts for office employers. New mutations of the coronavirus could complicate these efforts, though
-33.1%
Office Demand
Post-COVID activity has paused, decreasing by 31.1 percent compared with long-term historical annual averages
+30.2%
Office Supply
Class A direct and sublease availability rates have risen above 2020 levels, currently totaling 30.2% as of Q4 2021. There is currently 2.1 msf of sublease space available on the market, increasing by 26,000 sf in 2021.
-7.5%
Pricing trends
Base rents in Fairfield County have softened, decreasing by 7.5% since 2020.
-4.1%
Capital markets
The $235M acquisition of 695 East Main Street to AM Property Holding Corporation enabled the highest annual dollar volumes to be reported—$397M—since 2007. Asset pricing has decreased by 4.1 percent from 2019 to present.
Your source for the latest Fairfield / Westchester office market reports
Get in-depth office market reports and insights from commercial real estate experts in the Greater Fairfield / Westchester area. Avison Young advisors look at Fairfield / Westchester commercial real estate activities and the latest Fairfield / Westchester statistics to provide you expert market research on Fairfield / Westchester's office properties.
Explore different topics like the latest office market pricing trends and analysis of Fairfield / Westchester's current office real estate market conditions. Gain a better understanding of Fairfield / Westchester's office real estate outlook and stay ahead of current office space trends. Make smart decisions when it comes to investing in office properties in Fairfield / Westchester's competitive office real estate market. Avison Young is your trusted source for commercial real estate office market insights in Fairfield / Westchester.
The dashboard was delivered through AVANT by Avison Young: leveraging real-time data and analytics to make cities and location-based decisions more transparent and efficient. Learn more about AVANT.
Get the latest
Fairfield / Westchester

office market reports right in your inbox