Fairfield/Westchester office market reports
Q3 2021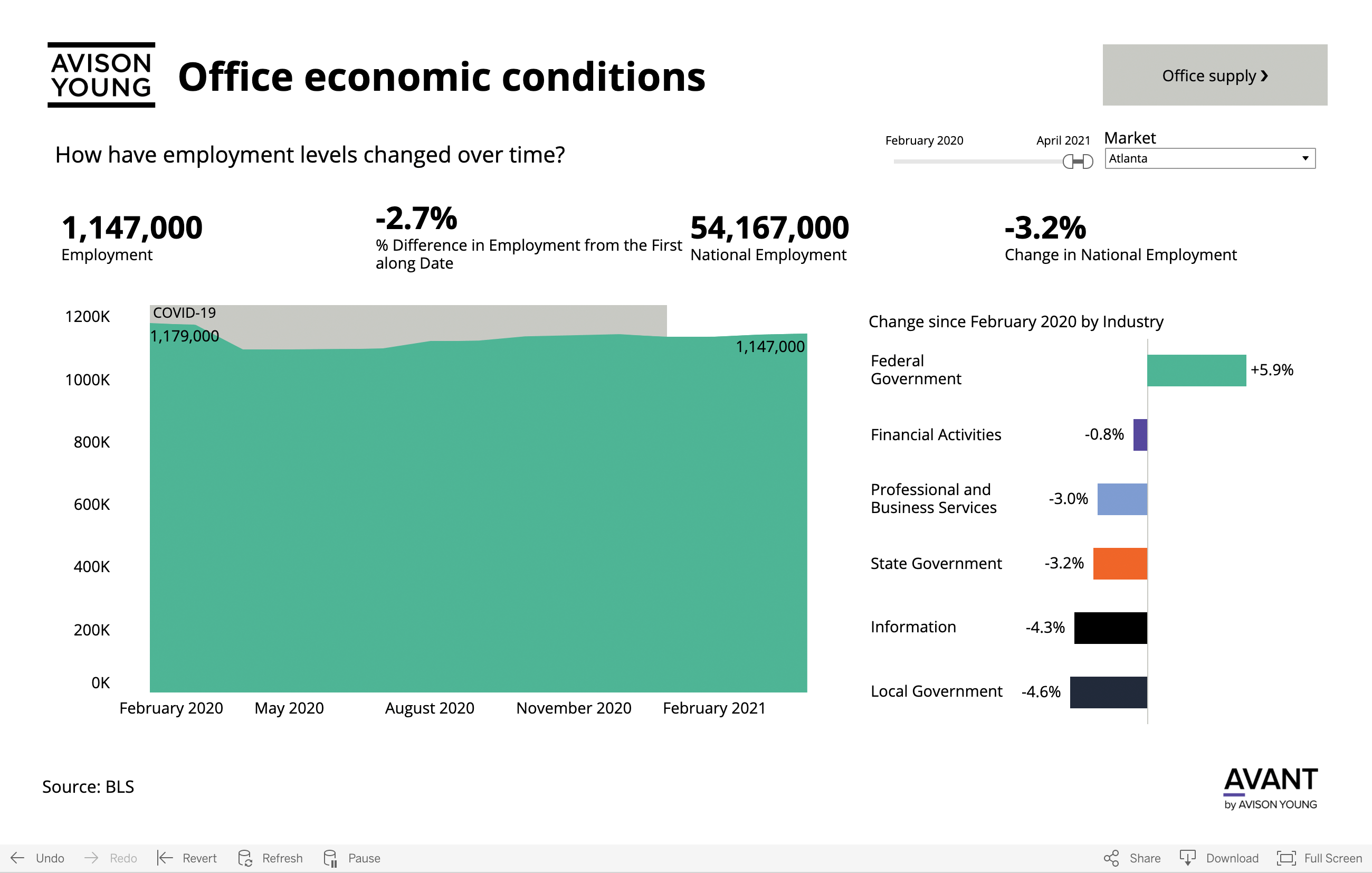 This dashboard is best viewed in a wider browser window.
A massive outpouring of tenant requirements originating from New York City is unlikely to occur. Most suburban Fairfield County submarkets are unlikely to attract net-new demand, positioning fundamentals in these areas to continue to soften.
6.8%
Economic conditions
Reopening efforts and higher vaccination rates have caused the Fairfield County unemployment rate to rebound from a high of 11.6 percent to 6.8 percent in July 2021.
69.6%
Recovery rate
Share of the total Fairfield County population that is fully vaccinated is 69.6 percent, allowing for greater return-to-work efforts for office employers.
-39.6%
Demand
Leasing activity has paused, decreasing by 39.6 percent compared with long-term historical annual averages.
1.3 msf
Supply
Sublease supply continues to drag aggregate market fundamentals, accounting for an elevated 1.3 msf of vacant space.
+0.3%
Pricing trends
Base rents for Class A properties have stabilized, increasing by 0.3 percent since 2020.
$233 M
Capital markets
Just $233M of Fairfield County offices have been sold since 2020, an annualized decrease of 44.1 percent compared with the prior five-year average.
Your source for the latest Fairfield / Westchester office market reports
Get in-depth office market reports and insights from commercial real estate experts in the Greater Fairfield / Westchester area. Avison Young advisors look at Fairfield / Westchester commercial real estate activities and the latest Fairfield / Westchester statistics to provide you expert market research on Fairfield / Westchester's office properties.
Explore different topics like the latest office market pricing trends and analysis of Fairfield / Westchester's current office real estate market conditions. Gain a better understanding of Fairfield / Westchester's office real estate outlook and stay ahead of current office space trends. Make smart decisions when it comes to investing in office properties in Fairfield / Westchester's competitive office real estate market. Avison Young is your trusted source for commercial real estate office market insights in Fairfield / Westchester.
The dashboard was delivered through AVANT by Avison Young: leveraging real-time data and analytics to make cities and location-based decisions more transparent and efficient. Learn more about AVANT.
Get the latest
Fairfield / Westchester

office market reports right in your inbox