Fort Lauderdale office market reports
Office insights Q2 2021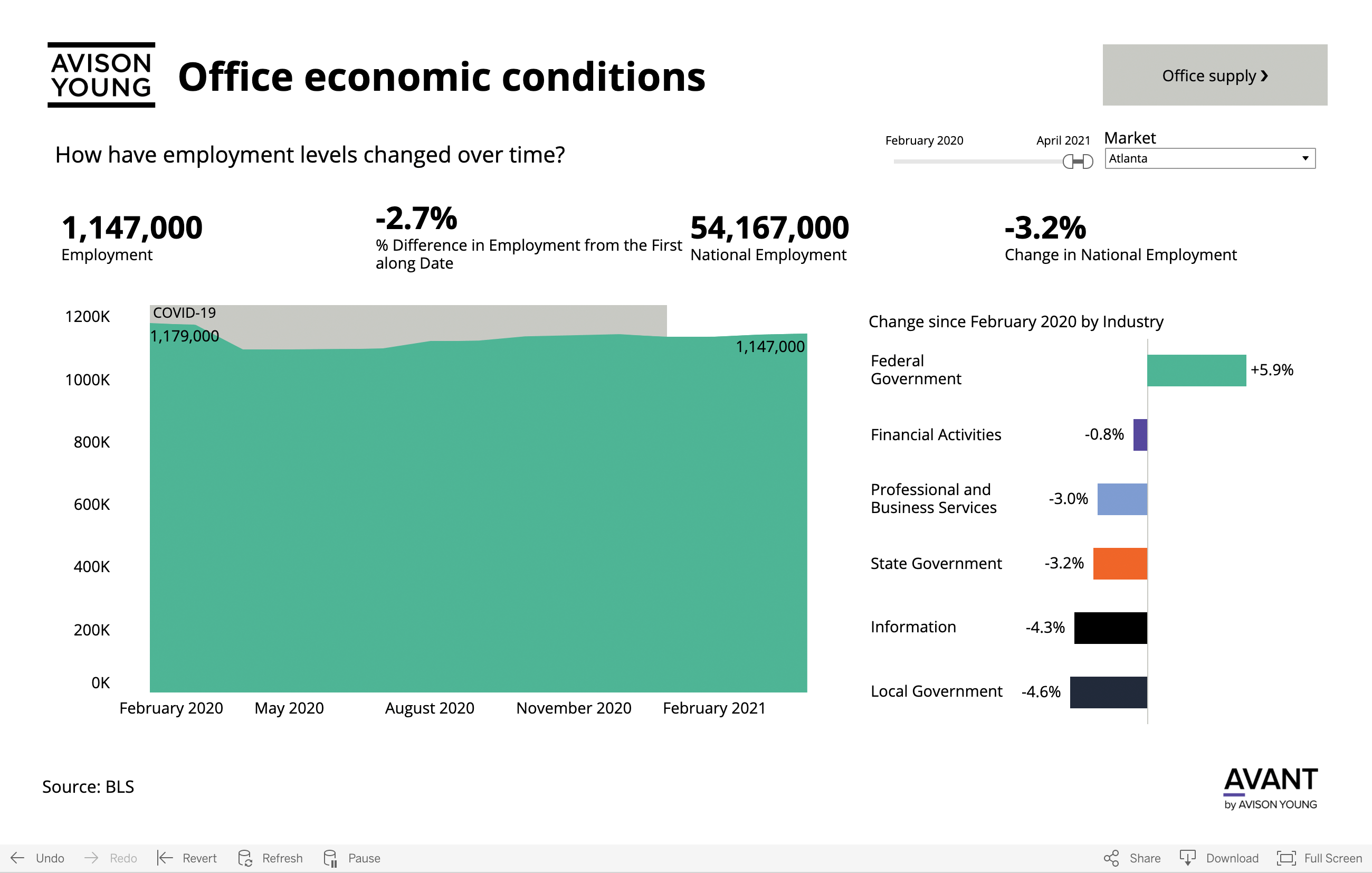 This dashboard is best viewed in a wider browser window.
Market fundamentals are stable and showing signs of improvement with a marked uptick in leasing interest and touring activity. A majority of occupiers in Fort Lauderdale continue to prefer 3-5 year deals at present, and landlords continue to provide free rent on multiple-year deals.
5.9%
Economic Conditions
Unemployment rate in South Florida, down 790 bps from the height of the pandemic.
#4
Recovery Rate
Florida's rank in a WalletHub study of the top U.S. states for their rates of recovery, with industries gaining the most jobs over the year including leisure and hospitality, professional and business services, and trade, transportation and utilities.
60.5%
Office Demand
Total percentage of previous year's leasing activity recorded for the year-to-date, due primarily to a handful of larger deals including Chewy leasing 221,597 sf in Plantation Pointe Office Park.
18.9%
Office Supply
Total vacancy is currently at a 10-year high and there are multiple companies in the process of subleasing blocks greater than 25,000 sf.
10.4%
Pricing Trends
The increase in asking base rents from peak to trough since the onset of the pandemic, growing to a current average of $35.68 per sf. Some of this increase is due to new deliveries and increasing class A vacancies.
$694.3
Capital Markets
Total office investment volume (in millions) in Fort Lauderdale for the period from Jan 2020 through Jun 2021. The largest sale was Midtown Capital Partners' $78 million acquisition of 1700 Plantation Pointe, which equated to $534 per sf.
Your source for the latest Fort Lauderdale office market reports
Get in-depth office market reports and insights from commercial real estate experts in the Greater Fort Lauderdale area. Avison Young advisors look at Fort Lauderdale commercial real estate activities and the latest Fort Lauderdale statistics to provide you expert market research on Fort Lauderdale's office properties.
Explore different topics like the latest office market pricing trends and analysis of Fort Lauderdale's current office real estate market conditions. Gain a better understanding of Fort Lauderdale's office real estate outlook and stay ahead of current office space trends. Make smart decisions when it comes to investing in office properties in Fort Lauderdale's competitive office real estate market. Avison Young is your trusted source for commercial real estate office market insights in Fort Lauderdale.
The dashboard was delivered through AVANT by Avison Young: leveraging real-time data and analytics to make cities and location-based decisions more transparent and efficient. Learn more about AVANT.
Get the latest Fort Lauderdale office market reports right in your inbox