Avison Young agency leasing team completes 16,603-sf office lease for Houston-based container and chemical tank supplier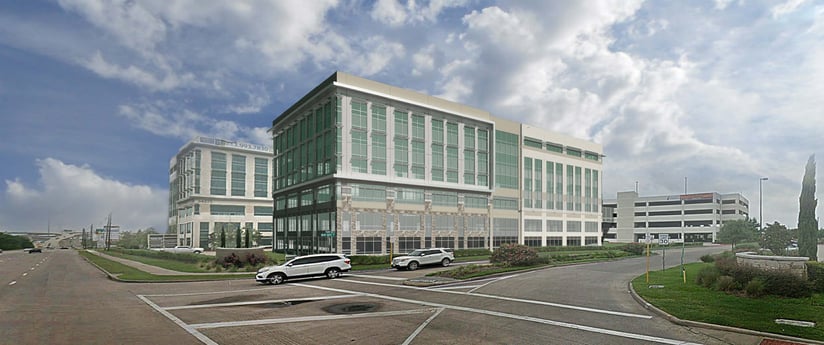 August 18, 2020
Hoover Material Handling Group, Inc. relocates its corporate headquarters to newly developed Katy Ranch Office Phase 2 building
Houston, TX – Avison Young today announced that the firm's Houston agency leasing team negotiated a long-term lease on behalf of Katy Ranch Offices, LP and Management, Freeway Properties for 16,603 square feet (sf) of class A office space located in the newly developed Katy Ranch Office Phase 2, 24285 Katy Freeway in Katy, TX.
Avison Young Principals, Sam Hansen and Doug Pack, who are based in the company's Houston office represented the landlord, Freeway Properties.
"In these unprecedented times, Avison Young has provided great flexibility and transparency that allowed us to upgrade our corporate headquarters and accomplish all of our objectives in relocating to a more professional space at Katy Ranch Phase 2," commented Matt Schmidt, Chief Human Resources Officer, Hoover Ferguson. "Sam and Doug have been a pleasure to work with throughout the process of identifying our new office space."
Hoover Ferguson will be relocating their corporate headquarters to 24285 Katy Freeway from their current location at 2135 Highway 6 S, Houston, TX. Approximately 60 employees will be moving to the new corporate headquarters in December 2020.
"We think Hoover will make a great addition to our mixed-use development," said Mike Baker, President, Freeway Properties. "Our adjoining retail tenants, which offer a wide variety of restaurants, shopping experiences and entertainment venues all welcome Hoover."
The construction of Katy Ranch Office Phase 2, sister building to 24275 Katy Freeway, was completed in July 2020. The building features corporate training and classroom facilities, multiple conference rooms, catering areas and features a sky-bridge connection to the expanded parking garage.
Avison Young is the world's fastest-growing commercial real estate services firm. Headquartered in Toronto, Canada, Avison Young is a collaborative, global firm owned and operated by its Principals. Founded in 1978, with legacies dating back more than 200 years, the company comprises thousands of real estate professionals in more than 100 offices around the world. The firm's experts provide value-added, client-centric investment sales, leasing, advisory, management and financing services to clients across the office, retail, industrial, multi-family and hospitality sectors.
Avison Young is a 2020 winner of the Canada's Best Managed Companies Platinum Club designation, having retained its Best Managed designation for nine consecutive years.