News Item - Houston
Avison Young announces two leases totaling more than 82,000-sf at NorthStar Industrial Park in Conroe, TX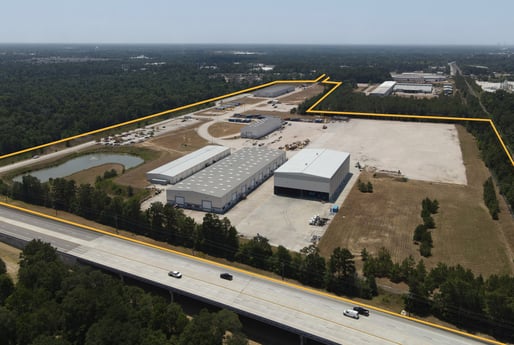 October 10, 2023
Houston, TX – Avison Young announced today it has negotiated two full-building leases totaling more than 82,000 square feet (sf) at NorthStar Industrial Park, a five-building, Class A industrial project located on 79 acres at 100 FM 3083 in Conroe, TX. The leases include a 64,177-sf lease with Unimacts and a 18,017-sf lease with Hertha Metals.

Avison Young's Drew Coupe and Dawson Smith who are both out of the firm's Houston office are exclusively representing the landlord, BAUER Group.

BAUER Group, an international construction and machinery manufacturing concern with more than 110 subsidiaries in some 70 countries that provides services, machinery and products for ground and groundwater, has owned the Conroe property since beginning development of the park in 2009. It was occupied by its subsidiary, NEORig until it relocated operations to the newly expanded facility also located in Conroe at 680 Conroe Park West Drive. BAUER's business plan is to lease the five existing Class A buildings as well as market opportunities for both distribution and manufacturing build-to-suit projects on the site's 31.5 acres of excess land. Once built out, NorthStar Industrial Park could total up to 750,000 sf of space. There are currently plans underway to start speculative development on the site that will be able to accommodate tenants in need of crane-served space occupying from 5,000-30,000 sf with outdoor storage potential. According to Avison Young, leasing demand has been robust for the tenants of this size range.

"The City of Conroe has historically been a tight market of long-term tenants and owners that have been predominantly related to oil and gas/manufacturing usage," said Coupe. "From what we have seen, that user base is diversifying with a wide range of occupiers across all industries that are showing interest in this area and this project."

He noted that with limited supply and land for new development throughout the greater Houston market, rental rates have been continuing to rise.

"Conroe has embraced this project to help fill the much-needed gap in industrial market supply," said Smith. "Avison Young has been actively engaged with BAUER along with our architects and contractors for the planning of new speculative buildings on the site. Overall, we are seeing strong interest from tenants ranging from 5,000 sf to 30,000 sf, but have also encountered many groups looking for more, even up to 200,000+ sf. Fortunately, we can also accommodate the larger uses with the ample land we have available for Build-to-Suit."

Following is information on each of the tenants:

Unimacts, a global leader in the supply of utility scale solar tracker components, is adding a new location to Houston and was represented by Doc Perrier of Outpost Partners, previously with Finial Group. The company is using the new space for manufacturing and distribution of steel tubes for the solar industry. The tenant liked the space due to its strategic location, existing infrastructure of the facility including heavy power, and outdoor storage capability.

Hertha Metals, a stealthy start-up company that is focused on revolutionizing the iron and steel-making industry by introducing technologies that reduce CO2 emissions, was represented by John Hornbuckle of Cypressbrook Company. The space will be used for research and development. The tenant likes the space due to clear height, availability of outdoor space for equipment storage, and the ability to retrofit the building to its specialized usage.

NorthStar Industrial Park is strategically located east of Interstate 45 with access from both Loop 336 and FM 3038 and is about one hour north of Houston. The greater Houston industrial real estate market continues to exhibit strong fundamentals, sitting at around 6% vacant today. Of the existing buildings on the site, there are currently three remaining for lease: Building A (56,289 sf), Building D (27,200 sf), and Building E (32,204 sf). For more information about NorthStar Industrial Park, please visit northstarindustrialpark.com.

For more information:
Media Contact:
Darcie Giacchetto, Media Relations & Content Specialist – Southwest: +1.949.278.6224
Business Development:
Drew Coupe, Principal: 713.993.7832
Dawson Smith, Associate: 713.689.9849

Avison Young creates real economic, social and environmental value as a global real estate advisor, powered by people. As a private company, our clients collaborate with an empowered partner who is invested in their success. Our integrated talent realizes the full potential of real estate by using global intelligence platforms that provide clients with insights and advantage. Together, we can create healthy, productive workplaces for employees, cities that are centers for prosperity for their citizens, and built spaces and places that create a net benefit to the economy, the environment and the community.

Avison Young is a 2023 winner of the Canada's Best Managed Companies Platinum Club designation, having retained its Best Managed designation for 12 consecutive years.