Houston office market reports
Q3 2021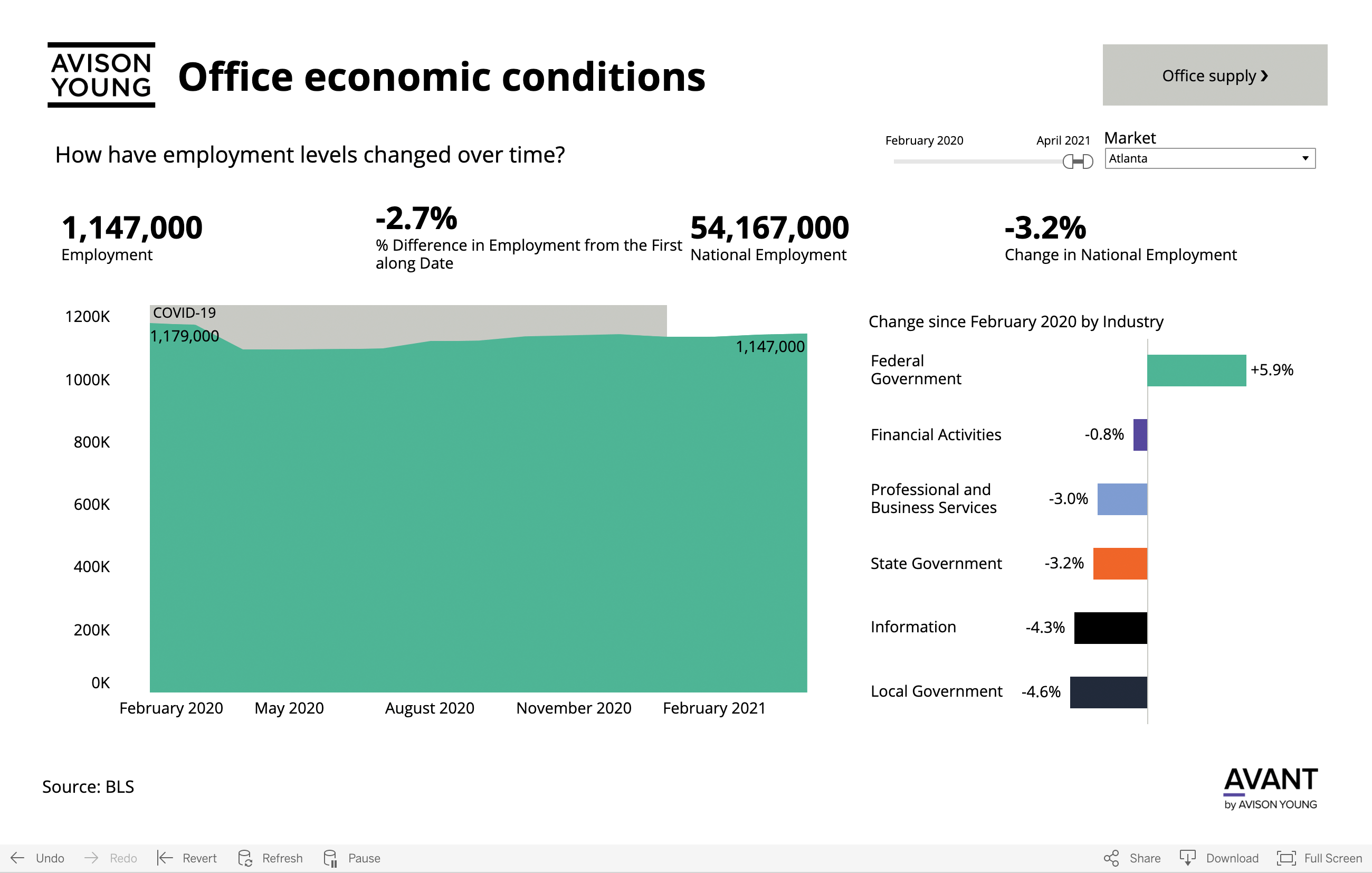 This dashboard is best viewed in a wider browser window.
The total vacancy in metro Houston is at a record-high 23 percent. Leasing activity is stagnating as more firms reopen but effective rents are declining while concessions multiply. Company mergers and downsizing are responsible for blocks of both direct and sublease space being added to the market.
6.1%
Economic conditions
The unemployment rate in metro Houston in August 2021, down 790 bps from the height of the pandemic.
#4
Recovery rate
Among U.S. gateway cities, Houston ranks fourth in recovery when comparing representative office employers. Overall, the Houston area has a 67.5% recovery rate based on representative locations.
61.7%
Office demand
The share of Class A and Trophy leasing activity through third quarter. Leasing activity has paused, decreasing by 38.3% compared with long-term historical averages.
7.7 msf
Office supply
Total amount of available sublease space on the market in Houston comprises 11.6% of total available space. Trending down in early 2020, large occupiers started adding blocks to the market in late 2020 as they determine future space needs while allowing employees' flex schedules.
4.3%
Pricing trends
Drop in Class A quoted average rents during the last two years. With the large amount of available options, landlords are expected to continue offering numerous concessions to close deals including lengthy rent abatements, large tenant-improvement allowances and free parking.
$2.2B
Capital markets
Total office investment volume (in billions) in Houston from January 2020 through current while total volume is down 43.5%.
Your source for the latest Houston office market reports
Get in-depth office market reports and insights from commercial real estate experts in the Greater Houston area. Avison Young advisors look at Houston commercial real estate activities and the latest Houston statistics to provide you expert market research on Houston's office properties.
Explore different topics like the latest office market pricing trends and analysis of Houston's current office real estate market conditions. Gain a better understanding of Houston's office real estate outlook and stay ahead of current office space trends. Make smart decisions when it comes to investing in office properties in Houston's competitive office real estate market. Avison Young is your trusted source for commercial real estate office market insights in Houston.
The dashboard was delivered through AVANT by Avison Young: leveraging real-time data and analytics to make cities and location-based decisions more transparent and efficient. Learn more about AVANT.
Get the latest Houston office market reports right in your inbox