Jacksonville industrial real estate market reports
Industrial insights Q2 2021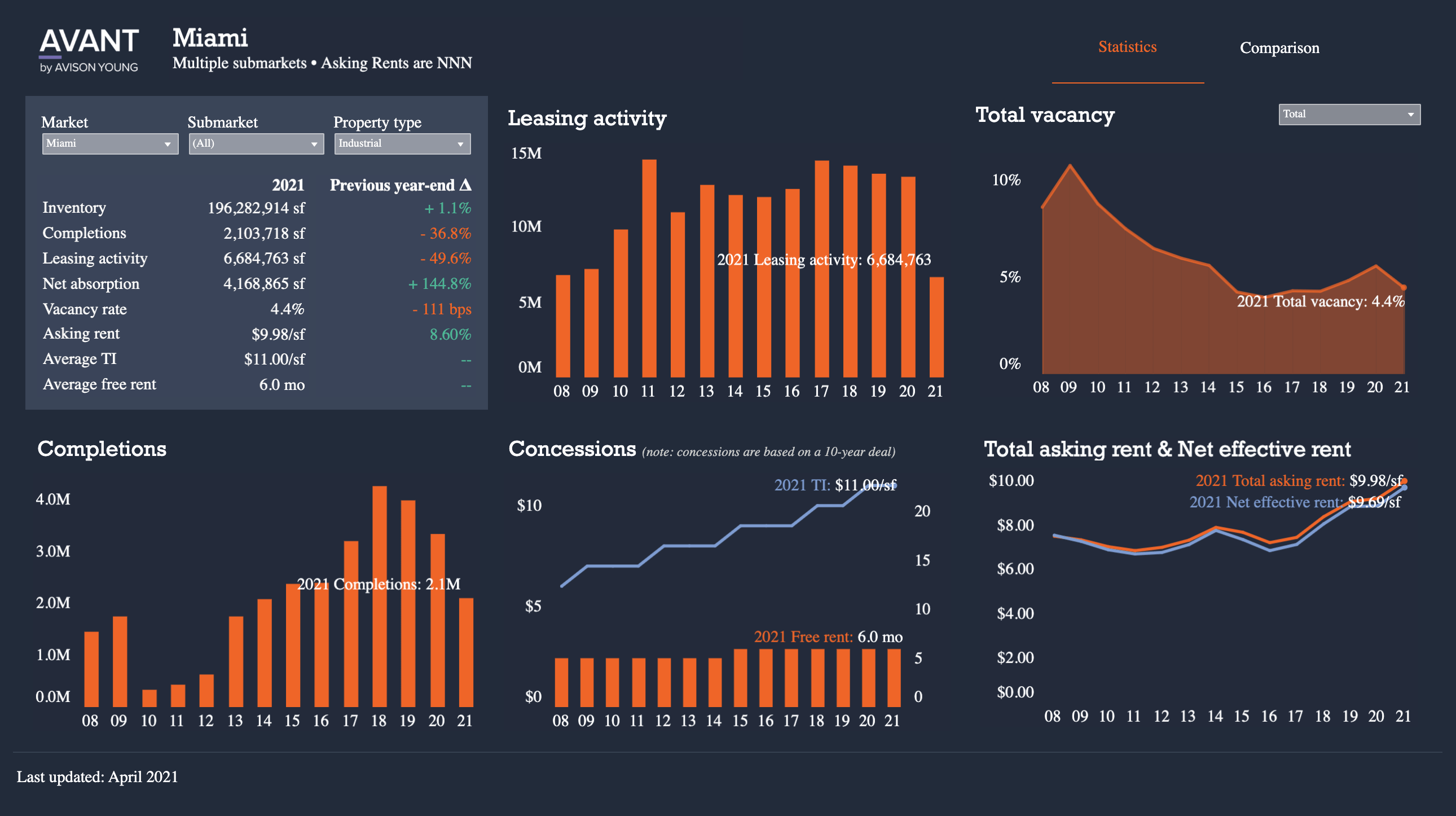 This dashboard is best viewed in a wider browser window.
Healthy demand and tightening leasing fundamentals in Jacksonville have led to rental rate growth, and developers are increasingly attracted to Jacksonville due to the area's logistics infrastructure, proximity of a major regional deep-water port, and its pivotal location in the Southeast.
4.2%
Economic Conditions
Jacksonville's current unemployment rate, which has been falling steadily and is down 730 basis points from the height of the pandemic.
#4
Recovery Rate
Florida's rank in a WalletHub study of the top U.S. states for their rates of recovery, with industries gaining the most jobs over the year including leisure and hospitality, professional and business services, and trade, transportation and utilities.
59.8%
Industrial Demand
The amount of leasing activity recorded so far during 2021 compared to all leasing volume during 2020, indicating healthy demand and strong sector fundamentals.
3.5M
Industrial Supply
The total amount of square footage under construction in Jacksonville. As logistics requirements and e-commerce needs forge ahead in Jacksonville, developers continue search for prime sites to stay ahead of demand.
11.6%
Pricing Trends
The increase in base rents since the start of the pandemic, which have generally remained on an upward trajectory for the last decade.
$680M
Capital Markets
Total industrial investment volume in Jacksonville for the period from Jan 2020 through Jun 2021 as investors are attracted to the sector's strong post-pandemic fundamentals. An influx of investors continue to seek properties that can accommodate the rise of e-commerce distribution.
Your source for the latest Jacksonville industrial real estate reports
Stay on top of current trends affecting the industrial real estate sector in Jacksonville. Gain an overall better understanding of Jacksonville's industrial real estate market conditions, so you can better formulate strategies to overcome any obstacle and know how to best invest in industrial real estate in Jacksonville.
Here, you'll always find the latest industrial real estate market news so you can stay ahead. Come back often to see expert insights on the current and future of Jacksonville's industrial real estate market.
Get the latest Jacksonville industrial market reports right in your inbox