News Item - Jacksonville
Avison Young to lead capital markets services for Station District in Nashville, one of the largest 'city-within-a-city' development opportunities in the U.S.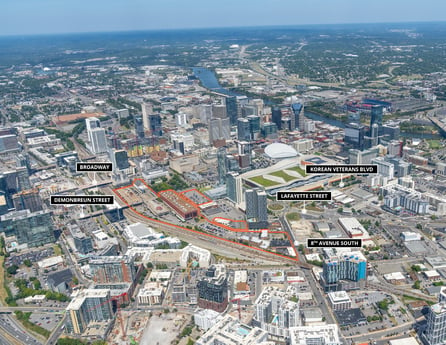 October 25, 2023
Avison Young to lead capital markets services for Station District in Nashville, one of the largest 'city-within-a-city' development opportunities in the U.S.
NASHVILLE, TENN. – Avison Young has been engaged by DZL Management Company, LLC, to provide advisory services involving sale, joint-venture, and other opportunities for the Station District, a 15.92-acre opportunity to develop a transformational mixed-use neighborhood at the southwestern gateway to downtown Nashville, Tennessee. The portfolio, which stretches unbroken for nearly half a mile from Broadway to 8th Avenue, represents one of the most attractive large-scale "city-within-a-city" development opportunities in the U.S.
Avison Young Principals Michael T. Fay, James Hanson, Lisa Maki, John K. Crotty, David Duckworth, and Brian de la Fé will spearhead the transaction on behalf of Zach Liff and DZL, a Nashville-based real estate investment, development, and property management company, which spent more than 20 years assembling the portfolio. The Avison Young team maintains a long-term advisor-client relationship with DZL, previously representing the company in acquisitions and other capital markets services. Given the team's extensive experience marketing other unique landmark developments valued at more than $1 billion, DZL wanted to work with Avison Young on the Station District opportunity.
"The Station District offers an investor-developer a blank canvas to build multiple high-rise towers of unlimited height and control an entirely new neighborhood in the fastest-growing city in the heart of the U.S.," said Fay, who is also Chairman of Avison Young's U.S. Capital Markets Group Executive Committee. "The opportunity is unprecedented, considering the location, size, and zoning, which permits 30 stories as-of-right and no limit on bonus height. So, literally, the sky is the limit."
Conveniently positioned where Nashville's central business district (CBD), the South of Broadway (SoBro), and the Gulch neighborhoods intersect, the Station District anchors "Hotel Row" adjacent to the Music City Center and provides easy walkability to all of downtown's critical locations. The assemblage includes three historic and iconic cash-flowing class A buildings – the 410,437-square-foot mixed-use office, retail, and dining hub, Cummins Station; the 61,137-square-foot office and retail Baggage Building; and the 58,088-square-foot, 2,630-person capacity event and performance space, Cannery Hall – as well as eight distinct parcels totaling 12.43 acres of developable land.
"Current ownership is very flexible, opportunistic, and motivated to see the full potential of this prime location come to fruition," said Hanson. "In addition to the limitless development possibilities in an in-demand, high-growth city, the Station District's fully-renovated cornerstone buildings have in-place cash flow with substantial upside potential as the market's office and retail rents continue to rise upwards of $50 and $60 per square foot, respectively."
Ranked #1 on the Urban Land Institute's Top U.S. Real Estate and Investment Markets list and named the #1 hottest job market by the Wall Street Journal in 2023, Nashville experienced a 24.3% population surge from 2011 to 2021 and currently sees 98 new residents per day. With a residential market that is already 93% occupied, the population growth trajectory is expected to increase another 9% to 10% over the next five years and will continue to propel business, entertainment, arts, and retail.
About Avison Young
Avison Young creates real economic, social and environmental value as a global real estate advisor, powered by people. As a private company, our clients collaborate with an empowered partner who is invested in their success. Our integrated talent realizes the full potential of real estate by using global intelligence platforms that provide clients with insights and advantage. Together, we can create healthy, productive workplaces for employees, cities that are centers for prosperity for their citizens, and built spaces and places that create a net benefit to the economy, the environment and the community.
Avison Young is a 2023 winner of the Canada's Best Managed Companies Platinum Club designation, having retained its Best Managed designation for 12 consecutive years.
For more information: