Las Vegas office market reports
Q2 2021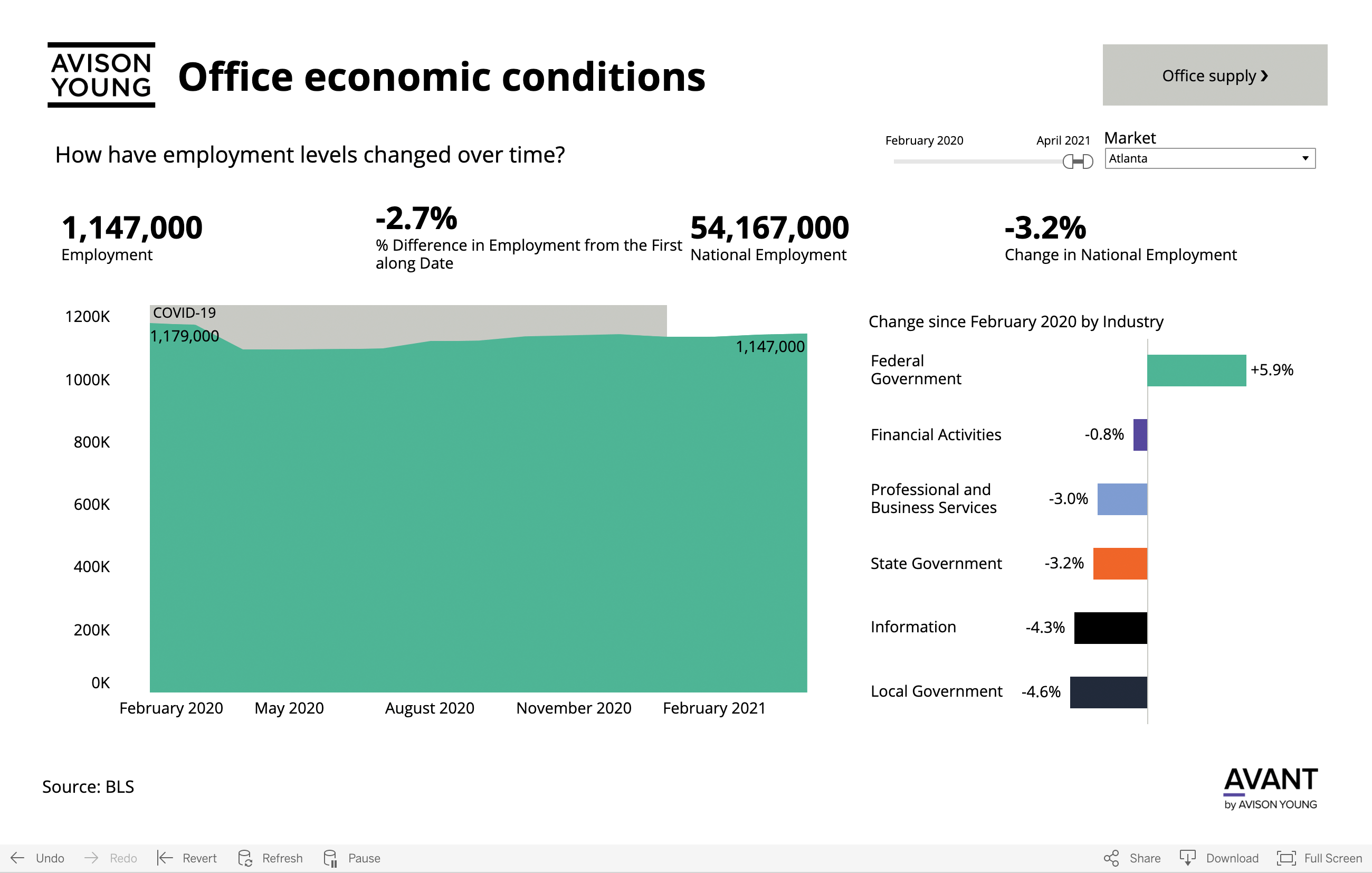 This dashboard is best viewed in a wider browser window.
Las Vegas's economy could recover faster than expected. Tourists are already returning, and prognosticators are forecasting a bullish summer, which is typically a slow season. Tech companies are active, office leasing demand is incrementally rising, and cap rates and asset prices are poised to remain steady.
9.0%
Economic conditions
The Las Vegas unemployment rate spiked to a high of 33.3 percent in April 2020 and moderated to 9.0 percent in April 2021. This massive variance was attributable to the pandemic's outsized impact on the leisure and hospitality industry, which employs more than one quarter of the Las Vegas labor force.
Post-COVID office-using job losses totaled 8.8 percent compared with leisure and hospitality job losses that totaled 25.3 percent. This discrepancy underscores the disproportionate impact that the pandemic had on the discretionary segments of the local economy.
46.7%
Office demand
Leasing activity has improved as office occupiers return to work. Post-COVID leasing activity decreased by an annualized rate of 31.9 percent compared with the prior 20-year average, though year-over-year quarterly leasing activity increased by 46.7 percent.
NYU's Langone Health, the university's medical system, recently signed a 38,000-square-foot lease and opened a customer service center in Blackstone's Hughes Center. Emblematic of strong healthcare demand, NYU ultimately plans to grow the site to 400 employees.
15.8%
Office supply
The Q2 2021 vacancy rate totaled 15.8 percent. During the aftermath of the Global Financial Crisis, the Las Vegas total vacancy rate surpassed 20.0 percent from 2010 through 2014.
Vacant sublease space by increased 57.0 percent from the same period one year ago. The sublease market, accounting for 1.0 msf of vacant space, continues to drag broader market fundamentals.
3.8%
Pricing trends
Net effective rents increased by 3.8 percent year-to-date through June 2021, signaling that demand is increasing as occupiers return to work and tenants that postponed their real estate decisions re-enter the market.
Until real momentum is witnessed through the reduction of available space, only a moderate rise in rents will continue quarter-over-quarter.
15.2%
Capital markets
Investment sales dollar volume is returning to pre-COVID levels. Annualized dollar volume from 2020 to Q2 2021 decreased by rate of just 15.2 percent compared with the prior five-year average.
Asset pricing softened by 6.8 percent from the peak in November 2019 to June 2021.
Your source for the latest Las Vegas office market reports
Get in-depth office market reports and insights from commercial real estate experts in the Greater Las Vegas area. Avison Young advisors look at Nevada's commercial real estate activities and the latest Las Vegas statistics to provide you expert market research on the area's office properties.
Explore different topics like the latest office market pricing trends and analysis of Las Vegas's current office real estate market conditions. Gain a better understanding of the city's office real estate outlook and stay ahead of current office space trends. Make smart decisions when it comes to investing in office properties in Las Vegas's competitive office real estate market. Avison Young is your trusted source for commercial real estate office market insights in Las Vegas.
The dashboard was delivered through AVANT by Avison Young: leveraging real-time data and analytics to make cities and location-based decisions more transparent and efficient. Learn more about AVANT.
Get the latest Las Vegas office market reports right in your inbox