Los Angeles office market reports
Q3 2021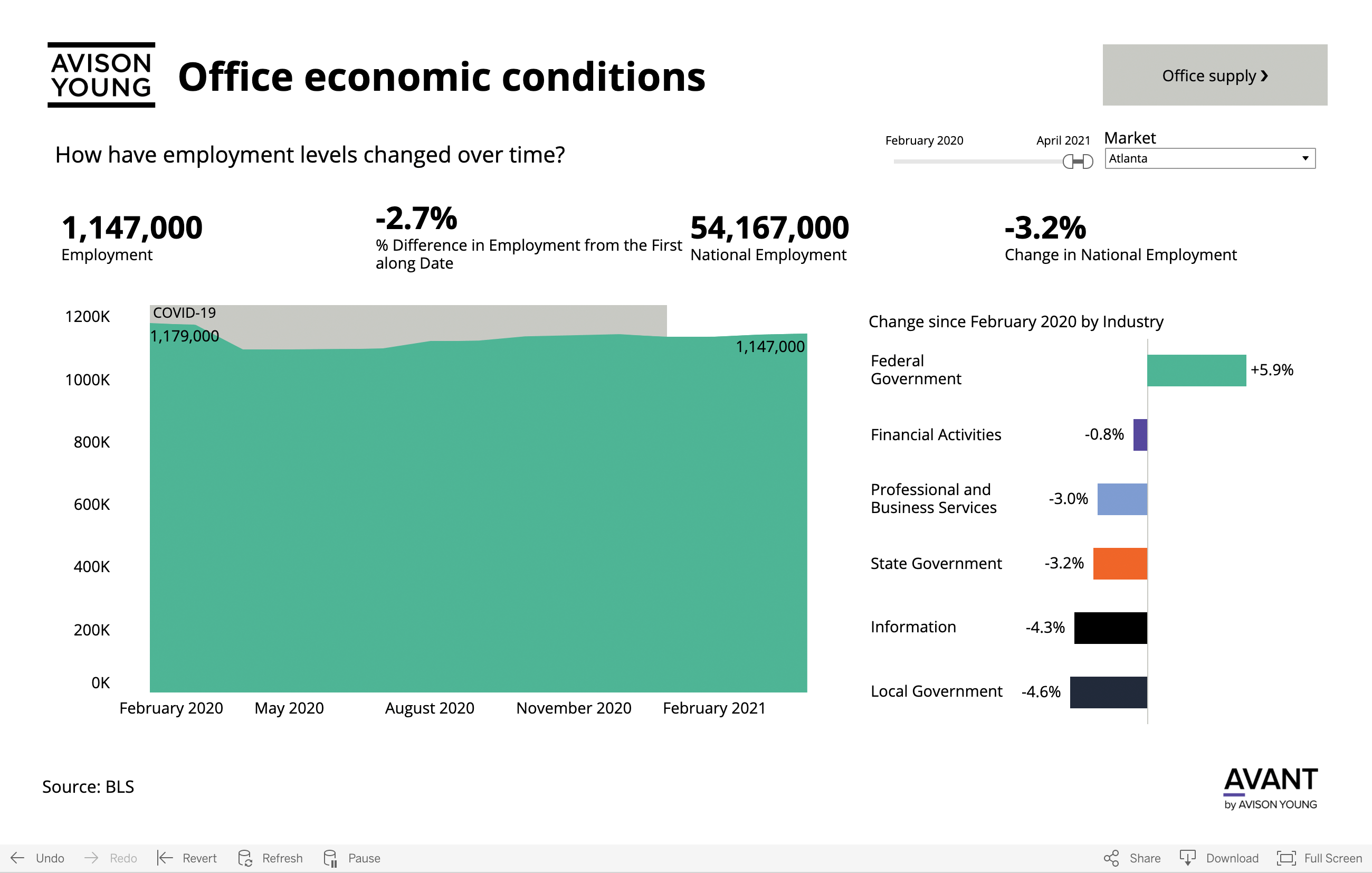 This dashboard is best viewed in a wider browser window.
Leasing demand is unlikely to return to pre-COVID levels in the near term until office occupiers return to the office en masse through which they can determine long-term occupancy strategies. Tenants are expected to retain leverage in most lease negotiations. Traditional office asset pricing is poised to continue to soften.
18.2%
Los Angeles office market
Overall vacancy has risen to all-time highs, totaling 18.2 percent.
Q3 2021 net absorption was -1.2 msf, down from 2.0 msf in Q1 2021.
Closed deals totaled 3.9 msf in Q3 2021, up from 3.1 msf in Q1 2021.
The "flight to quality" trend persists, with the Class A and Trophy segment accounting for 79.4 percent share of post-COVID leasing activity.
9.1msf
Sublease space
The sublease market continues to drag aggregate fundamentals down, accounting for 9.1 msf of available space.
Sublease deals totaled nearly 600,000 sf in Q3 2021, more than double sublease volume in Q1 2021.
17.3%
Rental pricing trends
Net effective rents decreased by 17.3 percent from pre-pandemic levels as landlords induced tenant commitments through record-setting concession packages and favorable lease provisions, while keeping face rents relatively steady.
Tenant improvement allowances for class A space average $102.21 per square foot, representing an increase of 14 percent since 2019.
$1.1B
Capital markets
Money is chasing core and core+ properties but sellers are not apt to sell because it is hard for them to recycle capital. Thus, year-to-date investment volume is $1.1B, which is the weakest office investment activity reported since the credit crisis in 2009 when $1.3B was recorded.
Asset pricing has dipped by 10 percent since 2019, reflecting investors' conservative underwriting assumptions given prevailing occupier market conditions.
9.3%
Economic conditions
The Los Angeles MSA's unemployment rate of 9.3 percent nearly equals the average unemployment rate for the five-year period following the Great Recession
-59.4%
Post-COVID recovery rate
Office visitor volumes are -59.4 percent while healthcareand education have returned to pre-COVID levels compared with the same period in 2019.
In the U.S. life sciences, real estate, and law firms have adopted hybrid work models, though tech firms struggled to return to pre-COVID visitor volumes (-76.9 percent).
Your source for the latest Los Angeles office market reports
Get in-depth office market reports and insights from commercial real estate experts in the Greater Los Angeles area. Avison Young advisors look at LA's commercial real estate activities and the latest county statistics to provide you expert market research on LA's office properties.
Explore different topics like the latest office market pricing trends and analysis of Los Angeles's current office real estate market conditions. Gain a better understanding of Los Angeles's office real estate outlook and stay ahead of current office space trends. Make smart decisions when it comes to investing in office properties in LA's competitive office real estate market. Avison Young is your trusted source for commercial real estate office market insights in Los Angeles.
The dashboard was delivered through AVANT by Avison Young: leveraging real-time data and analytics to make cities and location-based decisions more transparent and efficient. Learn more about AVANT.
Get the latest Los Angeles office market reports right in your inbox