Los Angeles office market reports
Q2 2021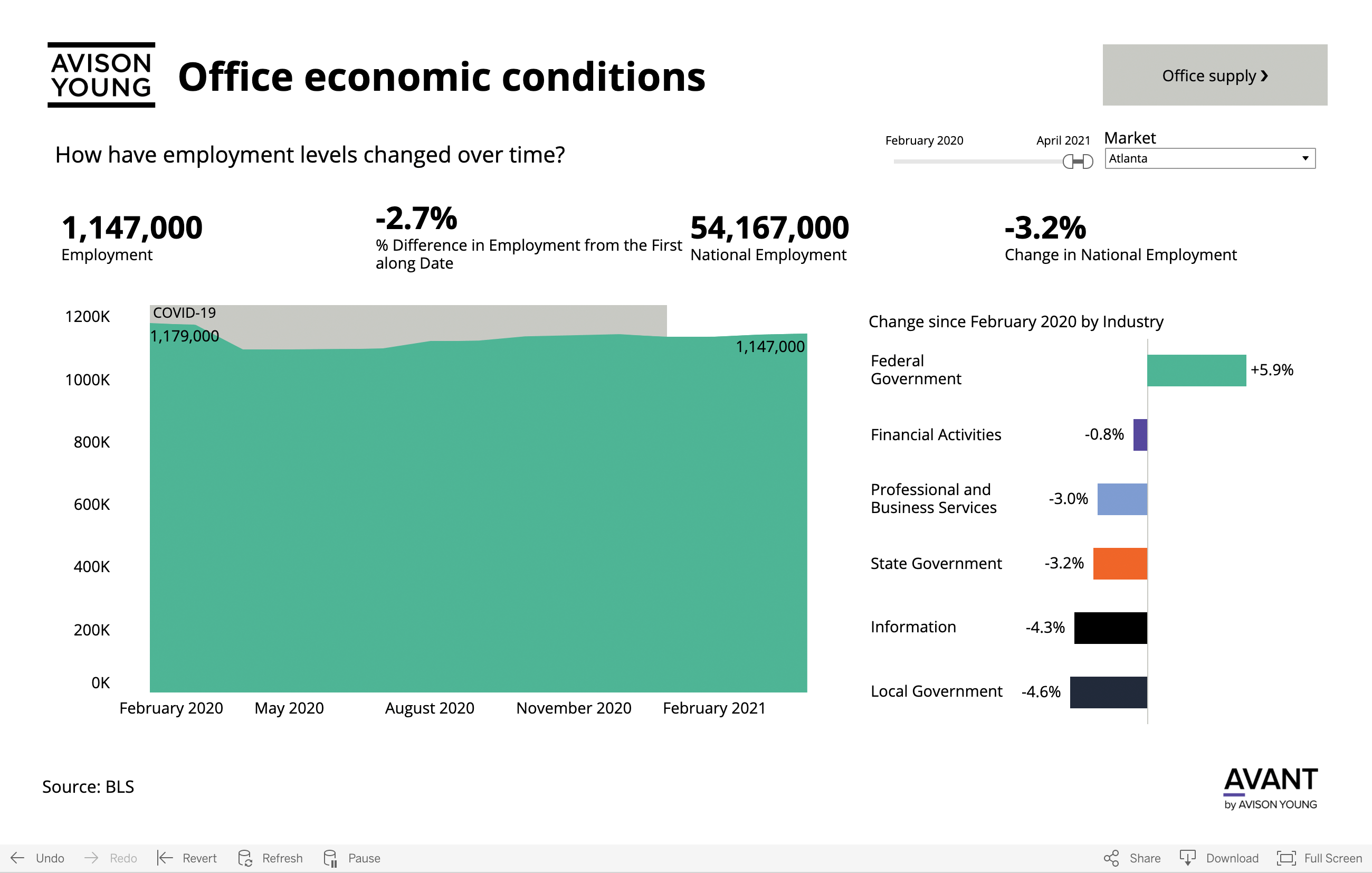 This dashboard is best viewed in a wider browser window.
The June 15 lifting of all COVID restrictions in California is expected to have significant implications on the Los Angeles office market. Bellwether companies are beginning to return to the office, a leading indicator for rejuvenated office demand. More companies are starting to solidify their future occupancy strategies. Office leasing demand is incrementally rising as indicated by increasing term lengths, though continued downward momentum is anticipated on net effective rents at commodity properties. Cap rates and asset pricing are poised to remain steady based on the sizable gap between cap rates and benchmark yields, positive occupier and economic momentum and investors' renewed focus on core transaction profiles.
17.8%
Los Angeles office market
Overall vacancy has risen to all-time highs, totaling 17.8 percent.
Leasing activity has slowed down by 57.9 percent compared with long-term historical averages.
The "flight to quality" trend persists, with the Class A and Trophy segment accounting for 81.1 percent share of post-COVID leasing activity.
9.6 msf
Sublease space
The sublease market continues to drag aggregate fundamentals down, accounting for a record 9.6 msf of available space. However, some prospective sublandlords have pulled their space from the market after unsuccessfully capturing demand by subtenants looking to capitalize on discounted rents. A lot of potential sublandlords are also pulling their space off the sublease market because they want to reoccupy their space.
15.2%
Rental pricing trends
Net effective rents decreased by 15.2 percent from pre-pandemic levels as landlords induced tenant commitments through record-setting concession packages and favorable lease provisions, while keeping face rents relatively steady.
Demand is starting to increase as the economy reopens and tenants that postponed their long-term occupancy strategies re-enter the market. Concessions have begun to plateau as a result of this.
30%
Capital markets
The market has entered a risk-pricing crisis despite continued record levels of dry powder. As a result, just $3.0B of Los Angeles offices have been sold over the past 18 months, an annualized decrease of 30 percent from 2019.
Asset pricing has softened by 10 percent from 2019 to present, though has showed signs of stabilizing.
9.9%
Economic conditions
Reopening efforts and higher vaccination rates have allowed the Los Angeles Metropolitan Area (MSA) unemployment rate to rebound from a high of 17.9 percent to 9.9 percent.
Office-using jobs have declined by 8.7 percent compared with 10.3 percent for other industries' job losses, underscoring the disproportionate impact the pandemic had on the discretionary segments of the local economy.
32.7%
Post-COVID recovery rate
The overall U.S. post-COVID rate of recovery is 38.4 percent.
The overall rate of recovery of Los Angeles office occupiers is high at 32.7 percent compared to the U.S. average of 19.2 percent.
Your source for the latest Los Angeles office market reports
Get in-depth office market reports and insights from commercial real estate experts in the Greater Los Angeles area. Avison Young advisors look at LA's commercial real estate activities and the latest county statistics to provide you expert market research on LA's office properties.
Explore different topics like the latest office market pricing trends and analysis of Los Angeles's current office real estate market conditions. Gain a better understanding of Los Angeles's office real estate outlook and stay ahead of current office space trends. Make smart decisions when it comes to investing in office properties in LA's competitive office real estate market. Avison Young is your trusted source for commercial real estate office market insights in Los Angeles.
The dashboard was delivered through AVANT by Avison Young: leveraging real-time data and analytics to make cities and location-based decisions more transparent and efficient. Learn more about AVANT.
Get the latest Los Angeles office market reports right in your inbox