Miami industrial real estate market reports
Industrial insights Q2 2021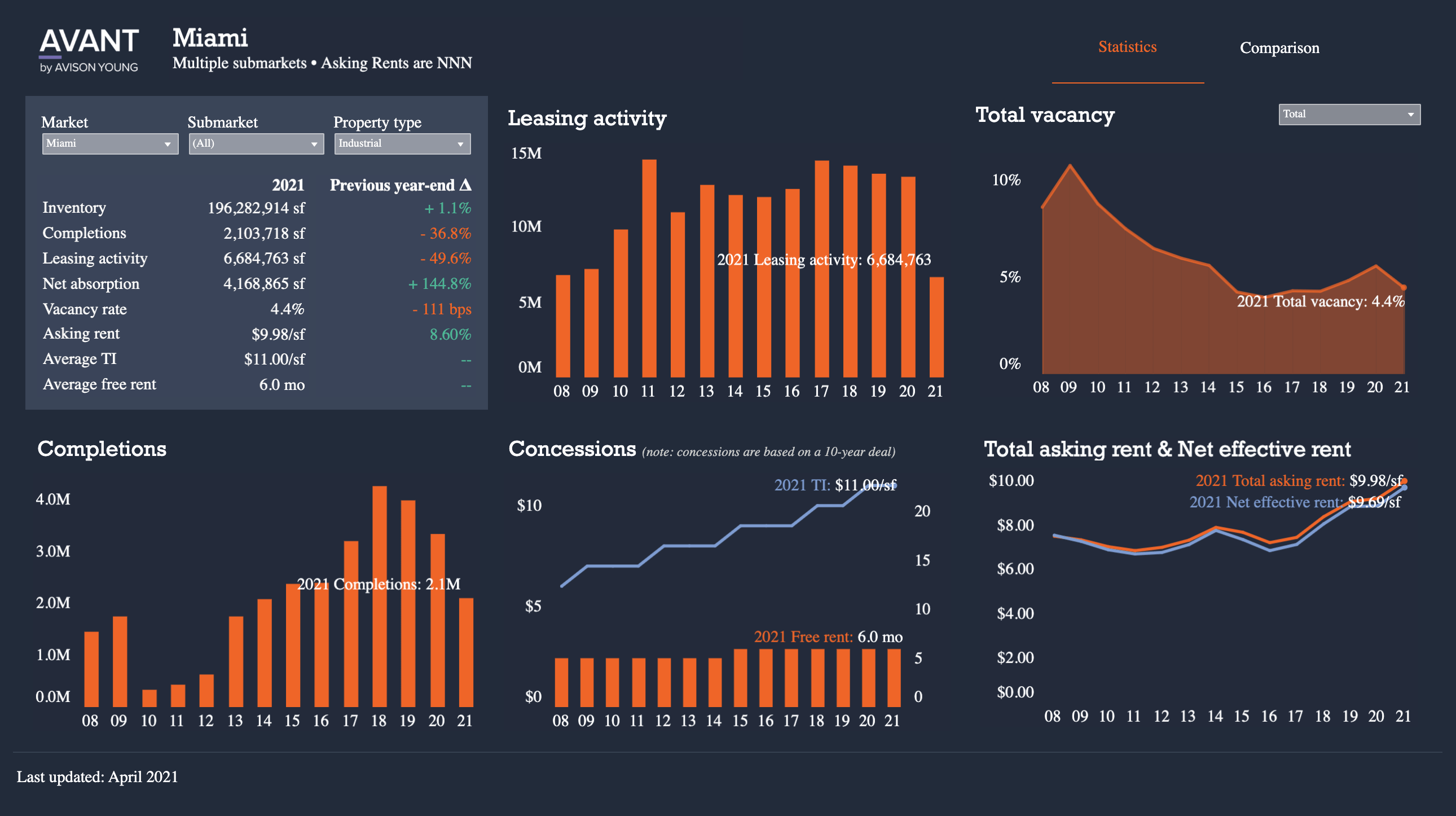 This dashboard is best viewed in a wider browser window.
Miami's overall vacancy rate shows continued resilience with vacancy at 4.4%, a 60-basis point decrease from the previous quarter. Logistics, e-commerce and 3PL firms are among the fastest expanding industries fueling space requirements in Miami.
5.7%
Economic Conditions
South Florida's current unemployment rate, aided by the steady employment of essential workers, a logistics hub and a sharp but entrenched rise in e-commerce spending.
#4
Recovery Rate
Florida's ranking in a WalletHub study of the top U.S. states for their rates of recovery. Miami's influence as a business center and global gateway, coupled with a thriving port and robust industrial fundamentals continue to spur space demand.
50.4%
Industrial Demand
The amount of leasing activity recorded so far during 2021 compared to all leasing volume during 2020. There is strong occupier interest in larger blocks of space 100,000 sf and greater, with pent-up demand for spaces between 20,000 – 50,000 sf.
4.8
Industrial Supply
Total sf (in millions) of all industrial development under construction in Miami-Dade County. As logistics requirements and e-commerce needs forge ahead in Miami, developers continue to search for sites to stay ahead of demand.
$9.51
Pricing Trends
The current average asking rate for distribution space in Miami, compared to $9.44 per sf for general warehouse and $9.20 per sf for manufacturing space.
$1.5B
Capital Markets
Total volume of all industrial investment sales in Miami over the trailing 18-mo period ending June 2021. Industrial volumes have surged +32.8% against the prior five-year average due in large part to those stronger fundamentals.
Your source for the latest Miami industrial real estate reports
Stay on top of current trends affecting the industrial real estate sector in Miami. Gain an overall better understanding of Miami's industrial real estate market conditions, so you can better formulate strategies to overcome any obstacle and know how to best invest in industrial real estate in Miami.
Here, you'll always find the latest industrial real estate market news so you can stay ahead. Come back often to see expert insights on the current and future of Miami's industrial real estate market.
Get the latest Miami industrial market reports right in your inbox